XTOOL NEW X300P Diagnostic Tool Automatic Scanner
XTOOL X300P is a powerful diagnostic device for special vehicle functions.?Includes ABS bleeding, Battery reset, maintenance light reset, EPB electronic brake replacement brake pad, OBD II engine diagnostics, tire pressure warning light reset, electronic steering matching, tooth learning, throttle body reset, etc.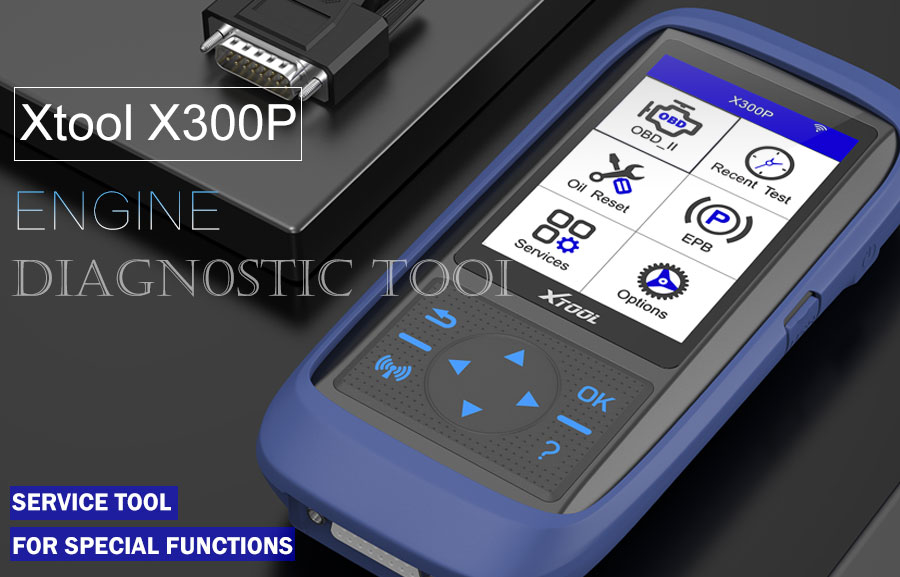 ?
XTOOL X300P Highlights:
?
1. Support one-click upgrade via Wifi and also upgrade through USB connection on computer.
2. Special Functions including?ABS Bleeding, Battery Replacement, Maintenance Light Reset, EPB electronic brake replacement brake pad, OBD II engine diagnostics, tire pressure warning light reset,electronic steering matching,tooth learning,throttle body reset,etc.
3. Free Update Online Lifetime.
4.?Muti-language: English, Spanish, French, Portuguese, German, Russian, Polish and Italian.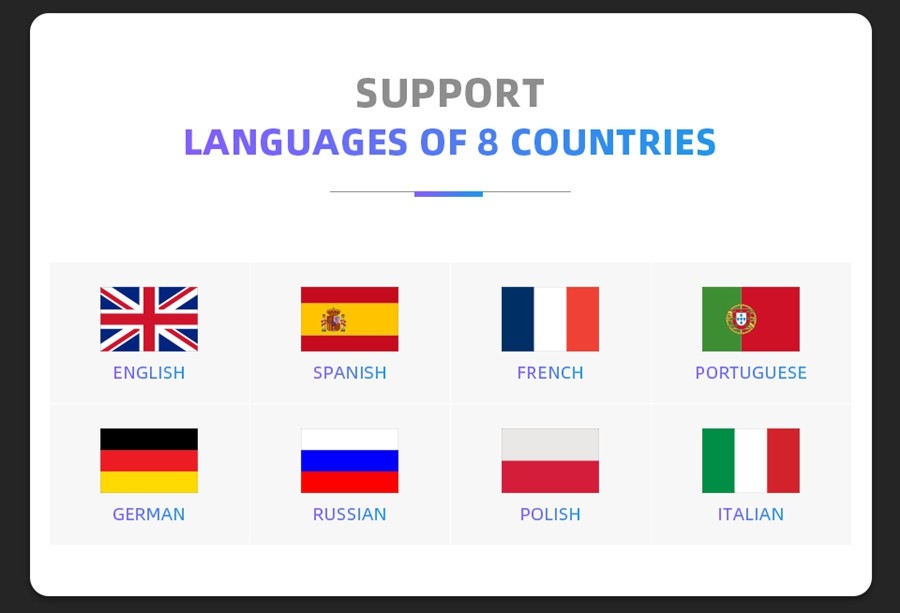 XTOOL X300P Special Functions:
?
Air Suspension,Head Light,Service Light Reset,SRS,Dashboard Recovery,OBDII,ABS Bleeding,TPS,DPF regeneration,BMS,CM,EPB,Window Initialization,EPS,TPMS,TOOTCH TEACH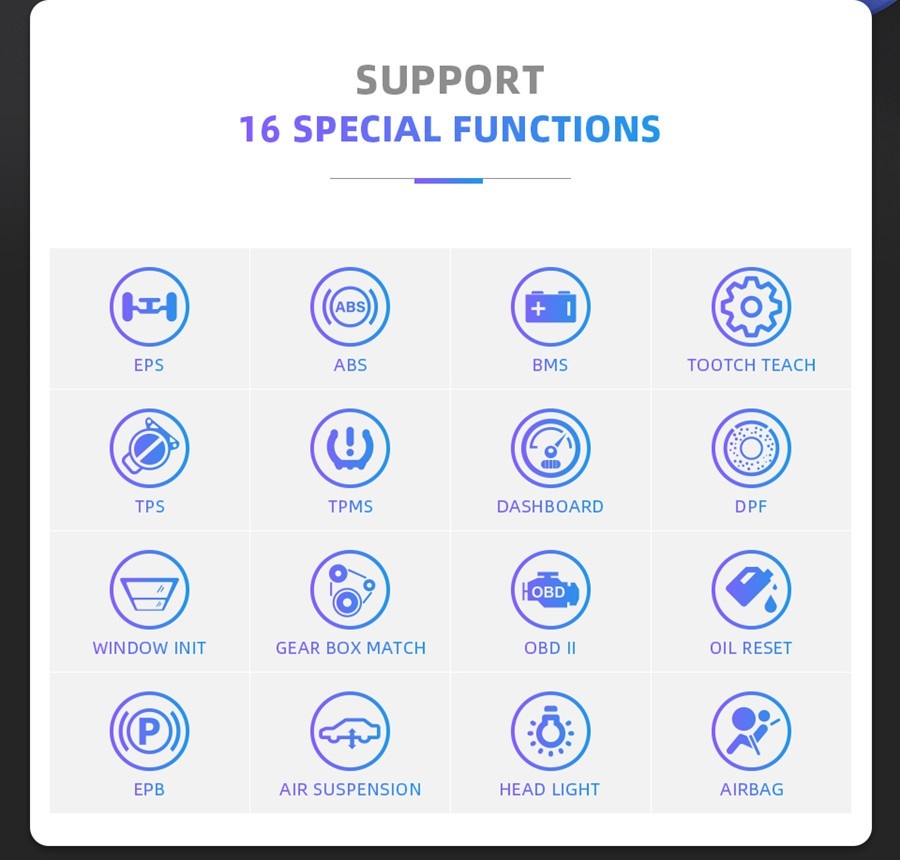 XTOOL X300P Vehicle Coverage:

Oil Reset:
For Acura,Honda,Hyundai,lsuzu,Kia,Mitsubishi,Nissan,Infiniti,Suzuki,Toyota,Mazda,Proton,Subaru,Lexus,Buick,Cadillac,Chevrolet/GMC,Hummer,Chrysler/Dodge/Jeep,Ford/Mercury/Lincoln.Oldsmobile,Pontiac,Saturn, Scion, Porsche,W/Audi/Seat/Skoda,Benz,BMW,Volvo,Land Rover,Saab,Peugeot,Citroen, Opel/VauxhallJaguar,Smart,Maserati,Ferrari,Lamborghini,Bugatti,Fiat,Lancia,Alfa Romeo,Chinese Models
EPB:
For Acura,Audij,Benz,Bentley,Bugatti,Bmw,Citroen,Chrysler,Ferrari,Ford,Gm,Honda,Hyundai, Kia Jaguar Jeep,Land Rover,Lexus,Lincoln,Maserati,Mini,Maynach,Opel,Peugeot,Porsche, Renault,Rolls-Royce,Saab,Scion, Seat,Skoda,Toyota,Vauxhall,Volvo,W,China models.
EPS:
For Nissan, Infiniti, Toyota, Lexus, Subaru, Honda, Acura, Mazda, Hyundai, Kia, SsangYoung, Gm, Chryster/Jeep/Dodge. Ford, Peugeot, Citroen,W, Audi, Skoda, Seat, Land Rover Jaguar, Volvo, Benz, BMW, MINI, PorSChe, Renault, Dacia, Ferrari, Maserati
ABS:
For Ford,Chinese models
BMS:
For BMW,Ford Jaguar,Land Rover,Toyota,Volvo,W,Audi,Skoda,Seat,Porsche
Tooth:
For Chery Automobile
TPS:
For Audi,Acura,Benz,BMW,Citroen,Chryster,Daewoo,Dodge,Ford,GM,Hyundai,Honda,Infiniti, Jaguar Jeep,Kia,Land Rover,Lexus,Lincoln,Mitsubishi,Nissan,Opel,Porsche,Peugeot,Renault, Saab,Seat,Skoda,Toyota,Volvo,/w,Chinese models
TPMS:
For Abarth,Alfa Romeo,Alpina,Aston Martin,Audi,Bentley,BMW,Bugatti,Citroen,Dacia,Ferrari,Fiat, Jaguar,Lada,Lamborghini,Lancia,Land Rover,Lotus, Maserati,Maybach,Mclaren,Mercedes,MINI, Opel,Peugeot,Porsche,Renault,Rolls-Royce, Seat,Skoda,Smart,Volkswagen,Volvo,Buick,Cadilac, Chevrolet,Chrysler,Dodge,Ford,GMC,Hummer Jeep,Lincoln,Mercury,Pontiac,Satum,Tesla,VPG, Acura,Daewoo,Honda,Hyundai,Infiniti,lsuzu,Kia,Lexus,Mahindra,Mazda,Mitsubishi,Nissan, Renautt/Samsung,Scion,Subaru,Suzuki,Toyota,Venucia
Odometer:
For Hyundai,Infiniti,lsuzu,Kia,Mazda,Mitsubishi,Nissan,Proton,SSangYoung,Subaru,Suzuki,Buick, Cadillac,Chevrolet,Chrysler,Ford/Lincoln,GMC,Hummer,Oldsmobile,Opel,Pontiac,Saturn,Audi, Bentley,Benz,Citroen,Ferrari,Fiat Jaguar,Land Rover,Maserati, Peugeot,Porsche,Renault,Seat, Skoda,Smart,Volvo,W
DPF:
For Benz,GM,Porsche,Renault,Toyota
Window Init:
For Domestic,Benz,BMW,Chrysler,Volvo,Honda,VW,Toyota,Ford,Citroen,Nissan,Renault, Mitsubishi,Suzuki, Subaru,Porsche,Mazda,Land Rover,Rolls-Royce,Fiat,Buick Jaguar
Gear Box Match:
For Ford,Chrysler,BMW
Air Suspension:
For Land Rover,Jaguar
Head Light:
For BMW,GM,VW,Land Rover,Jaguar
Airbag:
For GM,Audi,Honda,VW,BYD
How to Update XTOOL X300P?
?
1. Log on the Xtool official website: www.xtooltech.com, Select 'Download Upgrade Tool' on the page of 'Service&Support' , and install the upgrade tool.
2. Open the upgrade software, enter the product serial number and activation code to log in the software.
3. Connect the X300P?handheld device to the computer through the USB cable.
4. When the X300P handheld device is turned on, the computer software will automatically connect the device and log in.
5. Select installation items for computer software to upgrade procedures.
6. Disconnect the USB cable and restart the X300P handheld device to start using the upgrade software.
XTOOL X300P Specification:
Display:????????????????????????????????????????? 320x480 dpi TFT
Communication:??????????????????????????? USB
Operating Temperature:?????????????? -10℃-60℃
Storage Temperature:?????????????????? -20-70℃
Ports:????????????????????????????????????????????? USB/Type C /DB15
Net Weight: ? ? ? ? ? ? ? ? ? ? ? ? ? ? ? ? ?? 0.35kg
Dimension:???????????????????????????????????? 200 x 92 x 33mm
XTOOL X300P Package Includes:
1pc x?XTOOL NEW X300P Diagnostic Tool Automatic Scanner?
?
Shipping Method and Delivery Time:
US, UK, Czech and Russia Warehouse Shipping:
3-5 working days. Fast Delivery & Tax Free.
US Check:
Ship from US
UK Check:
Ship from UK
EU Check:
Ship from Czech
Russia Check:
Ship from RU
DHL Shipping:
3-5 working days. Usually we declare a lower value on DHL invoice to help with customs clearance. If address belongs to remote area, customer will need to pay remote handling cost or we can change to ship by EMS. Please remember to leave message if you have any special requirement.
Yanwen Express:
7-10 working days. No Tax or remote cost for European Countries.
Standard Post:
7-15 working days. To South America and Africa countries it may take 20-25 working days. Customers can tick Express Shipping Service to ship by DHL.