Autel MaxiLink ML329 Code Reader (Advanced Version of Autel AL319)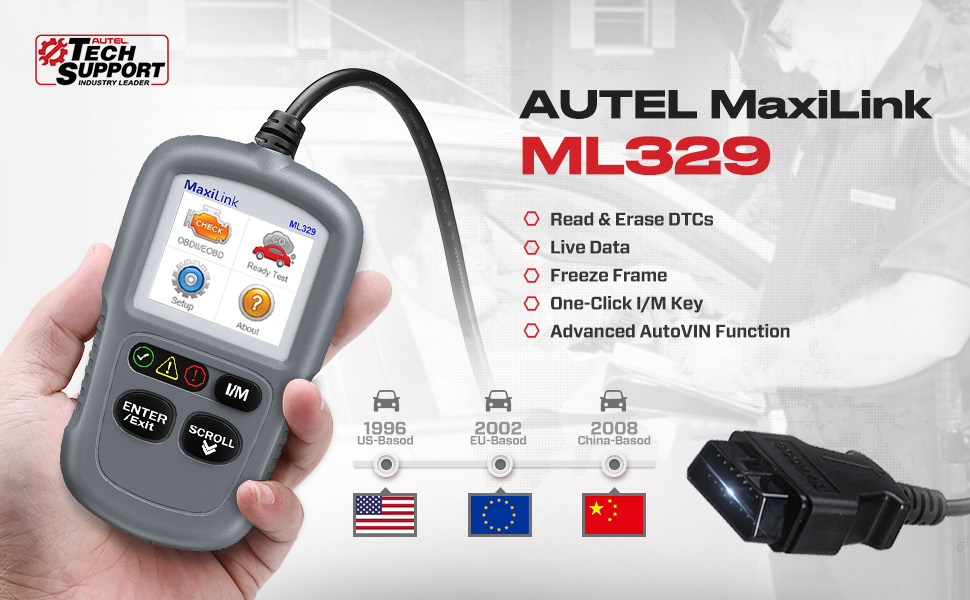 Description:
Autel MaxiLink ML329, as a portable and affordable code reader equipped with Read/Clear Codes, Freeze Frame Data, Vehicle Information, I/M Readiness status Functions, is featuring with patented One-Click I/M Readiness Key, TFT Color Display and Built-in Speaker, to enable users to check State Emission Monitor Status and solve basic engine and drivability problems in a quick and accurate manner.
Highlights of Autel ML329:1. WIDE VEHICLE APPLICATION:
This diagnostic tool will bring you convenience in testing various car models after 1996 including Ford, Honda, Chevrolet, Jeep, Toyota, Dodge, Nissan, VW etc. and you can easily get details of the given car via the Advanced Auto VIN Function.
2. QUICK READ/CLEAR CODES:
With this car scanner, you can retrieve generic (P0, P2, P3, and U0), manufacturer specific (P1, P3, and U1) codes, pending codes in seconds and when you finish the repairs, you are capable of clearing the diagnostic trouble codes and turning the MIL off.
3. ACCURATE INFO RETRIEVAL:
This ML329 has commonly-used I/M Readiness Status (to determine whether the emission-related systems are alright) and the Freeze Frame Data (to identify the specific condition of the car when the fault occurs) to save your time and money.
4. PLUG-AND-PLAY FEATURE:
There is no built-in battery with this code reader, so you don't need to worry that the battery will run out. After being plugged in the OBD2 port, it'll run a diagnosis and show vehicle's specific condition on the backlight and colorful screen.
5. LIFETIME FREE ONLINE UPDATE:
This OBD2 Scanner comes with free online update for lifetime, which gives you the ability to update the scan tool software through a Mac-based or Windows-based computer, to add the newest vehicle models and timely fix potential bugs.
Notice:1. No Built-in Battery
2. Support English, French and Spanish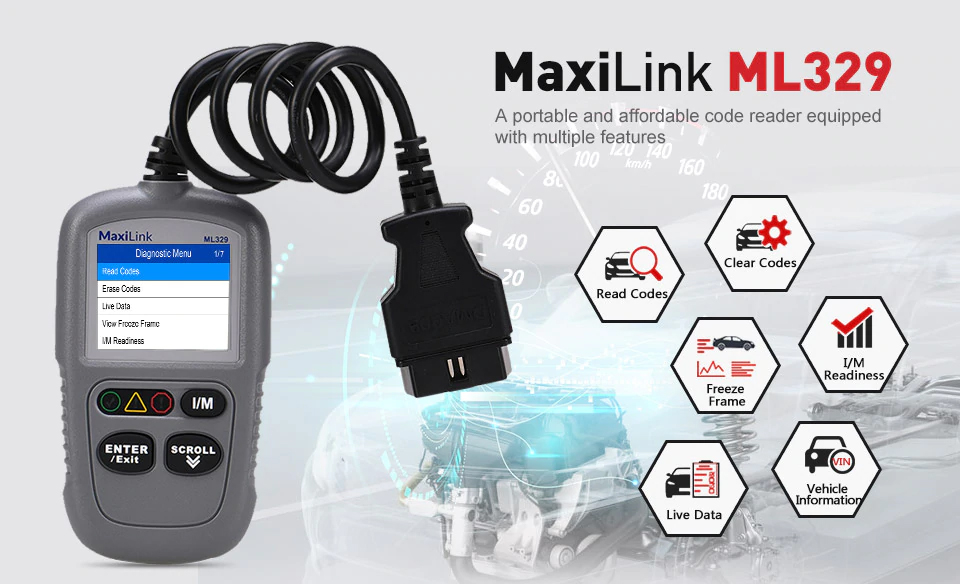 Supported Vehicle models: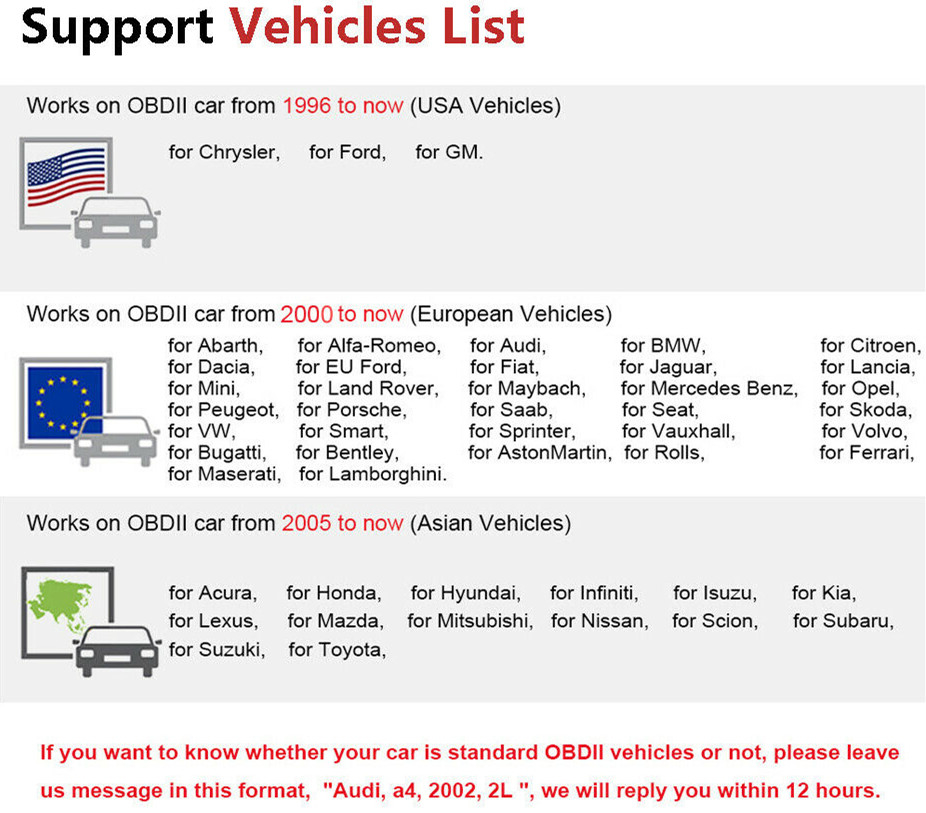 Functions:
1. Compatible with domestic, Asian and European vehicles, 1996 and newer.
2. Retrieves generic (P0, P2, P3 and U0), manufacturer-specific (P1, P3 and U1) and pending codes
3. Reads and displays I/M monitor (Emissions) status
4. Views Freeze Frame Data
5. Retrieves vehicle identification information (VIN, CALID and CVN)
6. Clears codes, resets monitors and turns off malfunction indicator light (MIL)
7. Easy plug-in and scan operation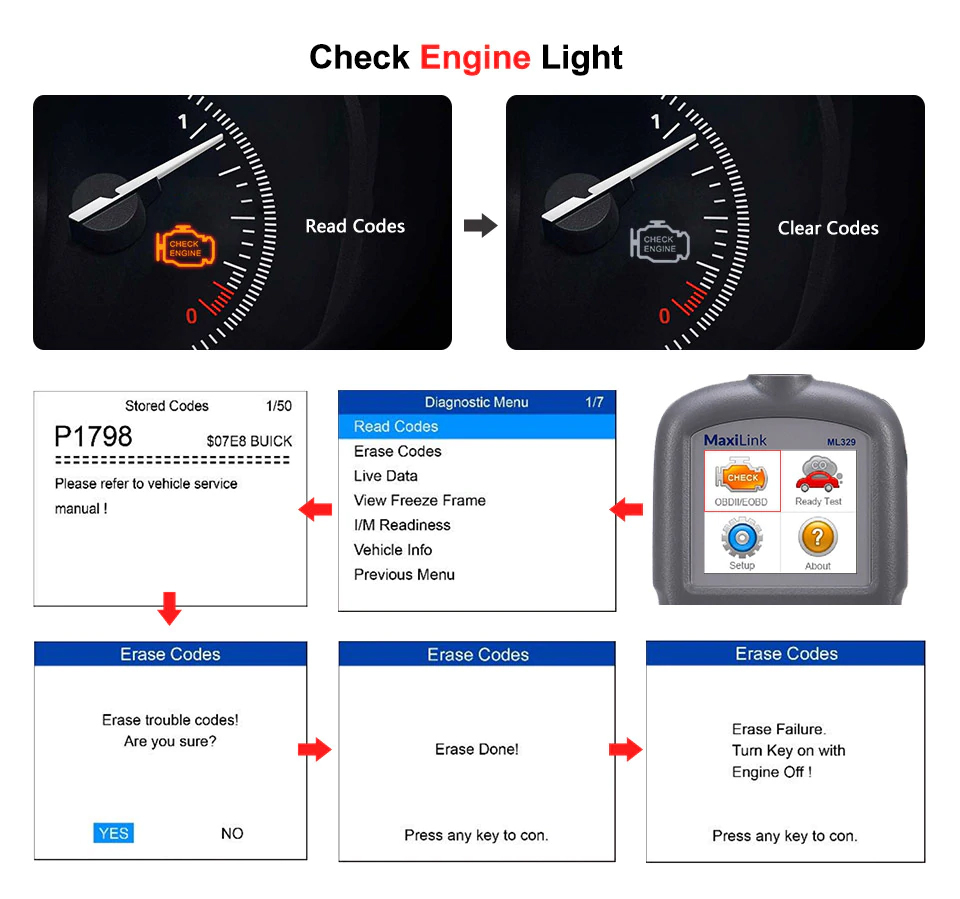 Full OBDII Functions:
Support Mode $ 01 reading dynamic data flow, fault indicator light, ready state
Support Mode $ 02 freeze frame data query
Support Mode $ 03 reading current fault codes
Support Mode $ 04 clear fault codes
Support Mode $ 05 oxygen sensor detection test
Support Mode $ 06 monitor specific vehicle monitoring system
Support Mode $ 07 pending fault code reading
Support Mode $ 08 monitor vehicle systems or components
Support Mode $ 09 to read vehicle information
Support Mode $ 0A permanent fault code readingfeatures:Full support OBDII functions
Data Flow graphics capabilities, allowing more intuitive observation
Have trouble code, data stream and other information queries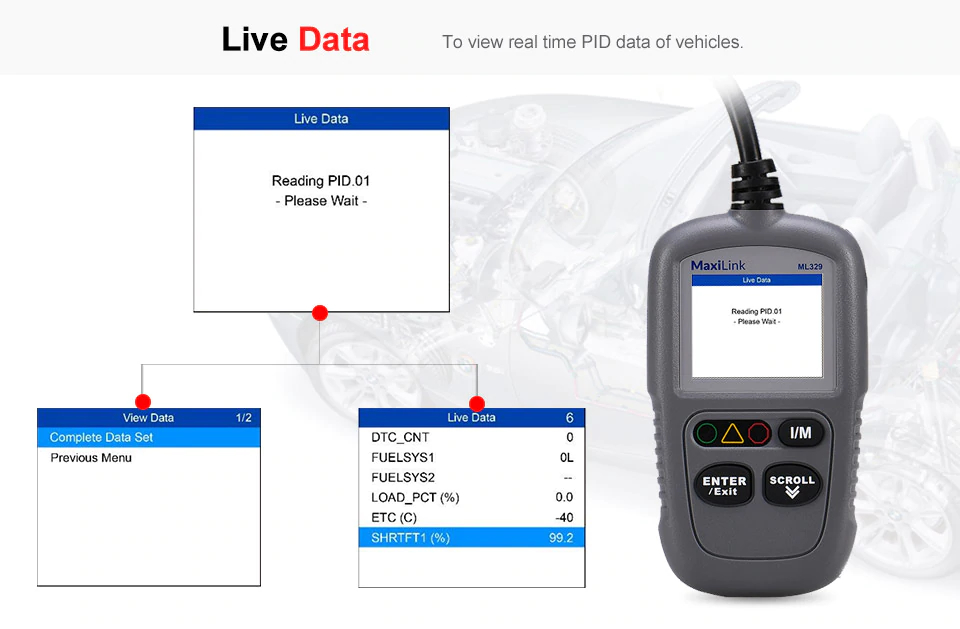 Quick and Accurately Detect the Car's Problem
1. Read extensive current, pending and permanent codes in OBD system quickly
2. Clear detected fault codes and turn off the Check Engine Light efficiently
3. Read I/M readiness status to have a vehicle inspected for state emissions compliance
4. View the vehicle's operating parameters recorded when an emission-related fault occurs
5. Retrieve the vehicle information of VIN, CINs, and CVNs completely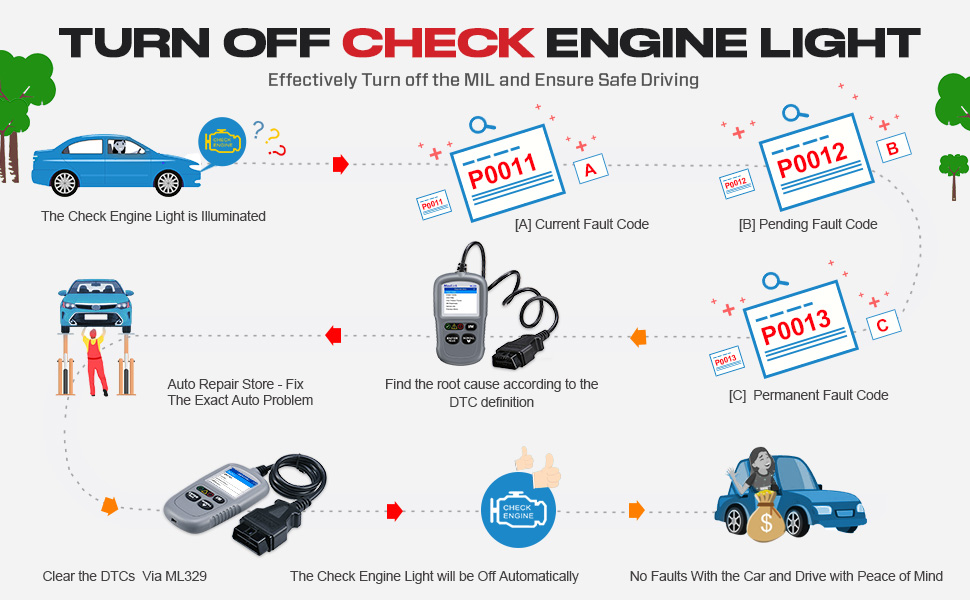 Advanced AutoVIN Function:
The AutoVIN function of this entry-level code reader enables users to quickly identify automobiles according to the vehicle identification number (VIN). The components of the code mean certain things like Manufacturer, Brand, Year, Sequential Number, Approx. Mileage, the make and the model, etc. It's one of the best options available in the market in terms of speed, performance, data analysis and data transfer.
Update Procedures:
1. Download the Maxi PC Suite from official website and install it to computer;
2. Run the Maxi PC Suite and wait for the Log In window to display;
3. Connect the ML329 to the computer with the provided USB Cable;
4. Select Update Mode from the System Setup screen;
5. Enter Autel ID and password, and then wait for the Update window to display;
6. Select tool and serial number;
7. Select the appropriate files to install from the Update window.
Specifications:
Display: TFT color display (220x176 dpi)
Connectivity: USB mini 2.0; OBD II DB16
Operating Temp.: 0 to 60 ℃ (32 to 140 ℉)
Storage Temp.: -20 to 70 ℃ (-4 to 158 ℉)
Power: 8.0 to 18.0 V provided via the vehicle battery
Product Display: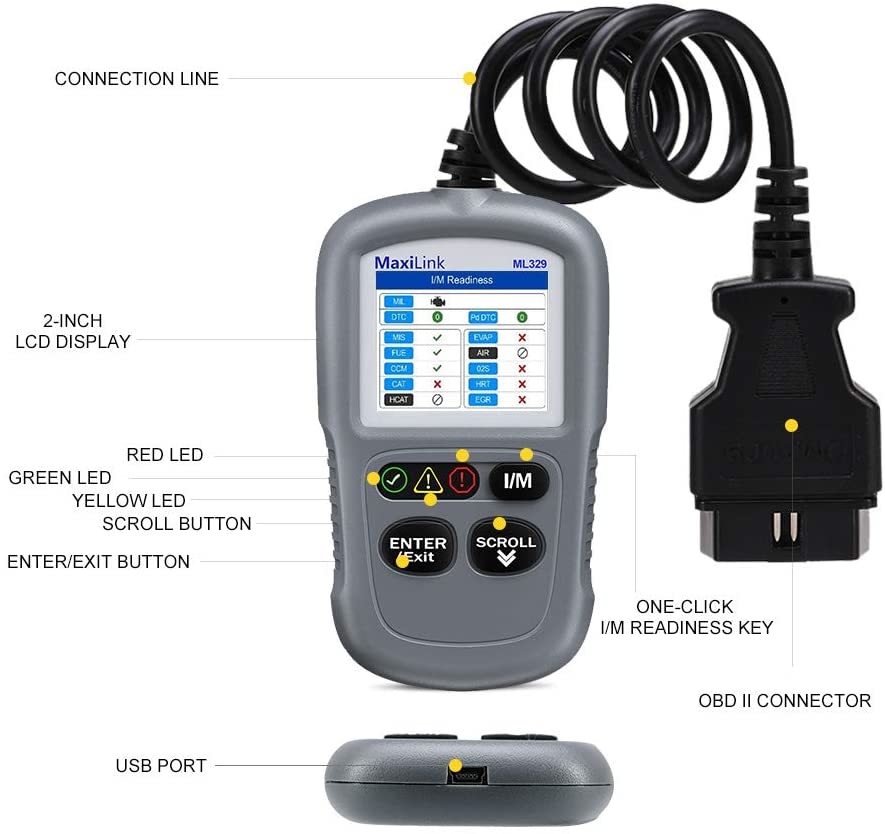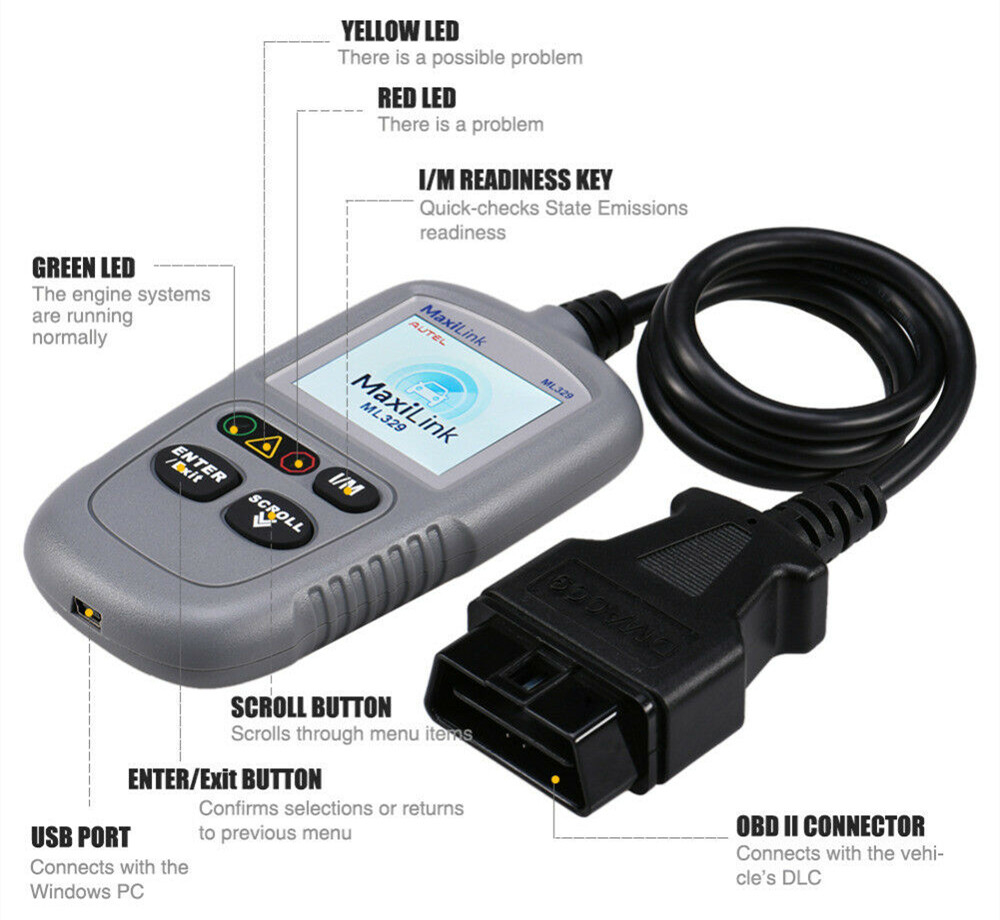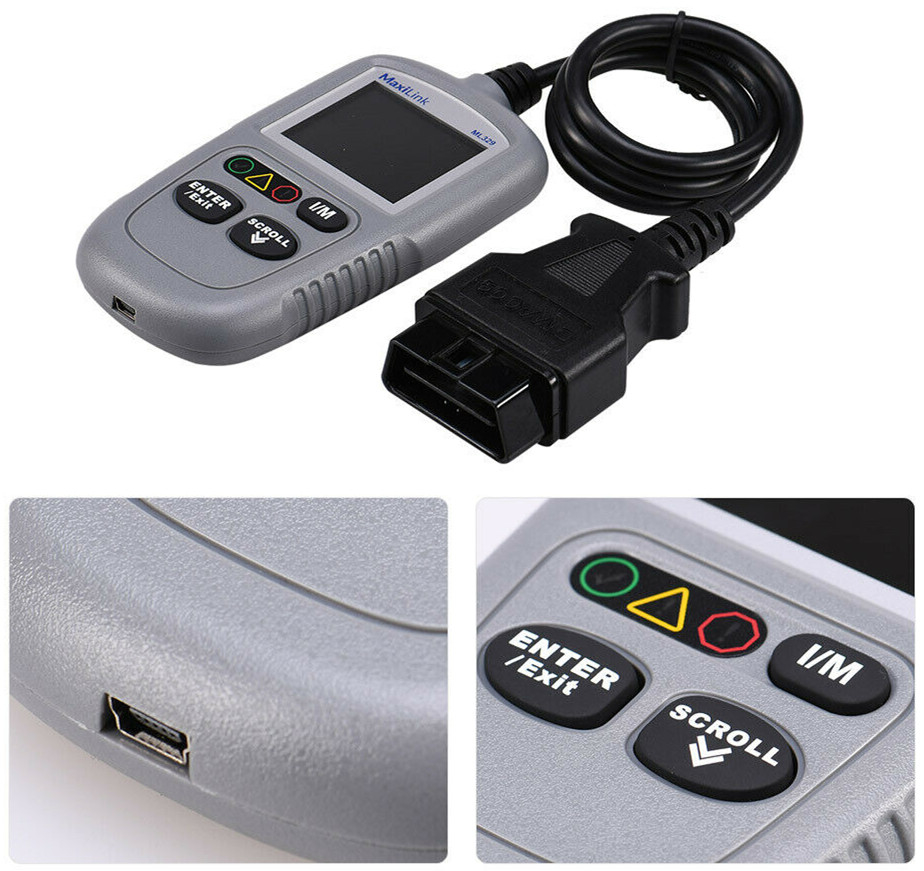 Package List:
1pc x Main Unit Autel ML329
1pc x User Manual
1pc x Quick Guide
Shipping Method and Delivery Time:
US, UK, Czech and Russia Warehouse Shipping:
3-5 working days. Fast Delivery & Tax Free.
US Check:
Ship from US
UK Check:
Ship from UK
EU Check:
Ship from Czech
Russia Check:
Ship from RU
DHL Shipping:
3-5 working days. Usually we declare a lower value on DHL invoice to help with customs clearance. If address belongs to remote area, customer will need to pay remote handling cost or we can change to ship by EMS. Please remember to leave message if you have any special requirement.
Yanwen Express:
7-10 working days. No Tax or remote cost for European Countries.
Standard Post:
7-15 working days. To South America and Africa countries it may take 20-25 working days. Customers can tick Express Shipping Service to ship by DHL.