Autel MaxiSys MS908s Pro Diagnostic Platform

As one of the MaxiSys series devices, Autel MS908S Pro Diagnostic Platform bases on the revolutionary Android multitasking operating system, utilizes the powerful Cortex A7+A15 six-core processor, and equips with 9.7-inch LED capacitive touch screen. Supporting J2534 ECU Programming Device is capable of replacing the existing software/firmware in the Electronic Control Units (ECU), programming new ECUs and fixing software-controlled drivability issues and emission issues. MS908S Pro is an ideal tool for a truly trouble-free diagnosis of a maintenance plant by quickly, efficiently and effectively diagnosing automotive faults, managing customer data, and standardizing business processes.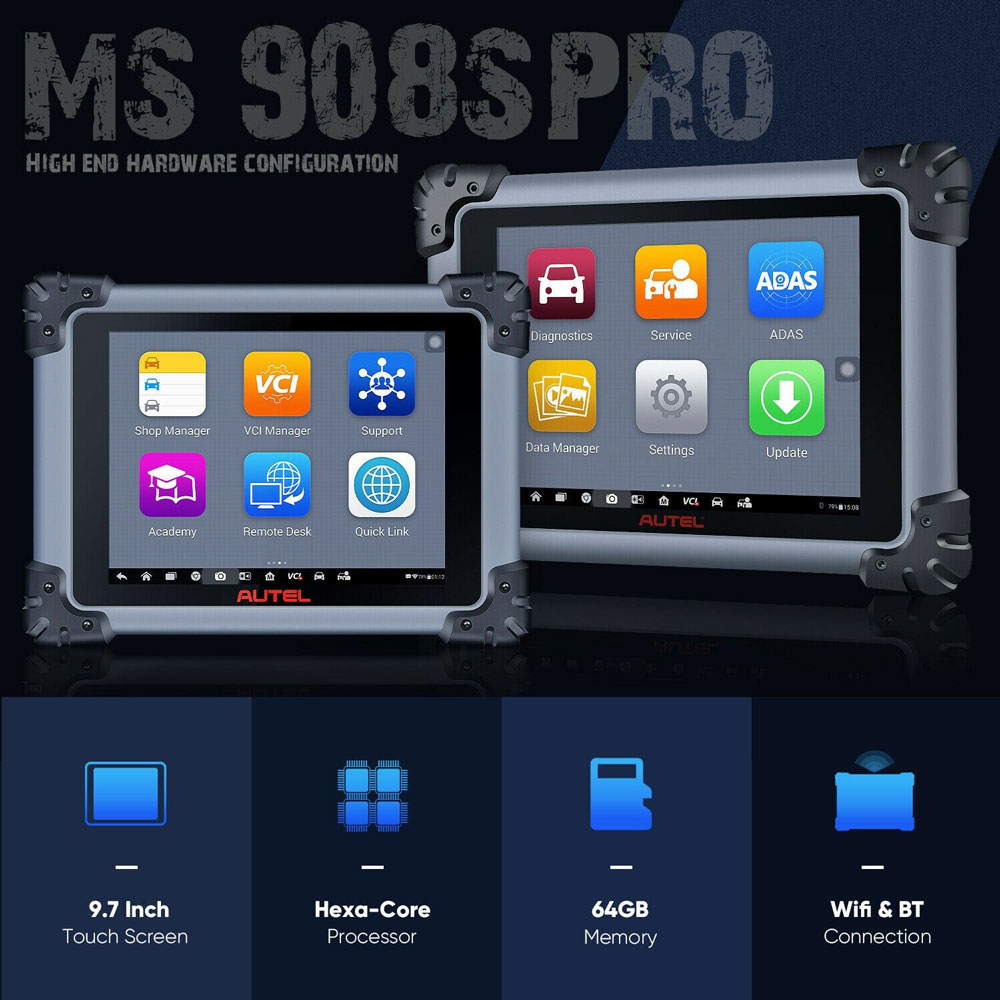 Autel MaxiSys MS908s Pro Features:

1. Extraordinarily powerful Cortex A7+A15 six-core processor
2. 9.7" 1024x768 LED-backlit glossy Multi-Touch capacitive display with IPS technology
3. Internal reliable 64GB On-board Memory for better performance
4. Built-in 8-megapixel rear camera with autofocus and flashlight
5. The VCI connects to the main unit wirelessly with up to 70 meters working range
6. 802.11 a/b/g/n/ac Wi-Fi to access your favorite web resources
7. Unique ergonomic design with rubberized outer protection and a rugged internal housing
8. Open source Android Operating System for fast boot-up and multitasking
9. Extensive vehicle coverage for more than 80 US, Asian and European vehicle makes
10. Exceptional OE-Level system coverage for all electronic systems
11. Complete capabilities for codes, live data, active test, ECU information, adaptation, matching, etc
12. Cloud-based Data Manager saves customer and vehicle records, scanner data and technician notes
13. Built-in rechargeable lithium-polymer battery for up to 7.5 hours of continuous operation
14. Equip with J2534 ECU Programming Device for replacing the existing software/firmware in the Electronic Control Units (ECU), programming new ECUs and fixing software-controlled drivability issues and emission issues

Autel MaxiSys MS908s Pro Functions: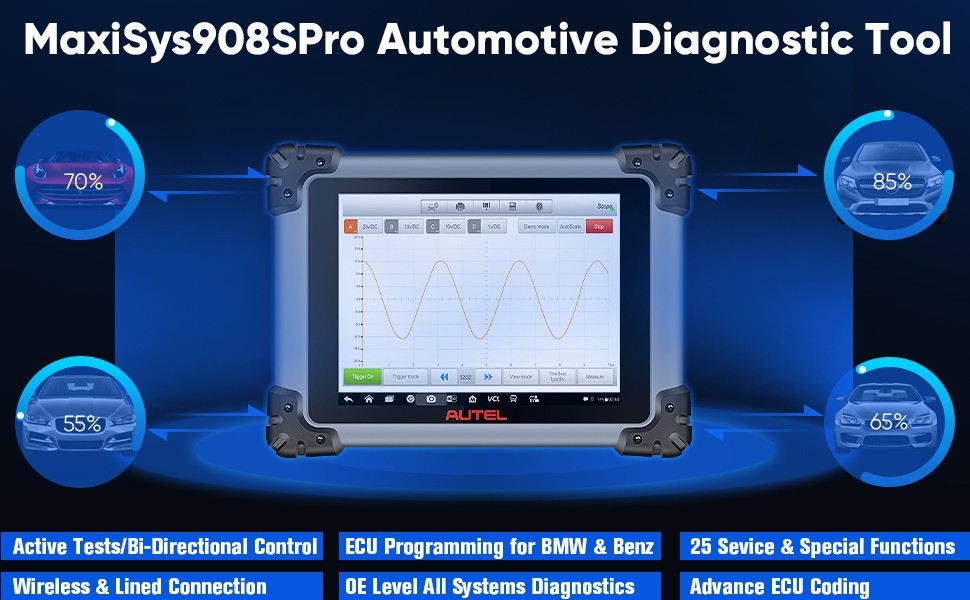 OE Level All Systems Diagnostics

Autel MaxiSys MS908S Pro comes with lined connection through USB cable and wireless connection through the MaxiVCI to prevent the inconvenience of short cable.As a professional auto diagnostic tool, MS908S Pro can access ALL available vehicle modules including but not limited to ECM, PCM, EPS, PDM, BCM, TPM, SCCM, RADIO and etc to retrive diagnostic fault codes and view live data in graph and text, to pinpoint which cylinder has a misfire, check transmission temperature, oil temperature & pressure, camshaft position sensor status and etc.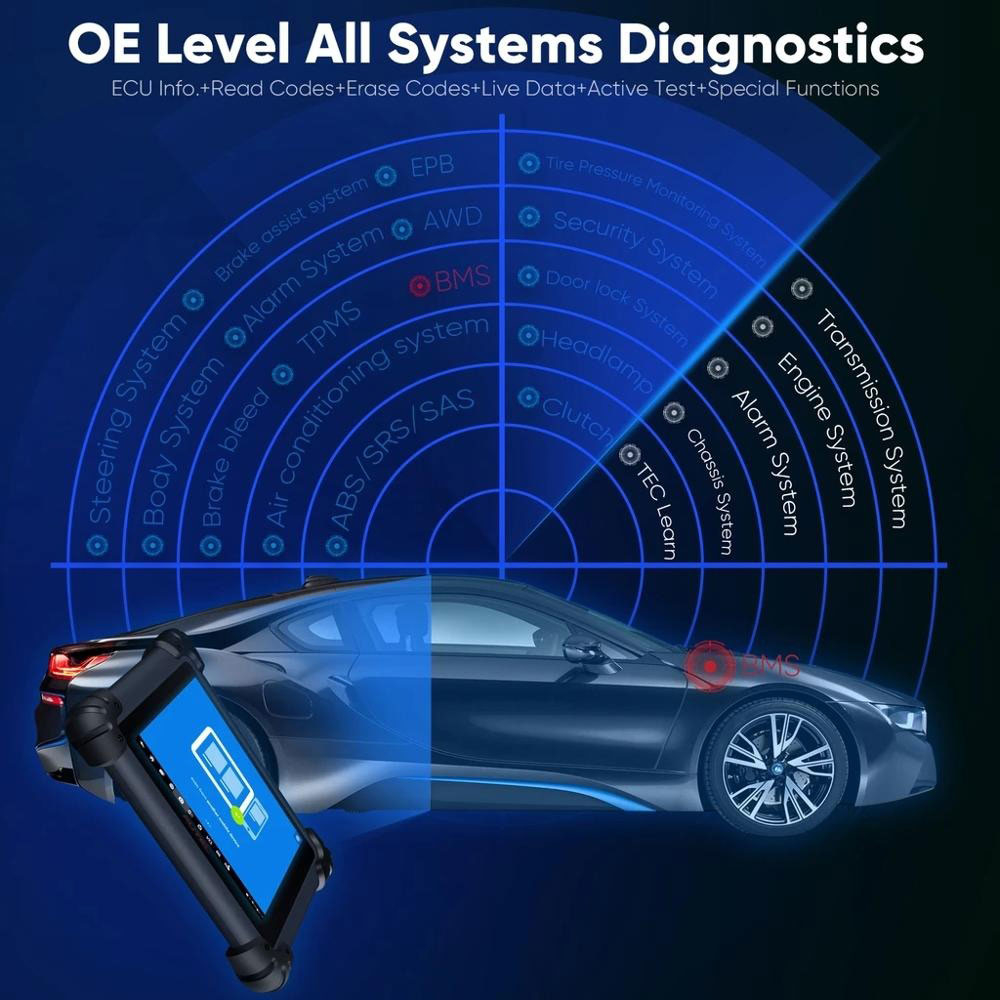 25 Advanced Service and Special Functions
Autel MS908S Pro can perform various useful both time and money saving service and special functions like Oil Reset, EPB reset, DPF Regen, ABS Bleed, SAS, Battery Registration, key fob programming, Injector Coding, Power Balance(to test injectors), Crankshaft Position Variation Learn, EGR Relearn, window, door and roof control, throttle, and etc.
NOTE: Service and Special Functions are NOT universally compatible. Please send us VIN number to check compatibility before purchase.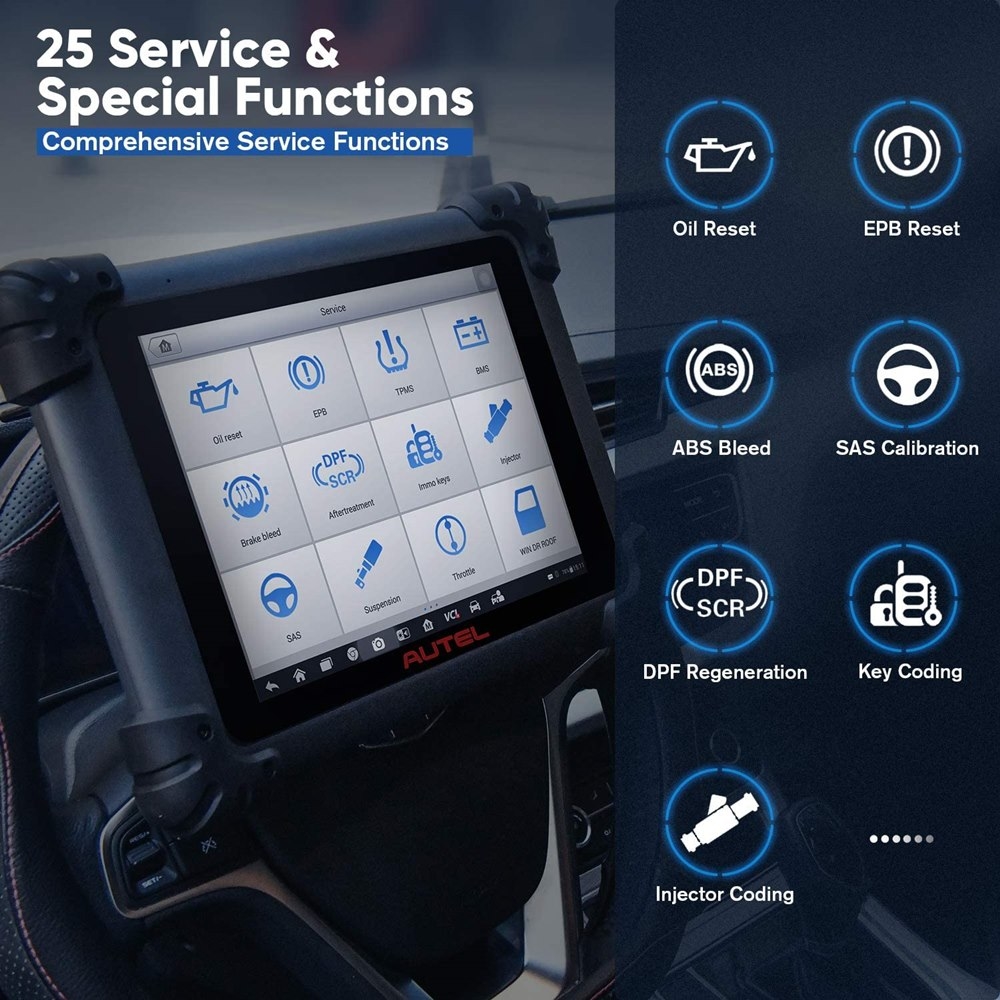 ECU Programming for Specific BMW & Benz
Autel MS908S Pro comes with SAE J2534 Pass-Thru (J2534 Programmer) to replace the existing software & firmware and program new ECUs for BMW & Benz vehicles to fix software-controlled drivability issues and emission issues.
Advanced ECU Coding Function
ECU Coding function allows you to update the computer software on the vehicle to the latest version, recode adaptive data for certain components after making repairs or replacements to improve driving performance, fuel efficiency and reduce power loss. Available coding operations vary by the test vehicle, and only the available operations display in the menu.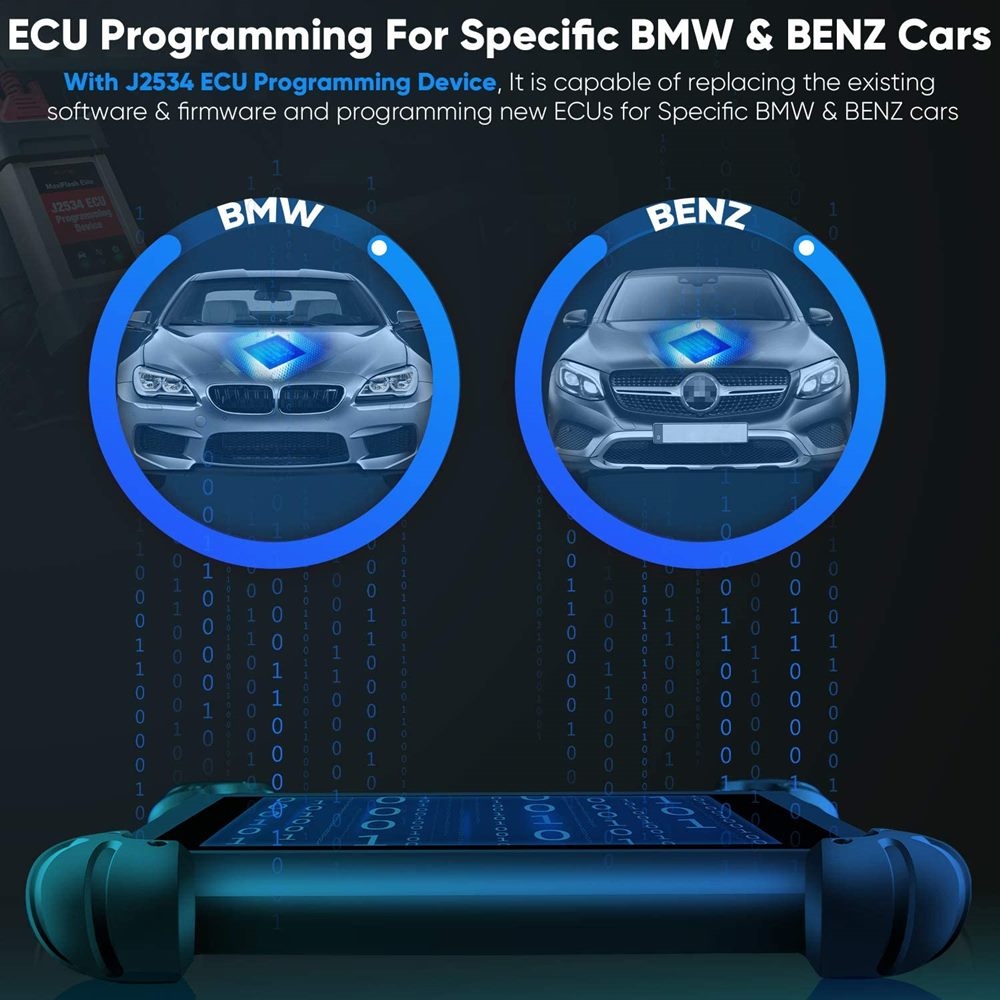 Autel MaxiSys MS908S Pro Supported Vehicles:
Autel MaxiSys MS908S Pro automotive scanner tablet comes with unmatched vehicle coverage of more than 80 American, Asian and European vehicle makes and models.With Autel complete connect kit including CCD adapter(Chrysler-16 for Chrysler under 2003), GM/Daewoo-12, Honda-3, Nissan-14, Mitsubishi/Hyundai 12+16, Kia-20, Benz-38, BMW-20, VW/Audi 2+2, specific vehicles, MS908S Pro has extened vehicle coverage.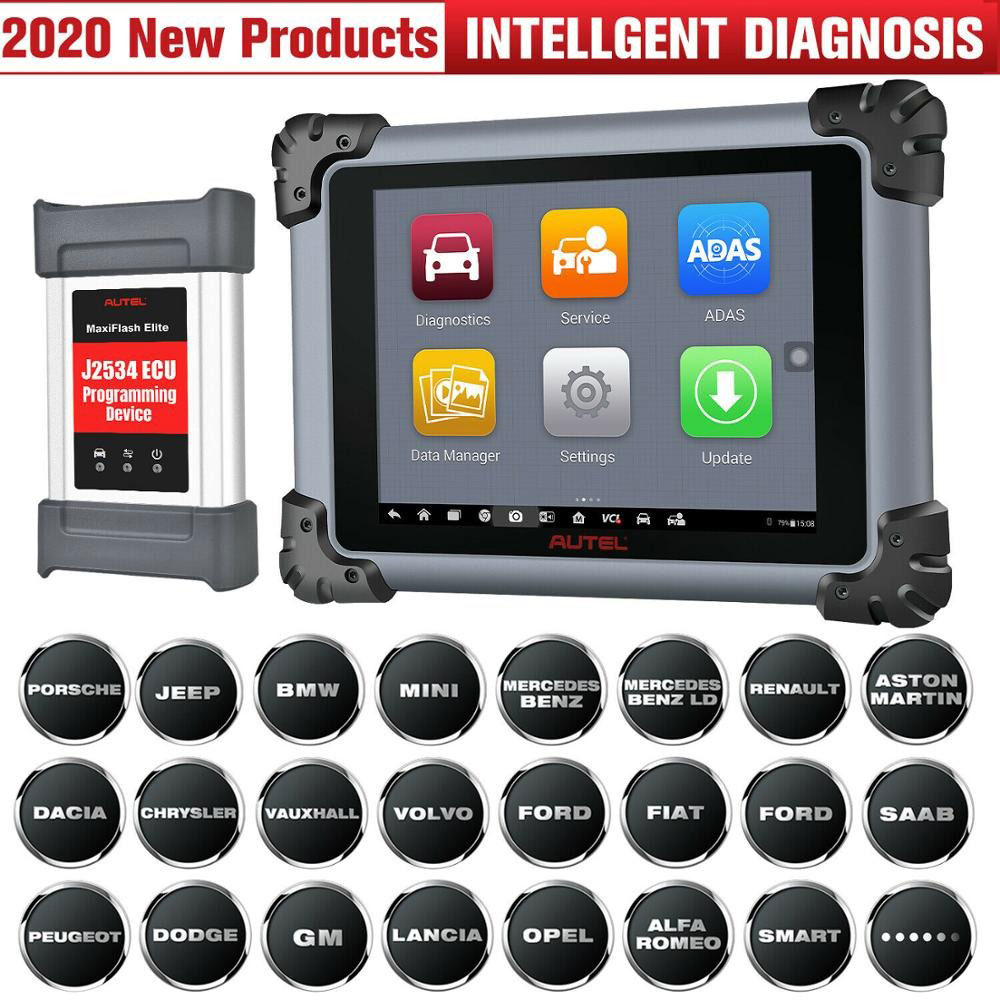 Autel MS908S Pro Specification:
Operating System
AndroidTM 4.4.2, KitKat
Processor
Samsung Exynos Six-core Processor (1.3GHz Quad-core ARM Cortex-A7 + 1.7GHz Dual-core ARM Cortex-A15)
Memory
2GB RAM & 64GB On-board Memory
Display
9.7 inch LED capacitive touch screen with 1024x768 resolution
Connectivity
Wi-Fi (802.11 a/b/g/n/ac)
USB: 2.0
BT v.2.1 + EDR
SD Card (Support up to 32GB)
HDMI
Camera (rear)
8.0 Megapixel, AF with Flashlight
Sensors
Gravity Accelerometer, Ambient Light Sensor (ALS)
Audio Input/Output
Microphone
Dual Speakers
3-Band 3.5 mm stereo/standard headset jack
Power and Battery
11000 mAh 3.7 V lithium-polymer battery
Charging via 12 V AC/DC power supply with the temperature between 0°C and 45°C
Input Voltage
12 V (9-24 V)
Power Consumption
6.5 W
Operating Temp.
0 to 50°C (32 to 122°F)
Storage Temp.
-20 to 60°C (-4 to 140°F)
Dimensions (WxHxD)
300 mm (11.81") x 220 mm (8.66") x 50 mm (1.97")
Weight
NW: 1.42 kg (3.13 lb.) GW: 8.052 kg (17.75 lb.)
Protocols
ISO 9142-2, ISO 14230-2, ISO 15765-4, K/L-Line, Flashing Code, SAE-J1850 VPW,
SAE-J1850 PWM, CAN ISO 11898, Highspeed, Middlespeed, Lowspeed and Singlewire CAN,
GM UART, UART Echo Byte Protocol, Honda Diag-H Protocol, TP 2.0, TP 1.6, SAE J1939,
SAE J1708, Fault-Tolerant CAN
Autel MS908S Pro Package: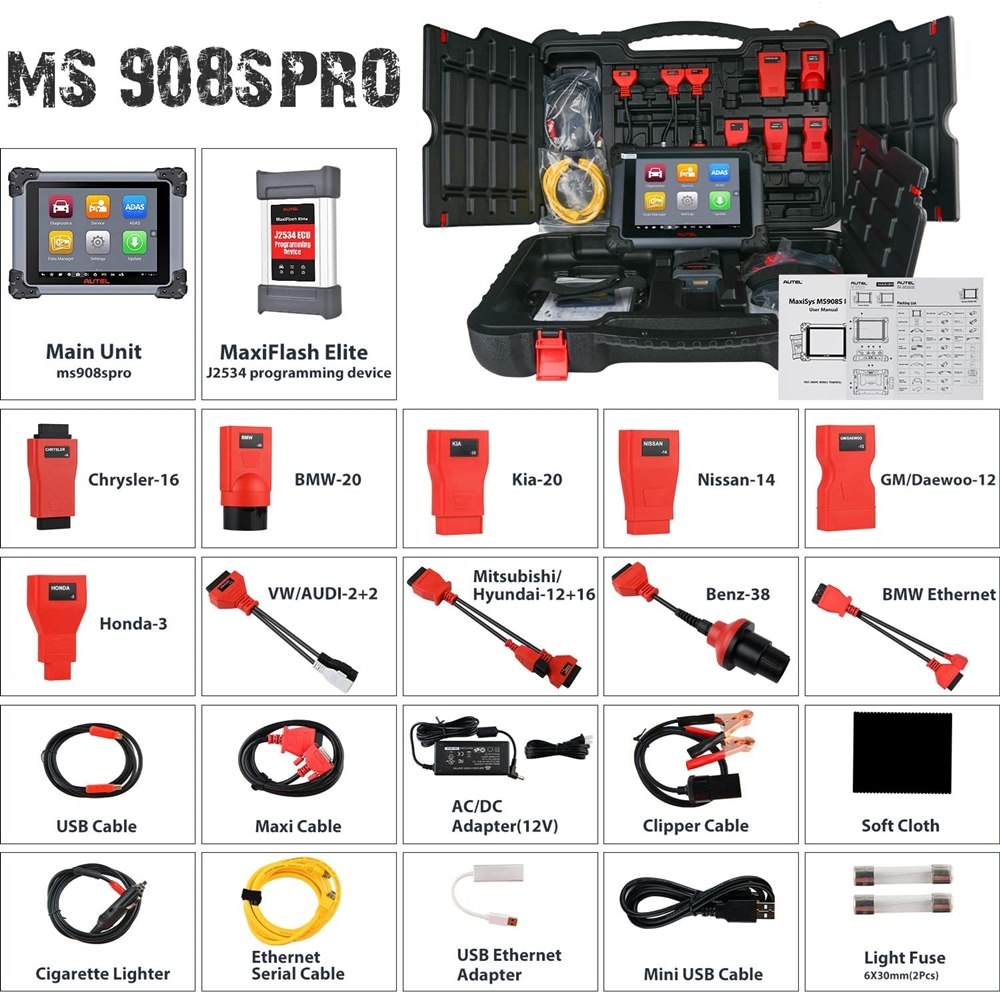 MS908s Pro Tablet
J2534 Programming Device
USB Ethernet Adapter
Standard 2.0 USB Cable
BMW Ethernet Cable
Maxi Cable – 1.5 m in length
Adapter for Chrysler-16 (America Only) Lighter Fuse
Adapter for GM/Daewoo-12
Adapter for PSA-2
Adapter for Fiat-3
Adapter for BMW-20
Adapter for Benz-38
Adapter for Kia-20
Adapter for Mitsubishi/Hyundai-12+16
Adapter for Nissan-14
Adapter for Honda-3
Cigarette Lighter
AC/DC External Power Adapter
Clipper Cable
Adapter for VW/AUDI-2+2
Mini USB Cable
Ethernet Serial Cable
Shipping Method and Delivery Time:
US, UK, Czech and Russia Warehouse Shipping:
3-5 working days. Fast Delivery & Tax Free.
US Check:
Ship from US
UK Check:
Ship from UK
EU Check:
Ship from Czech
Russia Check:
Ship from RU
DHL Shipping:
3-5 working days. Usually we declare a lower value on DHL invoice to help with customs clearance. If address belongs to remote area, customer will need to pay remote handling cost or we can change to ship by EMS. Please remember to leave message if you have any special requirement.
Yanwen Express:
7-10 working days. No Tax or remote cost for European Countries.
Standard Post:
7-15 working days. To South America and Africa countries it may take 20-25 working days. Customers can tick Express Shipping Service to ship by DHL.