Original Autel MaxiIM IM608 Advanced Diagnose + IMMO Tool Plus XP400 Pro Same Functionality as Autel IM608 Pro (No IP Blocking Problem)

Highlights:1. Multi-Language for both Diagnosis and IMMO Menu:
English, French, German, Spanish, Portuguese, Italian, Dutch, Polish, Swedish, Korean, Japanese, Russian and Traditional Chinese
2. Global Version:
No IP Blocking Problem,Can Be Used Worldwide
3. One Year Free Update Online (After One Year, Update Cost 1000USD/ Year)
4. Comes with XP400 Pro Which Adds More functionality for BMW, Mercedes-Benz, as well as EEPROM reading
5. Could be used with IMKPA Accessories (Need to Buy Separately) Which adds BMW EWS3 key learning, Benz NEC key learning and Benz ESL_W209 read/write/erase

Notice: IMKPA Does Not Contain in The Package. You can buy Autel IMKPA Accessories Separately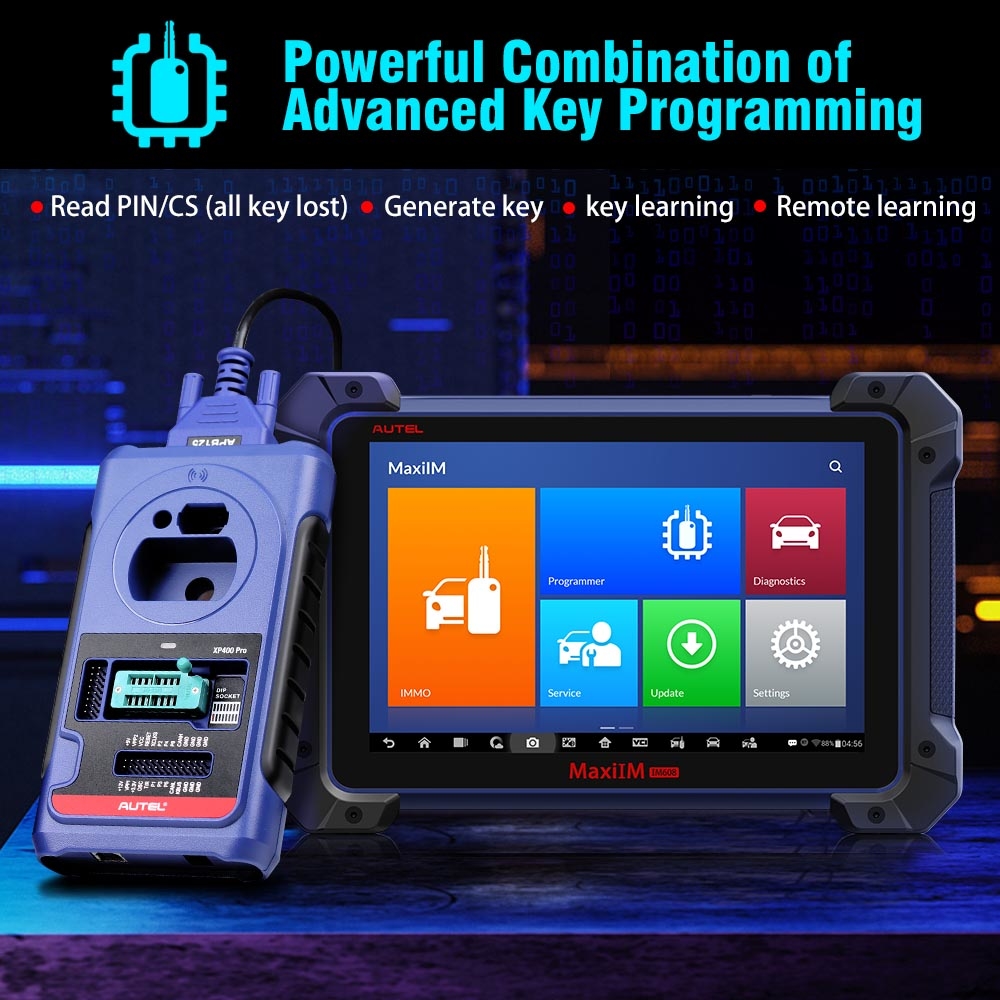 Description:
With the upgraded key programmer XP400 Pro, the MaxiIM IM608 Pro is the most advanced key programming tool that combines the powerful IMMO and programming functions with OE-level diagnostics and advanced service functions in one Android based 10.1-inch touchscreen tablet.
Autel MaxiIM IM608 Pro features an automated and guided Smart Mode to help technicians perform key learning effortlessly, and an Expert Mode to provide experienced technicians with quick access to desired functions. It supports all the functions of the previous MaxiIM IM608 with more powerful and stable performance of key functions, including read/write keys, read/write chips, and read/write Mercedes
infrared key.
The IM608 is an Autel scan tool with additional software and accessories for IMMO and key programming.
1. Extraordinarily powerful Cortex A7+A15 six-core processor
2. 10.1-inch LED capacitive touch screen with 1920x1200 resolution
3. Internal reliable 64GB On-board Memory for better performance
4. Built-in 8-megapixel rear camera with autofocus and flashlight
5. 802.11 a/b/g/n/ac Wi-Fi to access your favorite web resources
6. Open source Android Operating System for fast boot-up and multitasking
7. Powerful combination of advanced key programming/all systems diagnostics/advanced maintenance services
8. Professional key programming equipped with XP400 key programmer and MaxiFlash ECU programmer for complete Immo coverage
9. Smart mode for guided and automated key learning
10. Expert mode for advanced key learning
11. Read PIN/CS (all key lost), generate key, key learning, remote learning
12. IMMO ECU reset/adaptation, refresh/coding
13. Read/write transponder data, ECU/MCU/EEPROM data (eg. 9S12 encryption chip), IC card, detect remote frequency
14. Powerful OE level diagnostics for more than 80 US, Asian and European makes and models
15. Complete capabilities for codes, live data, active test, ECU information, adaptation, matching, coding etc.
16. All special functions, EPB, DPF, SAS, Oil reset, BMS, TPMS sensor ID relearn, etc.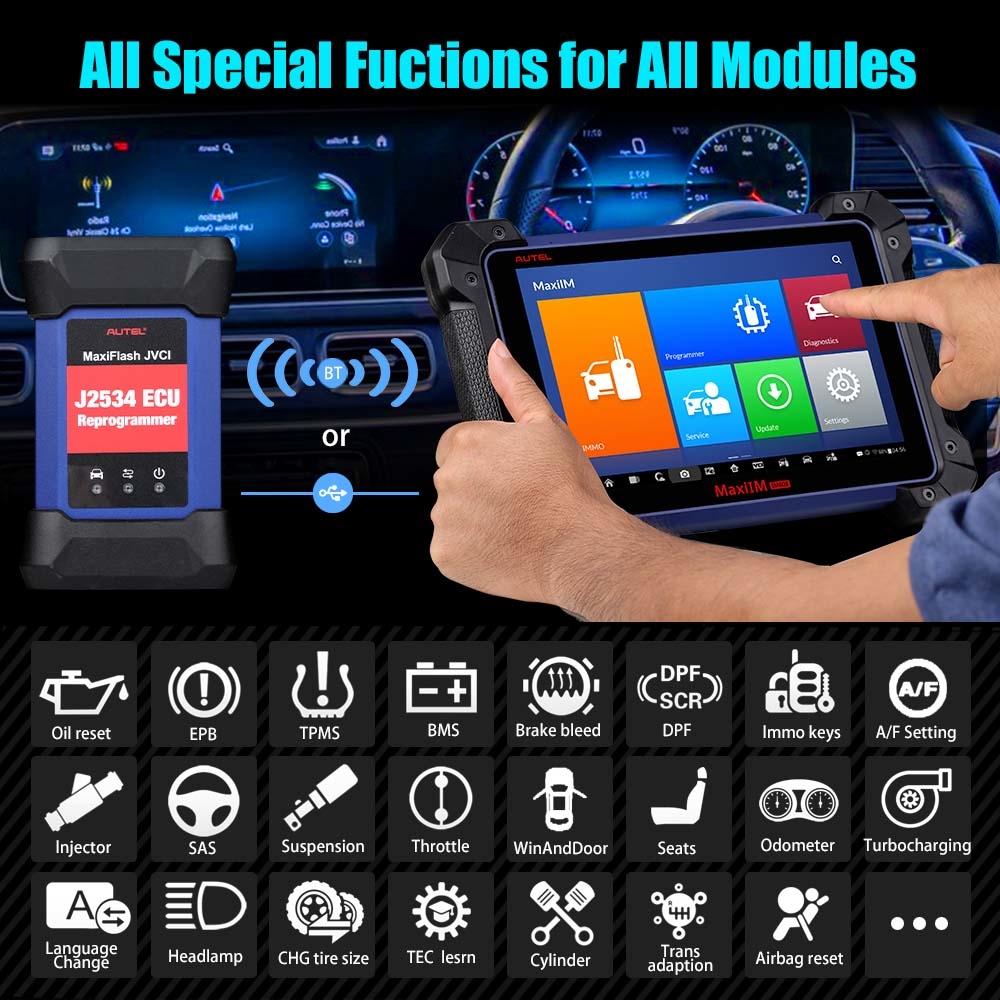 Why You Need XP400 Pro?
1. Expanded EEPROM functions for more component access
2. 170+ types Odometer component reading functions
3. 180+ Immobilizer ECU component types
4. 40+ Engine ECU component types
5. 2000+ MCU component types
6. 440+ EEPROM component types
7. Compatible with IM508 and IM608
Key Programmer Adapter Kit (IMKPA Kit Optional):
Supports over 10 key unlock types
BMW EWS3 key learning
Benz NEC key learning
Benz ESL_W209 read/write/erase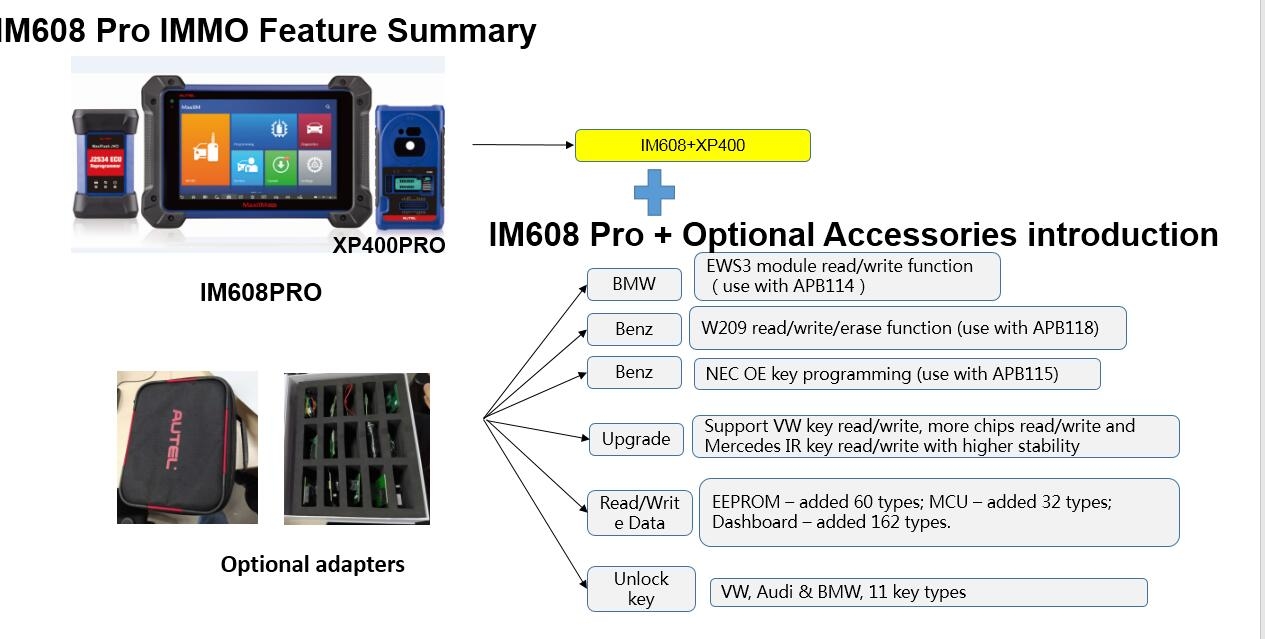 XP400Pro adds support for following chips:
EEPROM-->>AMD-->>AM29FXXX series chip
EEPROM-->> FUJITSU-->> MB29FXXX series chip
EEPROM-->> ST-->> M29FXXX series chip
Engine control module-->> ST-->> M29FXXX series chip
IMMO-->> BENZ-->> ESL_W209_W906 (Motorola) read/write/erase function
IMMO-->> BMW-->>EWS3 module read/write function
REMOTE_RENEW(renew key)-->> NEC-->> V51 and V5 chip read/write/erase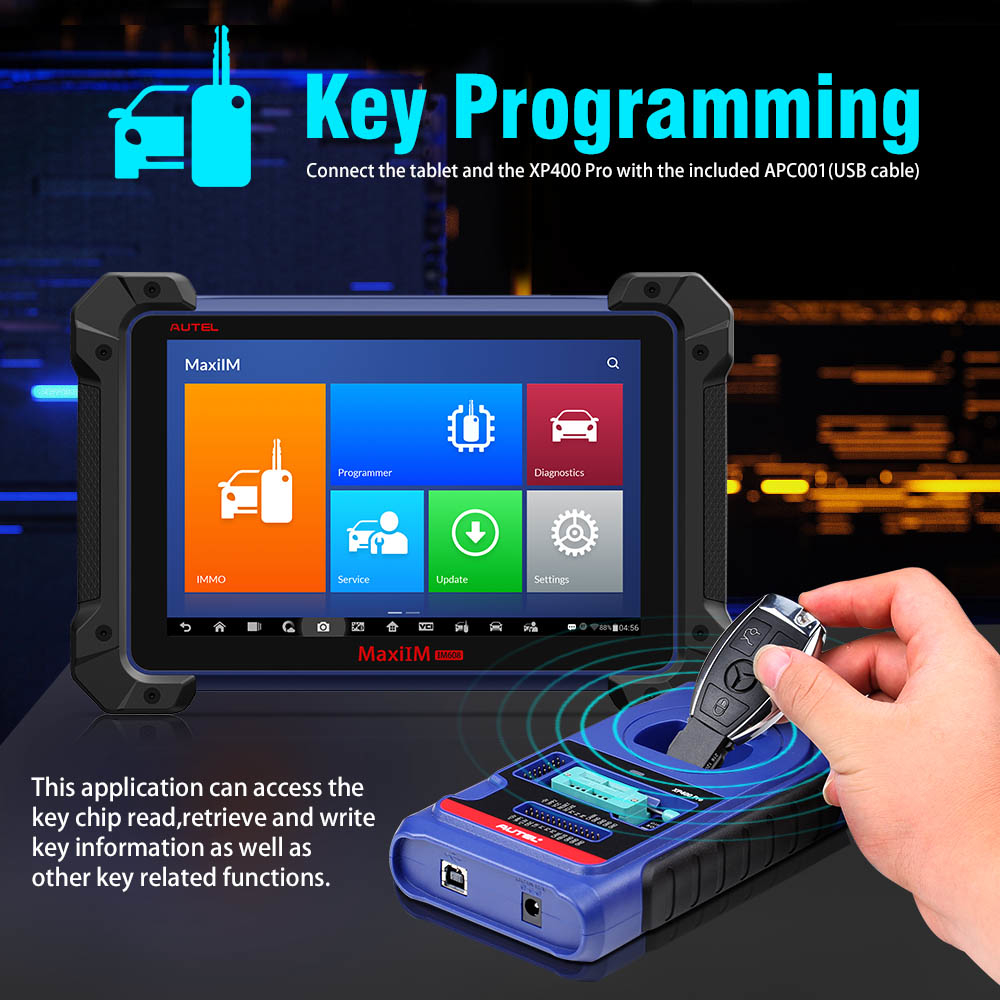 XP400 Pro adds support for following adaptor board:
APB113 PCF79XXadaptor board
APB114 EWS3 adaptor board
APB115 NEC Adapter board
APB118 NEC ELV adaptor board
APB119 TB28FXXXadaptor board
APB120 TMS370adaptor board
APB121 AM29FXXX Adapter board
APB122 AM29FXXX adaptor board1
APB123 AM29FXXX adaptor board2
APB126 M35080/D80 adaptor board
APB127 MC68HC0(7)05BXX adaptor board
APB128 MC68HC05X32 adaptor board
ADVANCED KEY PROGRAMMING VEHICLE COVERAGE
when combined with the XP400PRO and the IM508/ IM608
Benz
* One-tap Key Programming via OBD
* 3rd Generation IMMO CAN-Line/ K-Line Add Key, All Key Lost
BMW
* Smart IMMO Programming (support EWS3/ 4, CAS 1/ 2/ 3/ 4, FEM/ BDC)
* Add Key/All Key Lost
Volkswagen/ Audi
* One-tap Online Programming
* Add Key/All Key Lost Via OBD for 2013 - 2020 Models
GM
* Read IMMO Password, Add Key/ All Key Lost up to 2020
Ford
* Add Key/All Key Lost (No PIN Needed) up to 2020
Mazda
* Add Key/All Key Lost (No PIN Needed) up to 2020 FCA
* Read IMMO Password, Add Key/All Key Lost up to 2020
Renault
* Add Key/All Key Lost (No PIN Needed) up to 2020
LandRover/Jaguar
*Add Key/All Key Lost up to 2019
Volvo
* Semi-smart Key Learning via OBD up to 2018
* Smart/Blade/Fobik Key Learning via Dump
Package List:
1pc x MaxiIM IM608 Tablet
1pc x XP400 Pro Key Programmer
1pc x MaxiFlash JVCI ECU Reprogrammer
1pc x Carry Case
1pc x Main Cable
1pc x USB Cable (2m)
1pc x Mini USB Cable
1pc x AC/DC Adapter (12V)
1pc x Light Fuse - 6*30mm (2pcs)
1pc x Cigarette Lighter
1pc x AAC001
1pc x APC101 (USB Cable)
1pc x APB129 (EEPROM Adapter)
1pc x APB125 (Mercedes Infrared Collector)
1pc x APB103 (MCU_PLCC52)
1pc x APB104 (MCU_FQFP64)
1pc x APB105 (MCU_FQFP80)
1pc x APB106 (MCU_FQFP112)
1pc x APB107 (MCU_FQFP144)
1pc x APB108 (MCU_FQFP176)
1pc x APB109
1pc x APB110 (MCU_FQFP176)
1pc x APB111 (MCU_FQFP176)
1pc x APA002 (EEPROM Socket)
1pc x APA101 (Signal Cable)
1pc x APA103 (EEPROM Clamp)
1pc x APA107 (ECU Clamp)
1pc x APA108 (MCU Clamp)
1pc x APA109 (MC9S12 Clamp)
1pc x Connect Cable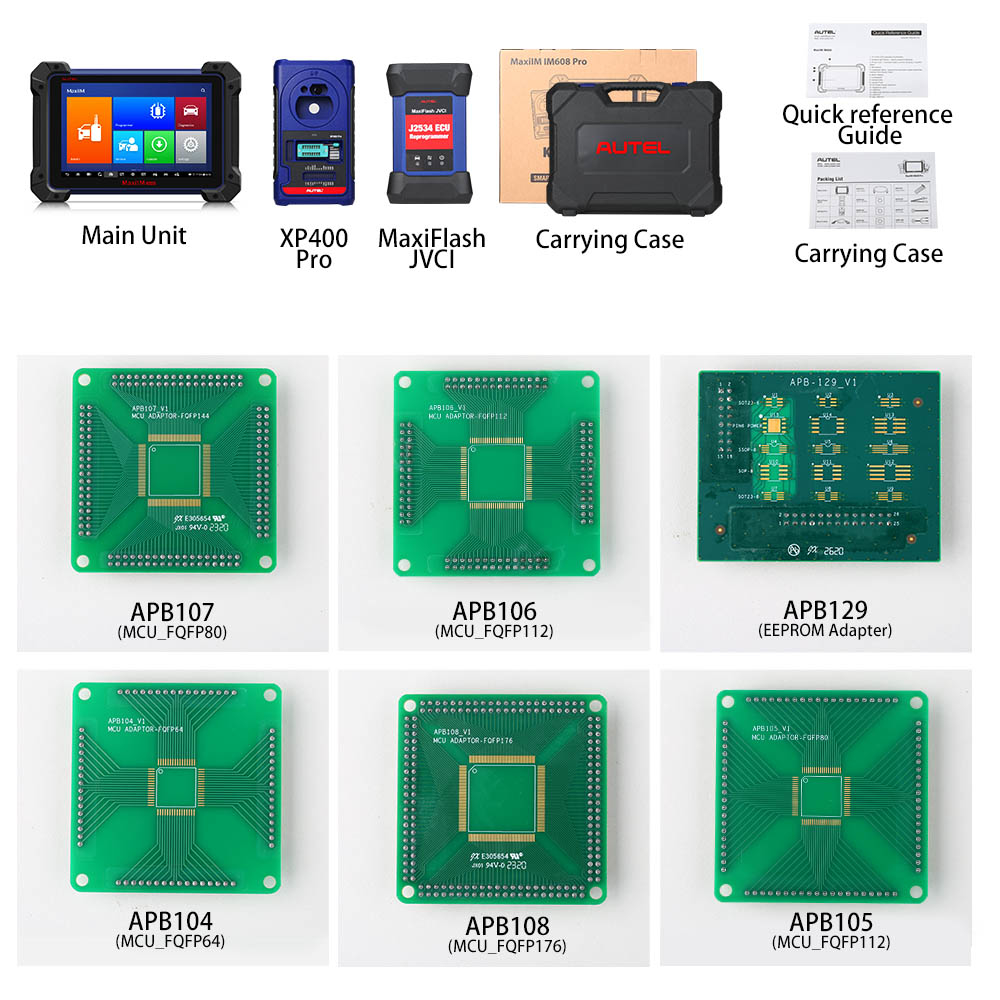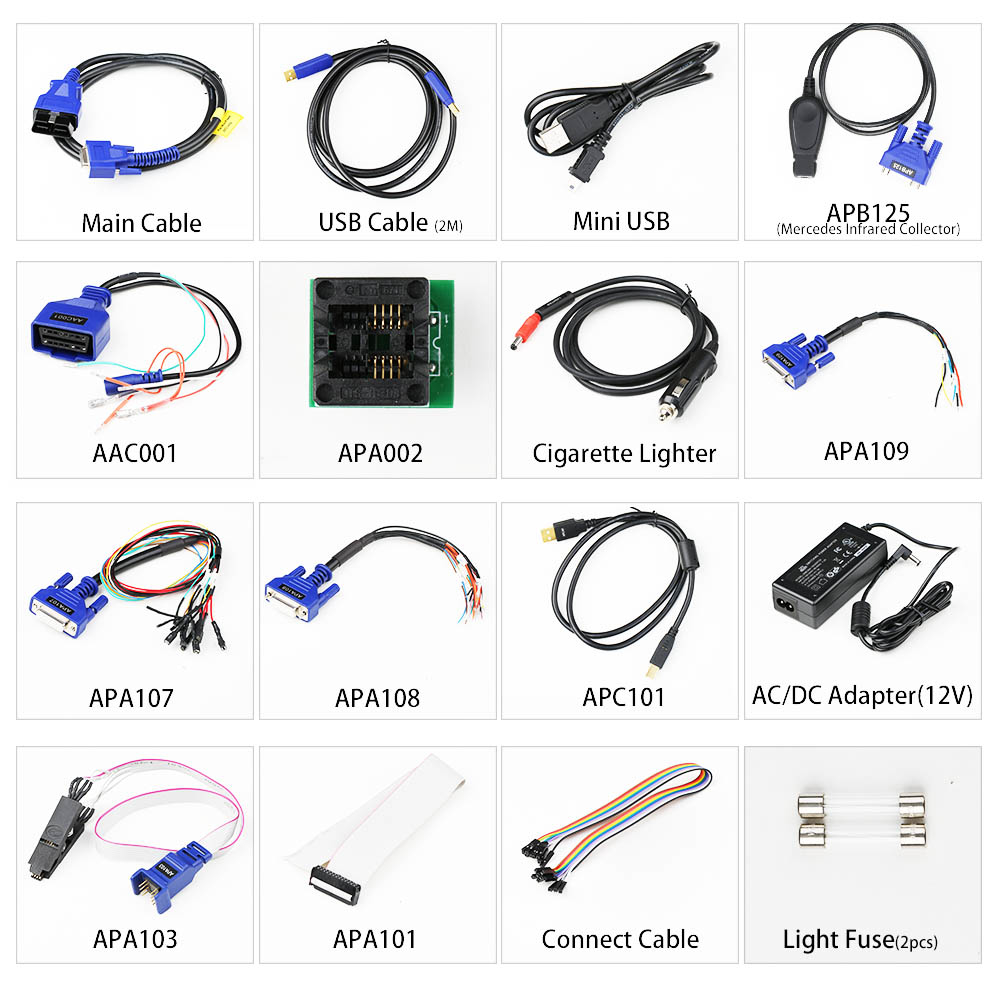 Shipping Method and Delivery Time:
US, UK, Czech and Russia Warehouse Shipping:
3-5 working days. Fast Delivery & Tax Free.
US Check:
Ship from US
UK Check:
Ship from UK
EU Check:
Ship from Czech
Russia Check:
Ship from RU
DHL Shipping:
3-5 working days. Usually we declare a lower value on DHL invoice to help with customs clearance. If address belongs to remote area, customer will need to pay remote handling cost or we can change to ship by EMS. Please remember to leave message if you have any special requirement.
Yanwen Express:
7-10 working days. No Tax or remote cost for European Countries.
Standard Post:
7-15 working days. To South America and Africa countries it may take 20-25 working days. Customers can tick Express Shipping Service to ship by DHL.