INPA K+CAN For BMW with FT232RL Chip
Interface USB OBD2 for BMW - INPA/Ediabas - K+DCAN allows full diagnostic of BMW from 1998 to 2008 (all functions as in OMNITEC interface).
Build in 2 lines K and D-Can magisterial
Features
Read and delete errors
Adaptations
Driver programming
Applu coding
And others...
Supports Protocols
Fast magisterial D-CAN and PT-CAN (500 kbit/s)
Slow magisterial K-CAN (100 kbit/s)
Standard BMW protocol (BMW OBD interface).
D-CAN for
E60, E61 od 03/2007
E83 od 09/2006
E81, E87 od 03/2007
E90, E91, E92, E93 od 03/2007
E70 (new model X5)
R56 (new model MINI)
PT-CAN, K-CAN - fully switchable speed of magisterial CAN - you can diagnose driver without any car
Protocol "BMW OBD interface" for Older Cars
From 1995 to 1998 (don't need K-line).
From 1998 to 03/2008 (all models)
INPA K+CAN Supported Car List: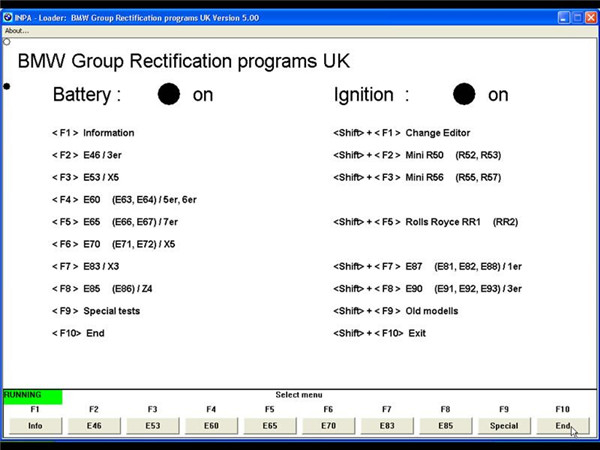 Shipping Method and Delivery Time:
US, UK, Czech and Russia Warehouse Shipping:
3-5 working days. Fast Delivery & Tax Free.
US Check:
Ship from US
UK Check:
Ship from UK
EU Check:
Ship from Czech
Russia Check:
Ship from RU
DHL Shipping:
3-5 working days. Usually we declare a lower value on DHL invoice to help with customs clearance. If address belongs to remote area, customer will need to pay remote handling cost or we can change to ship by EMS. Please remember to leave message if you have any special requirement.
Yanwen Express:
7-10 working days. No Tax or remote cost for European Countries.
Standard Post:
7-15 working days. To South America and Africa countries it may take 20-25 working days. Customers can tick Express Shipping Service to ship by DHL.