Foxwell NT644 Pro Support 60+ Makes Full System Diagnostic Scanner with Special Functions (EPB/ABS/SRS/DPF/SAS/TMPS/Injector/SAS/Oil Reset)
FOXWELL NT644 PRO Highlights:1. Foxwell NT644 Pro can support more special functions than NT644,
Such as ABS,SRS, AT/CVT, SAS, DPF, TBA/TPS, BRT, Injector Coding, TPMS, Gear Learn, Exchange Odometer
2. Covers more than 60+ car makes with all system scanner3. Update online free for lifetime
4. Support Multi-language:
Foxwell NT644 Pro includes two languages, one is English, the other one you can choose from the following:
Korea, Spanish, Portuguese, French, Thai, Hungarian, Swedish, English, Dutch, Japanese, Italian, Russian, German
5. If you need to cover more old cars before year 2000, please buy extra
OBD Adapters Kit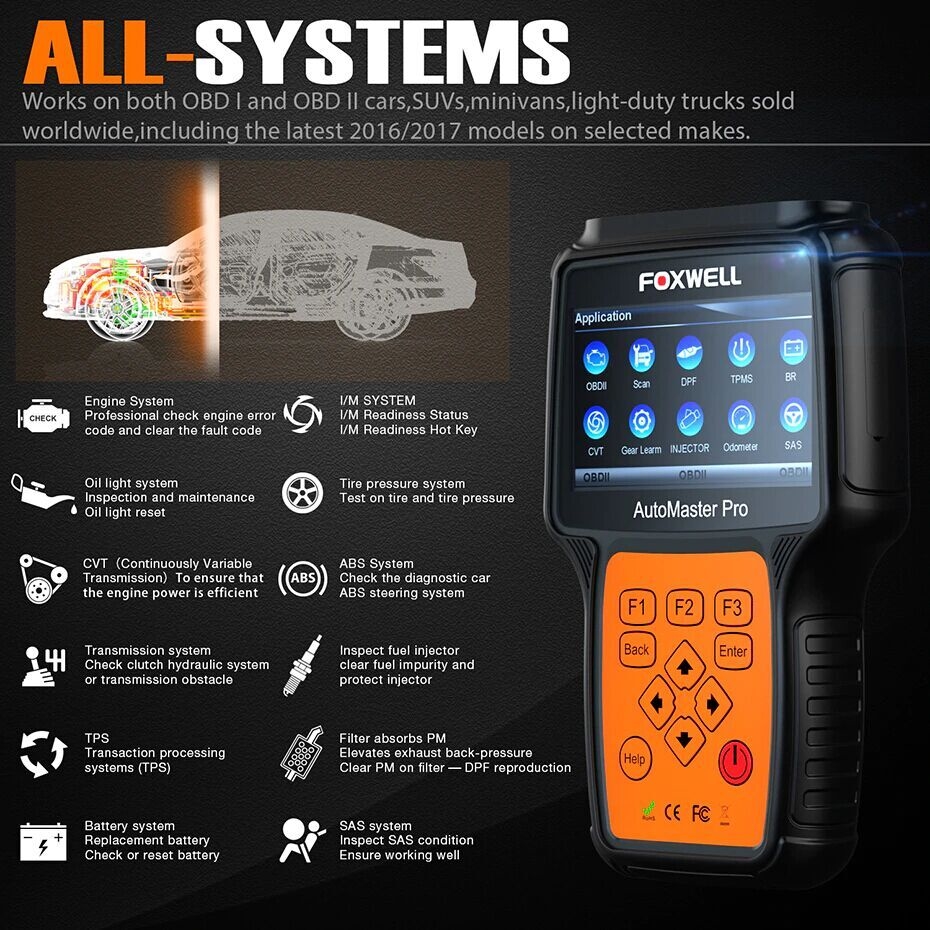 Foxwell NT644 Pro Automotive Diagnostic Tool Features and Benefits:
1. Provides easy diagnosis on more than 61 American,Asian and European vehicle makes.
2. Works on both OBD I and OBD II cars,SUVs,minivans,light-duty trucks sold worldwide,including the latest 2015/2016 models on selected makes.(For OBDI Vehicles need with OBD1 connector, you can choose FULL VERSION)
3. Reads and clear codes and turns of MILs of all controllers.
4. Supports the most commonly used services including oil reset,EPB,BRT,DPF and TPS/TBS.
5. Identifies the vehicle you are testing rapidly and accurately on the basis of its VIN number.
6. It shows live vehicle sensors data in text and graph format and allows you to focus on any suspicious or symptom specific data.
7. You can view 2 parameter graphs simultaneously and merge them into one coordinate,so you can easily see how they affect each other,providing you with the most comprehensive and functional look at live data possible.
8. With Internet access,you will always have the latest bug fixes,new vehicles,newly added parameters and functionality at your fingertips.And they are free forever .
9. Clearly arranged keypad,menu-driven operation,shortcuts and impressive 4.3inch color display together make the series extremely easy to use.
10. It is constructed to resist impact and damage in the tough workshop environment.A rubberized sleeve protects our investment.
11. Life time free upgrade online.(With Internet access,you will always have the latest bug fixes,new vehicles,newly added parameters and functionality at your fingertips.And they are free forever.Simply install the SD card into your computer or an SD card reader,log into the PC appliation,and click update.The application does all the work,syncing the latest software to your tool.)
Foxwell NT644 PRO All System Scanner with Special Functions:
1. Engine Check
2. Transmission
3. ABS, Antilock Brake System
4. SRS, Airbag, service helps clear the fault Airbag memories to reset
5. AT/CVT, Continuously Variable Transmission
6. SAS, Steering Angel Sensor, clear the fault steering angle sensor memories
7. EPB, Electronic Park Brake System
8. DPF, Diesel Particulate Filter
9. OilReset, Oil Light Service Reset, reset for a new calculation of Engine Oil Life system once changed the oil
10. TBA/TPS , Throttle Body Alignment
11. BRT, Battery Replacement Reset, adapt the new battery to ECU work properly
12. Injector Coding
13. TPMS, Tire Pressure Monitoring Sytem, reset your TPMS more safe and concise
14. Gear Learn, allow to relearn the communication of gear position information.
15. Odometer ,Exchange Odometer
NT644 Pro Special Functions Support List: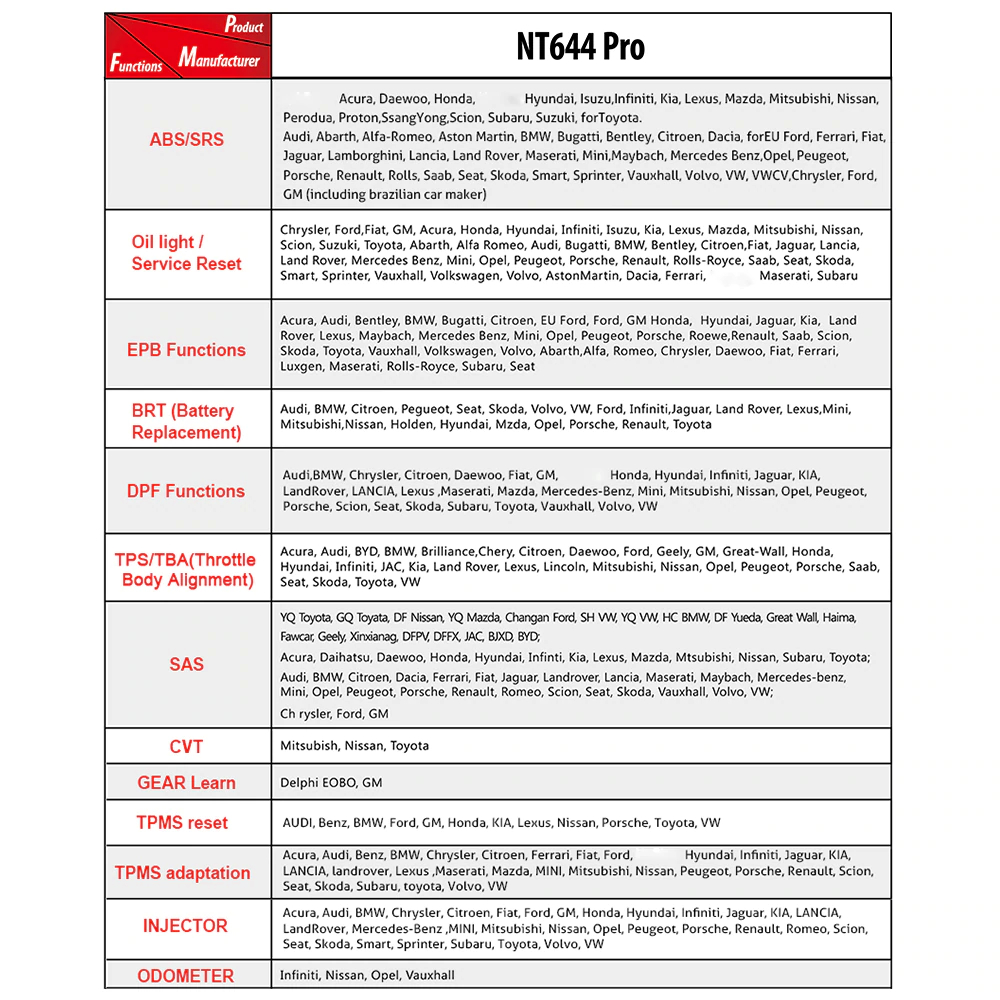 NT644 PRO Support Car list
USA COVERAGE
For Chrysler,Ford,GM,Brazilian GM,
ASIAN PACIFIC COVERAGE
For Acura,Daewoo,Honda, Hyundai, Infiniti,Isuzu,Kia,Lexus, Mazda,Mitsubishi, Nissan,Perodua,Proton,Scion,Subaru, Suzuki,Toyota
EUROPEAN COVERAGE
For Audi, Bentley, BMW, Bugatti, EU Ford, Jaguar,Land Rover, Maybach,Mercedes Benz, Mini,Opel,Porsche,Rolls-Royce,Saab, Seat,Skoda, Smart,SPrinter,Vauxhall,Volvo, Volkswagen
FRENCH & ITALIAN COVERAGE
For Abrth. Alfa-Romeo,Citroen,Dacia,Fiat,Lancia,Maserati, Peugeot,Renault
CHINESE COVERAGE
For Briliance,BYD,Chery, Geely,Great Wall, Karry,Rely, Riich
Foxwell NT644 Pro Automotive Diagnostic Tool Specifications:
Display: Backlit, 480*272 TFT color display
Working Temperature: 0 to 60℃ (32 to 140℉)
Storage Temperature: -20 to 70℃ (-4 to 158℉)
External Power: 8-18 Volts powered by vehicle battery
Dimensions: 200*130*40mm (L*W*H)
Blow molding case: 330*220*80mm (LWH)
Weight: 1.7KG / 3.0KG
Product Display: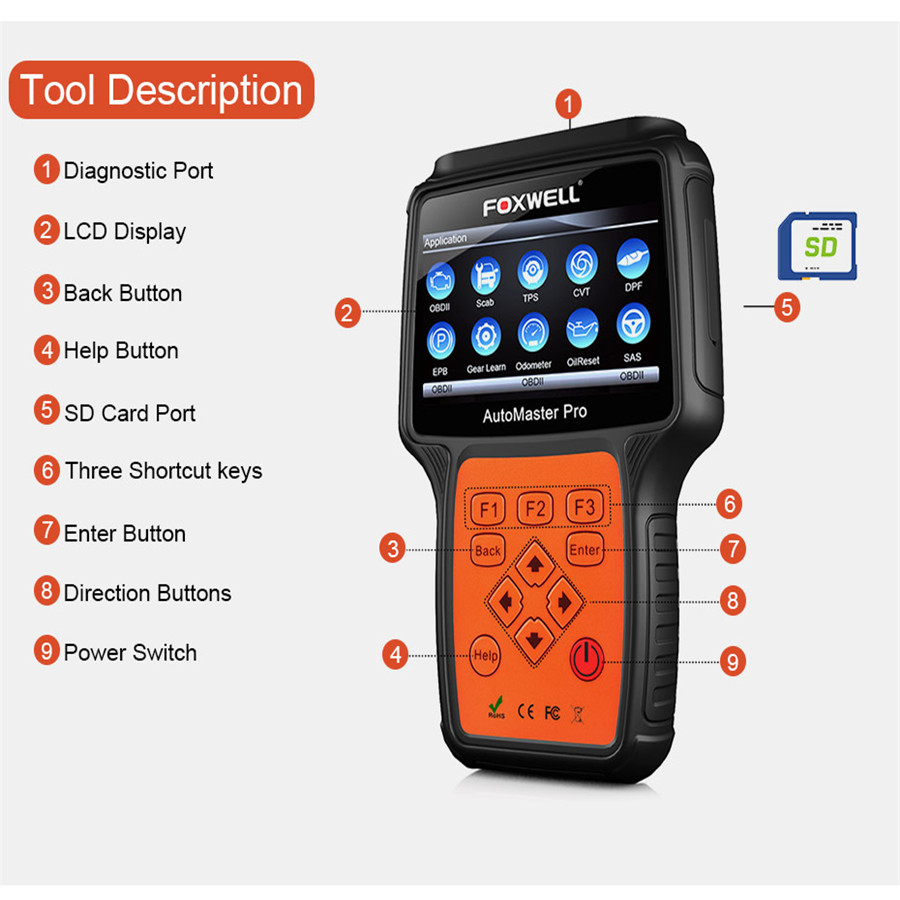 NT644 Pro Package List:
1 pc x NT644 Pro Scan Tool
1 pc x User's Guide
1 pc x Memory Card
1 pc x OBDii Apapter
1 pc x USB Cable
1 pc x Diagnostic Cable
1 pc x Blow molding case
Shipping Method and Delivery Time:
US, UK, Czech and Russia Warehouse Shipping:
3-5 working days. Fast Delivery & Tax Free.
US Check:
Ship from US
UK Check:
Ship from UK
EU Check:
Ship from Czech
Russia Check:
Ship from RU
DHL Shipping:
3-5 working days. Usually we declare a lower value on DHL invoice to help with customs clearance. If address belongs to remote area, customer will need to pay remote handling cost or we can change to ship by EMS. Please remember to leave message if you have any special requirement.
Yanwen Express:
7-10 working days. No Tax or remote cost for European Countries.
Standard Post:
7-15 working days. To South America and Africa countries it may take 20-25 working days. Customers can tick Express Shipping Service to ship by DHL.