Autel MaxiPRO MP808TS Automotive Diagnostic Tool with Complete TPMS Function
When it comes to ultra-portability, Autel MaxiPRO MP808TS is your perfect companion. Featuring a fast quad-core processor, MP808TS offers maximum convenience and swift diagnosis. The intuitive user interface makes using the device effortless through a 7-inch LCD touch screen that displays at 1024 x 600 quality. Together with the ability to quickly read and clear Original Equipment Manufacturers (OEM) enhanced codes for TPMS module of the majority of the makes and models on the market, MP808TS provides you with superior special functions for TPMS services with ease.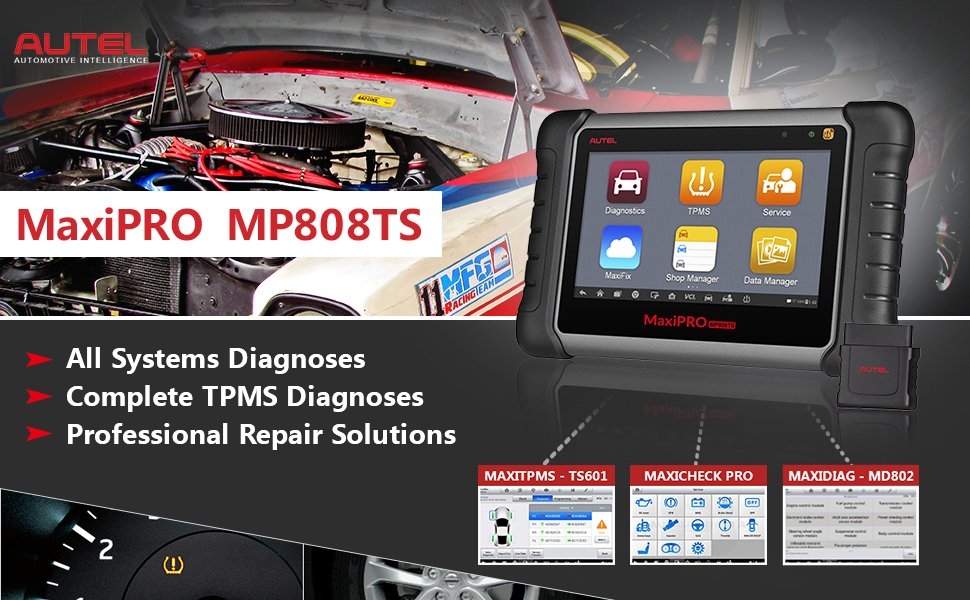 Autel MaxiPRO MP808TS Features:
1) Extensive vehicle coverage for more than 80 US, Asian and European vehicle makes and models
2) Exceptional OE-level system coverage for all electronic systems
3) Complete capabilities for codes, live data, active test, ECU information, adaptation, matching, etc.
4) Auto VIN technology can automatically identify the vehicle's make, model and year information in no time
5) Automatic system and software updates with real-time push message notifications via Wi-Fi
6) Instant remote control tech support anytime, anywhere
7) Advanced TPMS diagnostics with DTC description
8) TPMS status, one step for complete TPMS health check
9) Activate 98% of all known TPMS sensors
10) Program AUTEL MX-Sensor
11) Comprehensive OBD relearn coverage
12) On-screen relearn procedure
13) One-stop multitasking designed for ideal management of workshop operations to keep all data files, customer info, and vehicle records well organized
14) Cloud-based MaxiFix online community provides a vast database of diagnostic and repair tips and proven filed fixes
Autel MaxiPRO MP808TS Functions:

Full System Diagnostics
Autel MP808TS can access to ALL vehicle systems and subsystems, such as Body, Chassis, Powertrain, Network and etc., to perform a comprehensive scanning on ECUs to locate fault systems and retrieve DTCs.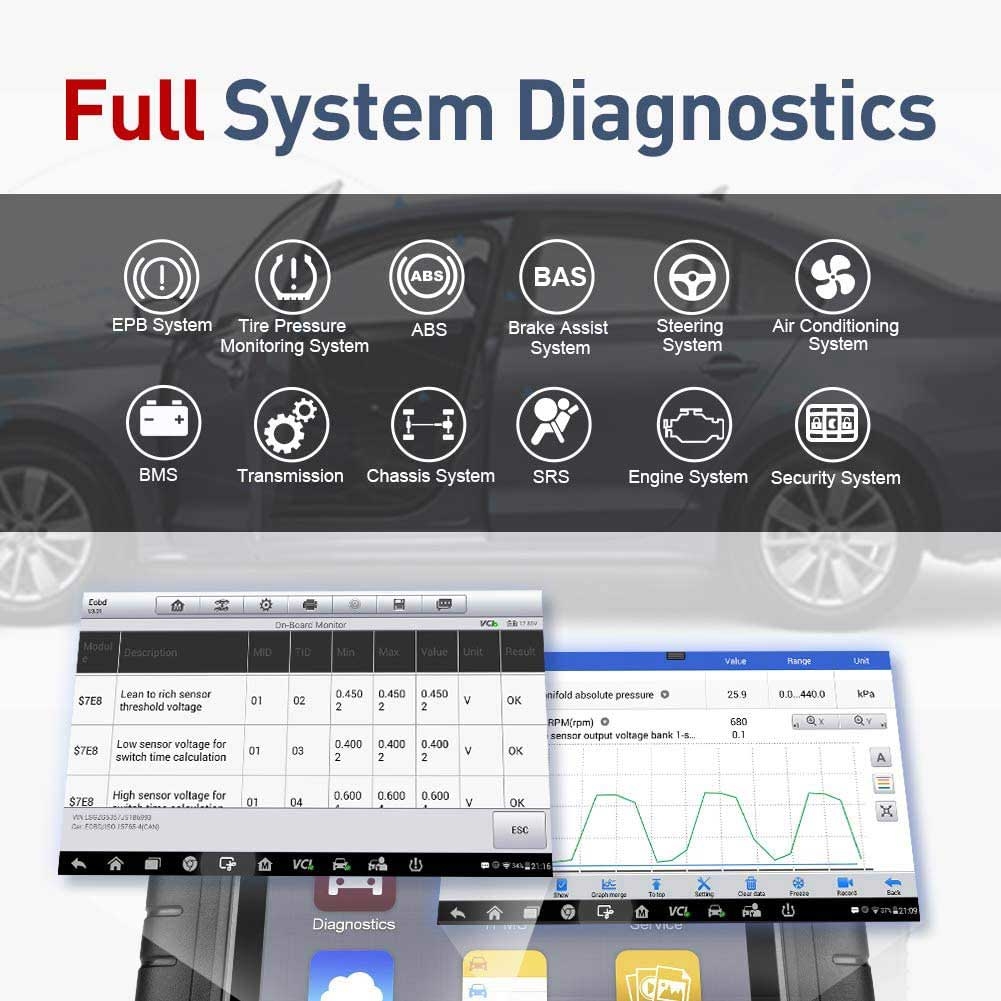 Multiple Special Service Functions Meet All Your Needs

Autel MaxiPRO MP808TS diagnostic scan tool provides mechanics and DIYers with maintenance functions to get quick access to the vehicle's specific systems for various scheduled maintenance tasks.
5 commonly-used maintenance functions saving time and money for DIYers to maintain cars easily and quickly: Oil Reset, Throttle, EPB, Suspension, BMS
4 newly added powerful maintenance functions to substantially improve cars'performance: Cylinder, Turbocharging, Clutch, Trans Adaption
Other functions making it easy for mechanics to greatly improve work efficiency:
Brake Bleed, TPMS, DPF, IMMO Keys, Injector, SAS, WIN DR Roof, Seats, Odometer, Lang change, Headlamp, CHG Tire Size, TEC Learn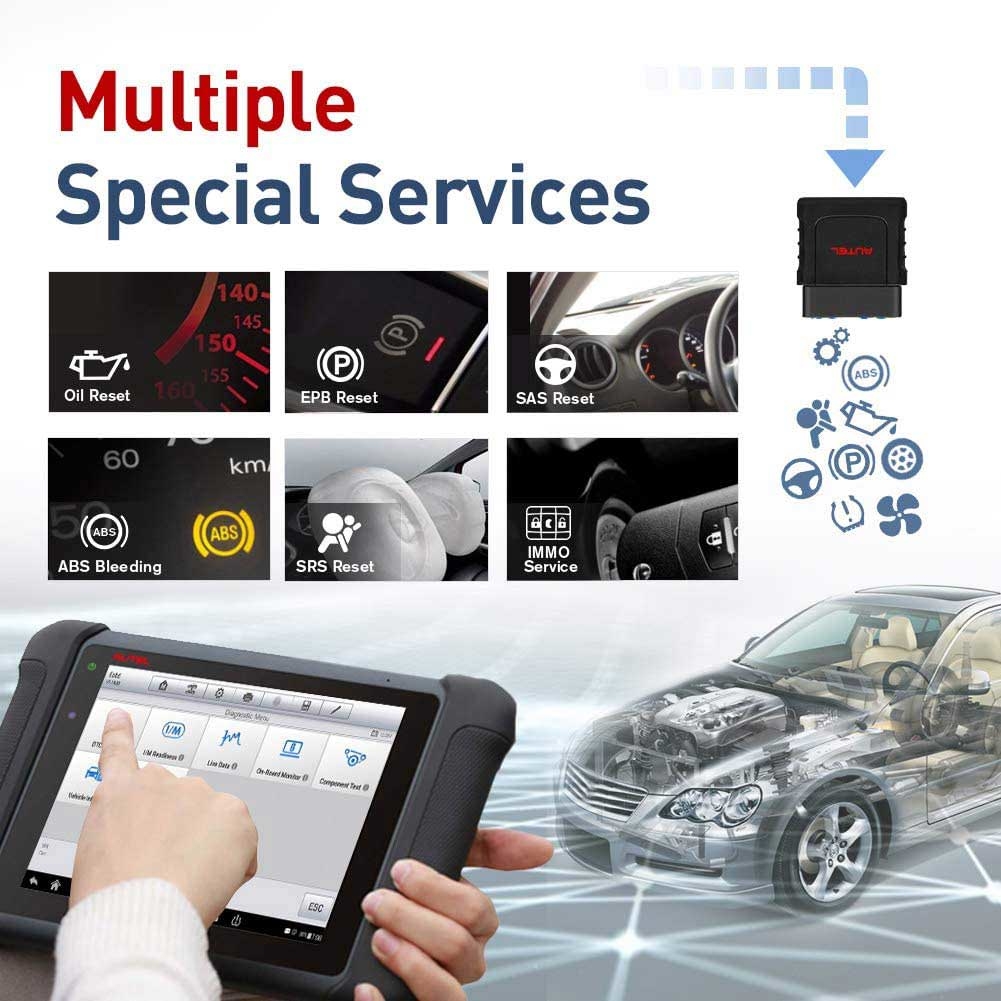 Complete TPMS Services of this Diagnostic Tool

Autel MP808TS, same as other tpms tool, provides comprehensive TPMS services for technicians to quickly solve TPMS related problems, which can be divided into 5 parts:
1. Check by embedded antennae activating 98% of all known TPMS sensorsto view data
2. Diagnoses TPMS ECU for complete health check with specific DTC definitions
3. Programsnew MX-Sensor to replace OEM sensors by 4 methods
Copy by Activation – Program the sensor ID retrieved from activated sensor
Copy by OBD – Program the sensor ID retrieved from TPMS ECU
Copy by Input – Manually input the original sensor ID for programming
Auto Create – Create a random ID to program MX-Sensor
4. Perform OBDII Relearn by writing sensor IDs into ECU for sensor recognition; Displays manufacturer-specific TPMS Relearn procedures.
5. TPMS by OEM Part No- this ideal method allows you to program up to 20 sensors at the same time.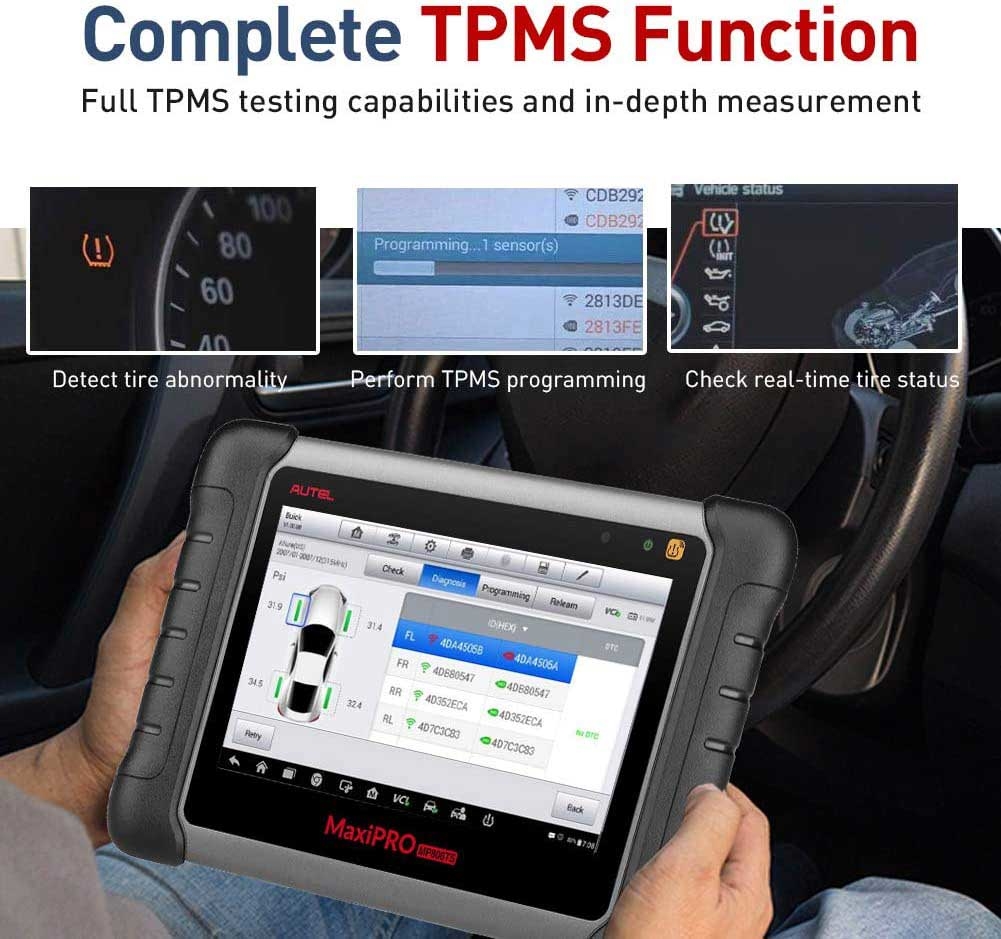 Professional Repair Solutions
MP808TS offers quick access to the vehicle systems for various maintenance tasks like Oil reset, SAS calibration, IMMO Keys, ABS Bleeding and services of EPB, BMS, and DPF etc. Enter correct values or data, perform necessary actions, to complete selected service operations.
Bluetooth Maxi-VCI Mini
Latest compact size wireless Bluetooth MaxiVCI Mini OBDII Connector, transmits vehicle data to the tablet without a physical connection, giving mechanics greater service mobility and easier TPMS sensor interaction while the tablet is still OBDII connected to the vehicle for data transmission.
Autel MaxiPRO MP808TS Coverage Vehicle Brands:
ABARTH,ACURA,ALFA,AUDI,AUFord,BENTLEY,BENZ,BMW,BUGATTI,CHRYSLER,CITROEN,DACIA,EUFORD,FIAT,FORD,GM,Holden,HONDA,HYUNDAI,INFINITI,ISUZU
JAGUAR,KIA,LANCIA,LAND ROVER,LEXUS,MAYBACH,MAZDA,MINI, MITSUBISHI,NISSAN,OPEL,PEUGEOT,PORSCHE,RENAULT,SAAB,SCION,SEAT,OBDII,SKODA
SMART,SPRINTER,SUBARU,SUZUKI,TOYOTA,VAUXHALL,VOLVO,VW
Autel MaxiPRO MP808TS FAQs:
Question 1:
Can you read the tpms sensor at the wheel or just thru the obd2 connector?
Answer 1:
This diagnostic tool can directly read the TPMS sensor directly. The trigger antenna is embedded in the tool's upper right hand corner. You can hold the top right corner of the tablet close to the sensor mounted on the wheel to read TPMS sensor data- - sensor ID, tire pressure, tire temperature, battery condition and sensor position.
Question 2:
Does this Autel MP808TS support dodge?
Answer 2:
Dear Rudy, this diagnostic tool can work on most of 1996 and newer vehicles which have the universal OBD II connector, of course includes Dodge. But in order to give you the final confirmation, we will be appreciated you could provide us the vehicle year to further check.
Question 3:
What is the difference between the mp808ts and the ms906ts?
Answer 3:
MS906TS has a larger screen, comes equipped with speakers, has an LED flashlight on the bluetooth OBD2 connector. It is a considerably larger tablet and the bigger brother of MP808TS.
But otherwise they are the same as far as diagnosing vehicles. The MP808TS has a holster on the back of itself where you hold the bluetooth OBD2 connector.
Question 4:
Does the mp808ts have the capability to perform aftertreatment tests like pressurizing and flow testing the urea system?
Answer 4:
Dear friend, yes ,MP808TS can serve the functions for you.
Question 5:
Can this scan tool do active test of solenoid like a vent valve or purge valve for example?
Answer 5:
Yes, MP808TS can perform active test of solenoid.
Autel MaxiPRO MP808TS Specifications: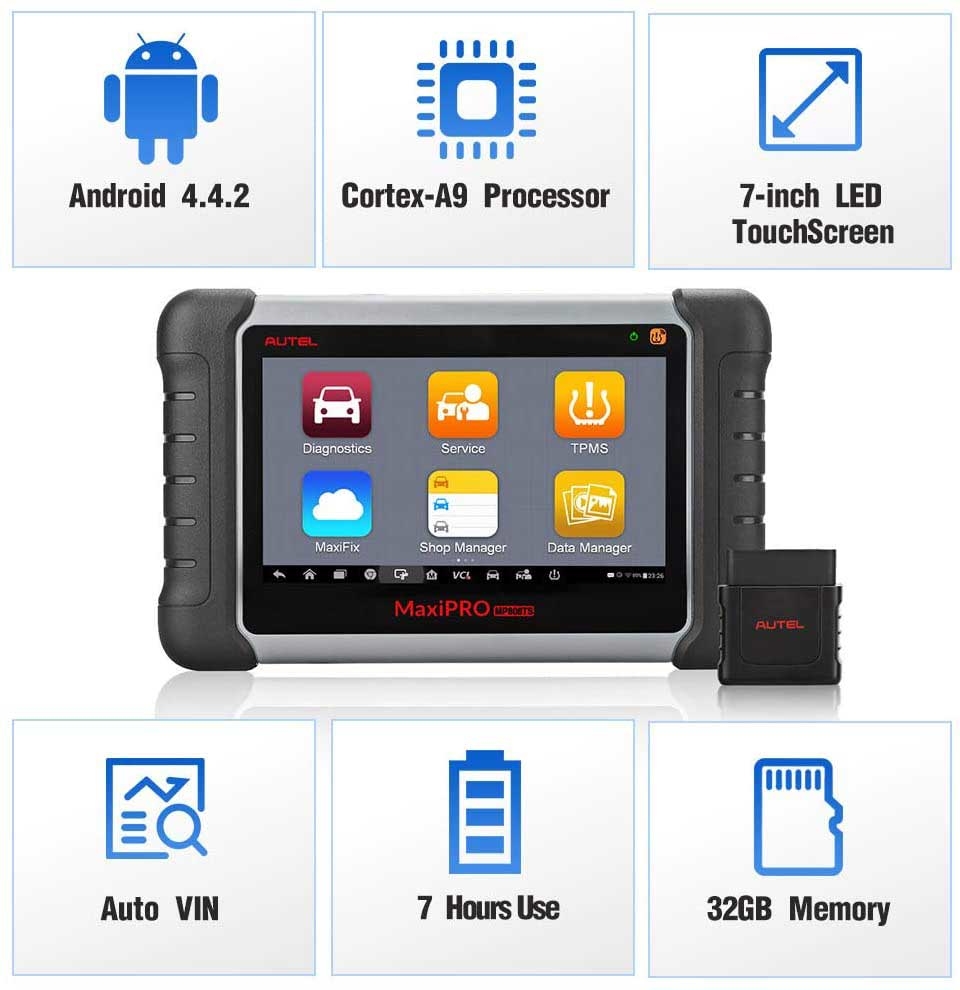 Recommended Use
Indoor
Operating System
AndroidTM 4.4.2, KitKat
Processor
Cortex-A9 quad-core processor (1.4 GHz)
Memory
32GB
Display
7-inch LCD capacitive touchscreen with 1024x600 resolution
Connectivity
? Mini USB 2.0 USB 2.0
Wi-Fi
HDMI Type A
Micro SD card slot (supports up to 32GB)
Sensors
Light sensor for brightness auto adjust
Audio input/output
Input: N/A
Output: Beep
Power and Battery
3.7 V/5000 mAh lithium-polymer battery
Charges via 5 VDC power supply
Tested Battery Life
Around 7 hours of continuous use
Battery Charging Input
5 V/1.5 A
Power Consumption
600 mA (LCD on with default brightness, Wi-Fi on) @3.7 V
Operating Temp.
0 to 55°C(32 to 131°F)
Storage Temp.
-20 to 60°C (-4 to 140°F)
Operating Humidity
5% - 95% non-condensing
Dimensions (W x H x D)
270.8 mm (10.0") x 176.0 mm (6.9") x 36.0 mm (1.4")
Net Weight
885 g (2.31 lb.)
Protocols
ISO9141-2, ISO14230-2,ISO15765, K/L-Line, Flashing Code, SAE-J1850 VPW, SAE-J1850PWM,
ISO11898 (Highspeed, Middlespeed, Lowspeed and Singlewire CAN, fault-tolerant CAN),
SAE J2610,GM UART,UART Echo Byte Protocol, Honda Diag-H Protocol, TP2.0, TP1.6
Autel MaxiPRO MP808TS Package includes:
1pc x USB Cable (for charging)
1pc x USB Cable (for test)
1pc x MaxiVCI Mini
1pc x USB External Power Adapter
1pc x User Manual
1pc x Quick Reference Guide
1pc x Carry case
Shipping Method and Delivery Time:
US, UK, Czech and Russia Warehouse Shipping:
3-5 working days. Fast Delivery & Tax Free.
US Check:
Ship from US
UK Check:
Ship from UK
EU Check:
Ship from Czech
Russia Check:
Ship from RU
DHL Shipping:
3-5 working days. Usually we declare a lower value on DHL invoice to help with customs clearance. If address belongs to remote area, customer will need to pay remote handling cost or we can change to ship by EMS. Please remember to leave message if you have any special requirement.
Yanwen Express:
7-10 working days. No Tax or remote cost for European Countries.
Standard Post:
7-15 working days. To South America and Africa countries it may take 20-25 working days. Customers can tick Express Shipping Service to ship by DHL.