Newest JingJi L1 Vertical Operation Key Cutting MachineFeatures:
1.Straight line slide carriage makes cutting smooth and effortless
2.Cutter speed regulated to 1800rpm
3.Automatical precised callibration system
4.Spring loaded tracer point makes perfect depth alignment
5.Micrometric adjustment tracer system limits the cutting difference within 0.03mm
6.Horizontal movement locking mechanism makes vertical cutting stable
7.Cutting depth locked mechanism makes accurate result
8.Armrest support makes the cutting forward stable and smooth
9.Large storage area for key blanks or other accessories
1.Power connection : AC110v/ 220v
2.LED light
3.Cutter
4.Armrest support
5.Clamp to secure key blank
6.Knob to secure jaws
7.Horiz ontal and vertical slide handle
8.Horiz ontal movement lock ing bar
9.Micrometric adjus tment knob
10.Cutting depth locking handle
11.Calibration light
12.Tracer
13.Clamp to secure original keys
14.Calibration button
15.Cutting speed control knob
16.Power switch
◇ Callibration system indicated by LED light makes precisely cutting
◇ Transparent cutting shield guarantees safety operation,LED illuminatingsy stem
◇ Straight line slide carriage makes cutting smooth and effortless
◇ High speed cutting strength drived by DC motor with low noise
◇ Cutter speed regulated to 8500rpm
◇ Cutting depth locking mechanism makes ac curate result
◇ AC 100-240V input power
◇ Removable jaw guarantees quick replacement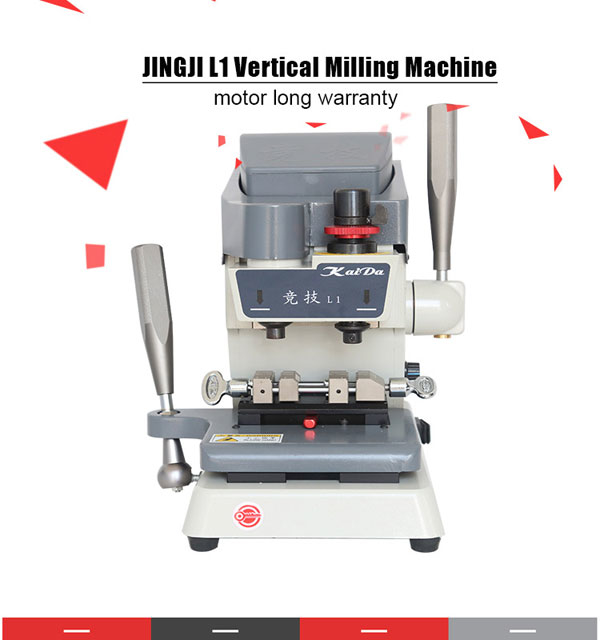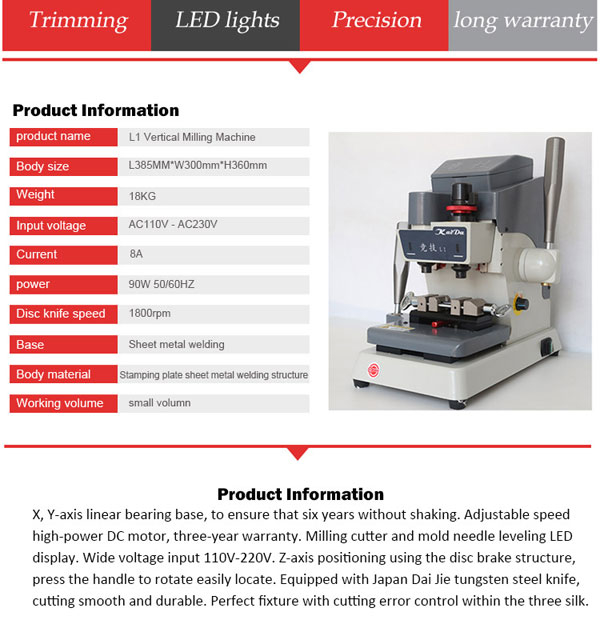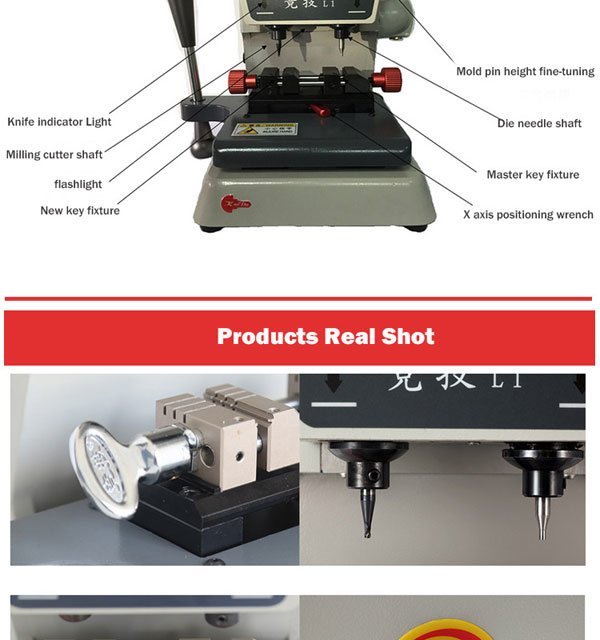 Specification:
Voltage supply: AC110V-AC230V
Weight : 18KG
Current : 8A
Power: 90W 50-60HZ
Cutter speed: 1800rpm
Size: 385MM * 300MM * 360MM
Package Includes:
1set x L1 Vertical key cutting machine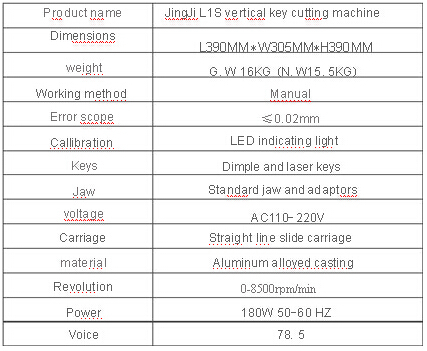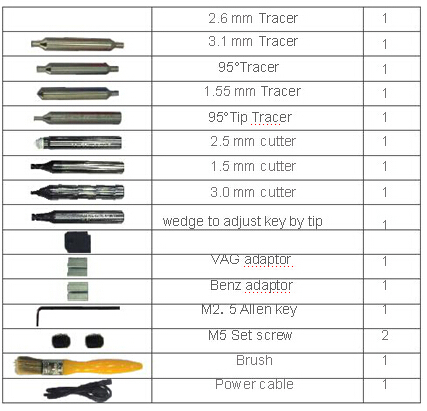 Shipping Method and Delivery Time:
US, UK, Czech and Russia Warehouse Shipping:
3-5 working days. Fast Delivery & Tax Free.
US Check:
Ship from US
UK Check:
Ship from UK
EU Check:
Ship from Czech
Russia Check:
Ship from RU
DHL Shipping:
3-5 working days. Usually we declare a lower value on DHL invoice to help with customs clearance. If address belongs to remote area, customer will need to pay remote handling cost or we can change to ship by EMS. Please remember to leave message if you have any special requirement.
Yanwen Express:
7-10 working days. No Tax or remote cost for European Countries.
Standard Post:
7-15 working days. To South America and Africa countries it may take 20-25 working days. Customers can tick Express Shipping Service to ship by DHL.