Autel TPMS Diagnostic and Service Tool Tool MaxiTPMS TS501

Top 4 Reasons To Get TS501

1. Pre-selection process offers faster activation and diagnostics
2. Accurate diagnosing results - a tool users can trust
3. Free Update Online Lifetime on Autel Official Website
4. Easy-to-use with intuitive navigation and step-by-step on-screen

Product Features & Functions:

Programs vehicle ECU to learn sensor IDs and positions
Activates magnetic, frequency and tire deflation triggered sensors using 125 kHz continuous or
modulated wave signals
Receives 315 MHz, 433.92 MHz and 309MHz signals
Reads sensor ID from vehicle ECU
Reads/clears codes of TPM system and resets malfunction indicator light
Built-in rechargeable Li-ion battery
On-screen code definitions
Simplifies the diagnostic process including four and five wheel
vehicles by showing vehicle graphs
Decodes sensor data and provides visual and audible
responses to confirm sensors are working properly
Interprets data including sensor ID, tire pressure, temperature,
battery status and OE part no.

Instructions

Prints TPMS sensor data via PC
Automatic power-off to preserve battery life
Proper LF signal to prevent being fooled by
other RF signals
Saves up to 16 TPMS records
If a failed sensor is detected, the tool displays
the replacement part number

Autel TPMS Function Compare: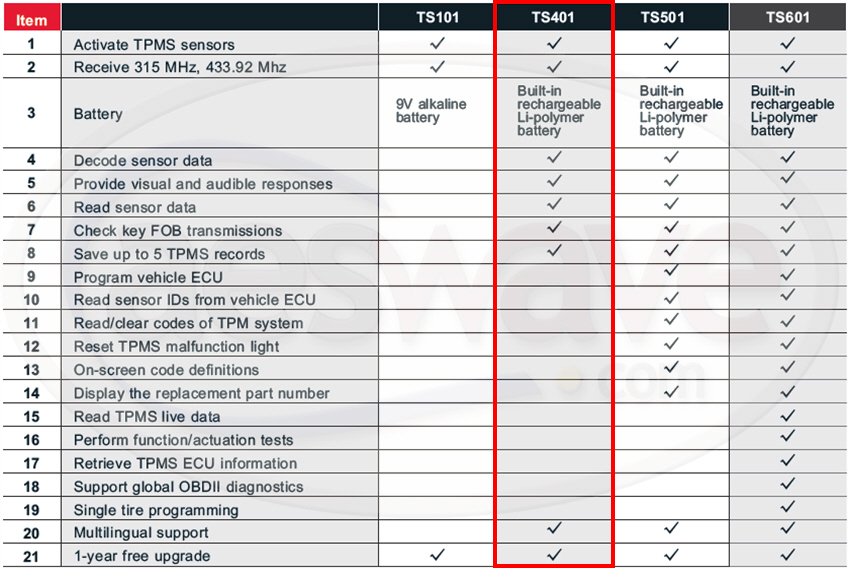 Package List:
MaxiTPMS TS501 tool
OBDII cable
Molded plastic case
USB cable
Magnet (For early model TPM sensors)
User manual
Battery
CD software


Shipping Method and Delivery Time:
US, UK, Czech and Russia Warehouse Shipping:
3-5 working days. Fast Delivery & Tax Free.
US Check:
Ship from US
UK Check:
Ship from UK
EU Check:
Ship from Czech
Russia Check:
Ship from RU
DHL Shipping:
3-5 working days. Usually we declare a lower value on DHL invoice to help with customs clearance. If address belongs to remote area, customer will need to pay remote handling cost or we can change to ship by EMS. Please remember to leave message if you have any special requirement.
Yanwen Express:
7-10 working days. No Tax or remote cost for European Countries.
Standard Post:
7-15 working days. To South America and Africa countries it may take 20-25 working days. Customers can tick Express Shipping Service to ship by DHL.