Launch X-431 TSGUN WAND TPMS Tire Pressure Detector Handheld Program Diagnostic Tool

Description:

Launch X-431 TSGUN WAND icludes all OBD2/EOBD Functionality. It's A portable, affordable and formidable powerful TPMS tools, designed to work with X-431 v/ v+/ pro3/ pad3/ pad v diagnostic tools to expand new functions and generate new revenues.
X431 TSGUN is equipped to undertake advanced functionality such as TPMS Sensor Activation- Reading, Diagnosis, Relearns and Programming when changing tire sizes on a vehicle.
Launch X431 TSGUN, a bluetooth TPMS add-on module, working together with Launch Pro Line diagnostic scanners, with an extensive vehicle coverage of Euro, Asian and Domestic for TPMS function only.

Features:
1. 1.77 inch color screen
2. Instantly read tire pressure, tire temperature and battery status
3. Diagnose tire pressure fault, including read DTC, clear DTC, etc.
4. Activate and match all 315MHz or 433MHz sensors
5. Read, copy and write the sensor ID quickly
6. Reprogram LAUNCH sensors with unlimited times
7. Built-in tire pressure learning instruction makes operation more eas
8. Cover 98% global vehicles with tire pressure system
9. Work together with Launch X431 V, V+, Pro3, Pro5, PAD III and PAD V.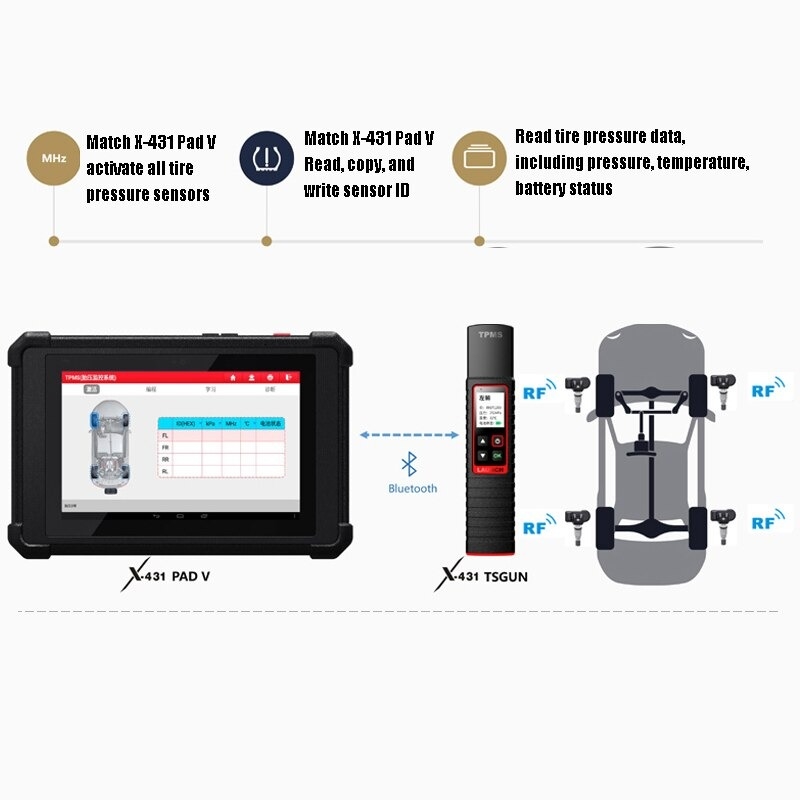 Display: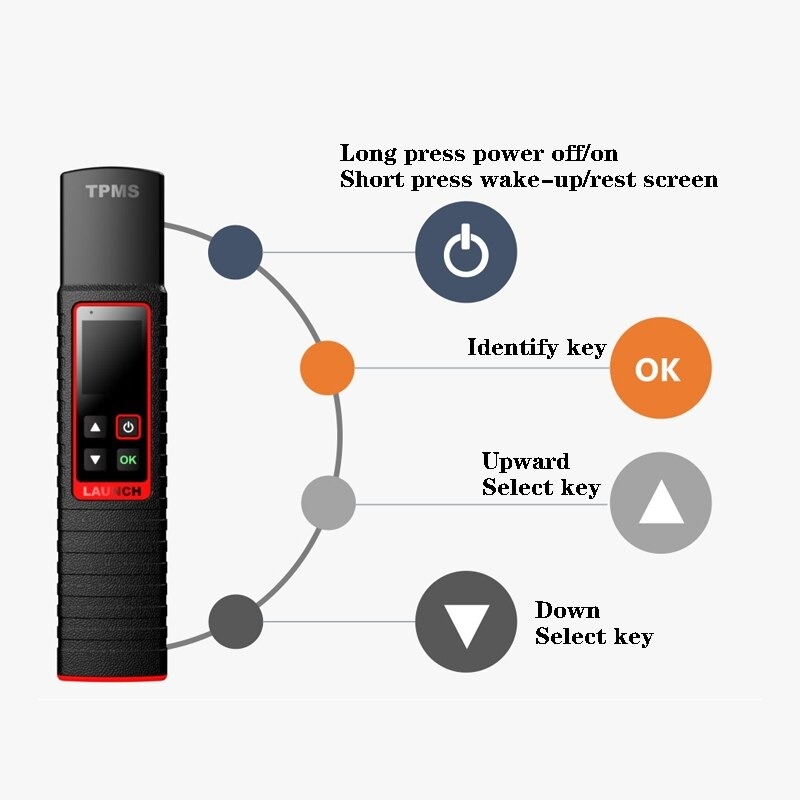 Vehicle Coverage:

Acura, Alfa Romeo, ASTON MARTIN, Audi, Bao Jun, BENTLEY, BMW; BUGATTI; BUICK; CADILLAC; CHERY; CHEVROLET; CHRYSLER; CMC; DODGE; FERRARI; FIAT; FISKER; FORD; FOTON; FREIGHTLINER; GEELY; GENESIS; GMC; GREAT WALL; HONDA'S MOTOBIKE; HUMER; HYUNDAI; HUMMER; HYUNDAI; INFINITI; ISUZU; JAGUAR; JEEP; THAT; LAMBORGHINI; LAND ROVER; LINCOLN; LOTUS CARS; MASERATI; MAXUS; MAYBACH; MAZDA; MCLAREN; MERCEDES; MERCURY; MINI; MITSUBISHI; NISSAN; PLYMOUTH; PONTIAC; PORSCHE; RAM; RENAULT; ROLLS ROYCE; SAAB; SATURN; SCION; SGMW; SMART; SUBARU; SUZUKI; TESLA; TOYOTA; VOLKSWAGEN; VOLVO; VPG.

How to Bind TSGUN with Launch X431?

For initial use, user needs to bine the X-431 TSGUN to the diagnostic tool.
1. Tap TPMS on the Job menu of the diagnostic tool.
2. Tap Bine X-431 TSGUN to enter.
3. Tap Bind, the following screen will pop up.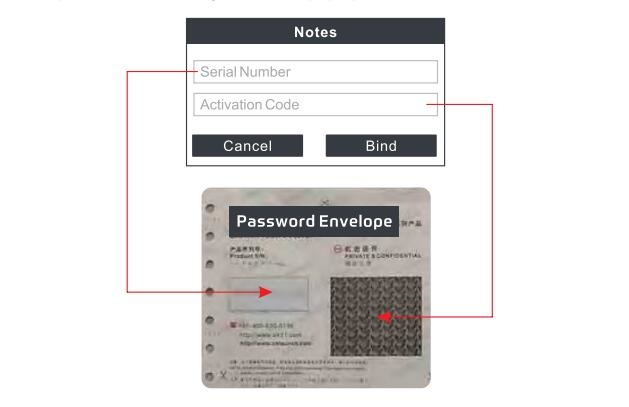 Specification:
| | |
| --- | --- |
| Display | 1.77 inch color screen |
| Resolution | 168*128 Pixel |
| Battery | 3000 mAh |
| Input Voltage | DC5V |
| Working Current | ≤1A |
| Working Temperature | -10℃~50℃ |
| Storage Temperature | -20℃~60℃ |
| Size | 252*54*30 mm |
Package List
1* X-431 TSGUN WAND
1* USB Cable
1* Box


Shipping Method and Delivery Time:
US, UK, Czech and Russia Warehouse Shipping:
3-5 working days. Fast Delivery & Tax Free.
US Check:
Ship from US
UK Check:
Ship from UK
EU Check:
Ship from Czech
Russia Check:
Ship from RU
DHL Shipping:
3-5 working days. Usually we declare a lower value on DHL invoice to help with customs clearance. If address belongs to remote area, customer will need to pay remote handling cost or we can change to ship by EMS. Please remember to leave message if you have any special requirement.
Yanwen Express:
7-10 working days. No Tax or remote cost for European Countries.
Standard Post:
7-15 working days. To South America and Africa countries it may take 20-25 working days. Customers can tick Express Shipping Service to ship by DHL.