VXDIAG Multi Diagnostic Tool for SUBARU SSM-III Multi Diagnostic Tool with Wifi

Top 5 Reasons to Get VXDIAG SUBARU SSM-III:

1. Support language: English, German, Spanish, French, Italian
2. Subaru SSM-III Software Version: V2020.7
3. Fully Compatible with SAE-J2534
4. Support both 12V and 24V Gasoline and Diesel Car
5. Can Pay to Add Toyota, Honda, Porsche, JLR Software to the Same Device

SUBARU SSM-III Software Feature:
1. Special dual cell processor for automotive, full compliant with all vehicles protocols.
2. Self-determination design for adapters and cables
SUBARU SSM-III Software Function:
VXDIAG SUBARU SSM-III Multi Diagnostic Tool
1. All System Diagnosis. Selecting this item displays on a single screen the fault detect status of all control system control modules for which SSMΙΙΙ diagnosis is supported, and memorized diagnostic codes.
2. Each System Check. Selecting this item makes it possible to select a particular system from among the control systems forwhich SSMΙΙΙ diagnosis is supported, and perform fault diagnosis.
This item can be used to view input/output data of the system control modules that perform fault diagnosis, memorized diagnostic codes, and other data on the PC display. This menu item is also used after repair work is complete to delete diagnostic codes, to configure control module settings, etc.
3. Saved Data Display. This item can be used to save various data sampled during fault diagnosis operations, and to load data for viewing after work is complete.
4. Immobilizer. This item performs immobilizer registration.
5. Reprogram. This item performs reprogramming of the control module.
6. Read CF application measurement data. This item performs reading stand alone measurement data saved in a CF card to hard disk of your PC.
7. Convert/Save measurement data on driving recorder. Loads data sampled on the driving recorder to the PC from the CF card, and converts and saves that data.
8. Oscilloscope. After attaching the optional pulse/analog cartridge to SDI, connect the pulse/analog box to the SDI and using pulse/analog probe to perform analog sampling.
9.Program Subaru smart key
SUBARU SSM-III Software Display: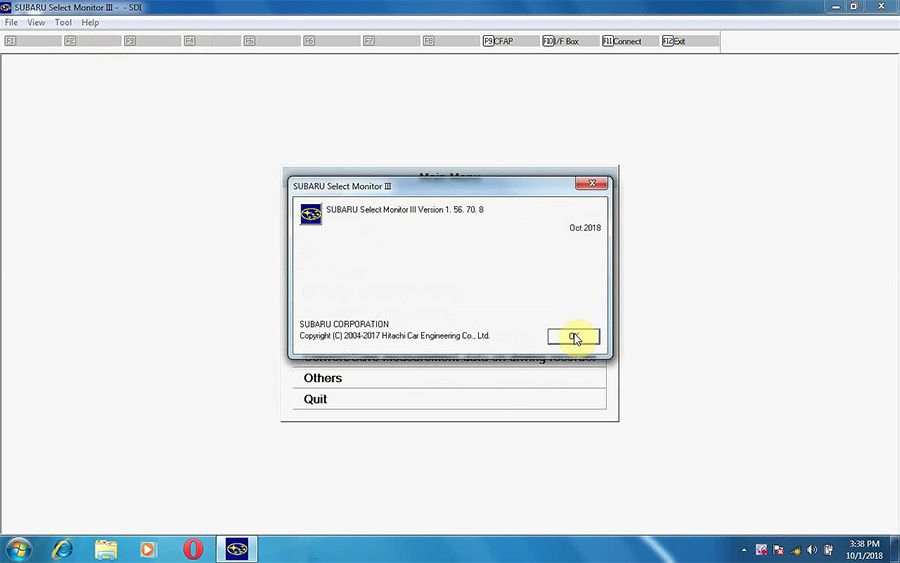 SUBARU SSM-III Connection:
Packing List:
1pc x VXDIAG VCX-PLUS
1pc x OBDII Cable
1pc x USB Cable
1pc x CD

Shipping Method and Delivery Time:
US, UK, Czech and Russia Warehouse Shipping:
3-5 working days. Fast Delivery & Tax Free.
US Check:
Ship from US
UK Check:
Ship from UK
EU Check:
Ship from Czech
Russia Check:
Ship from RU
DHL Shipping:
3-5 working days. Usually we declare a lower value on DHL invoice to help with customs clearance. If address belongs to remote area, customer will need to pay remote handling cost or we can change to ship by EMS. Please remember to leave message if you have any special requirement.
Yanwen Express:
7-10 working days. No Tax or remote cost for European Countries.
Standard Post:
7-15 working days. To South America and Africa countries it may take 20-25 working days. Customers can tick Express Shipping Service to ship by DHL.