Latest Xhorse VVDI Key Tool Max
VVDI Key Tool Max is a professional smart device with multi-function,Bluetooth and WIFI communication interface are intergrated inside,which is convenient for connecting Xhorse Key Cutting Machine,MINI OBD TOOL and other products to do specific operations.This device adopts HD LCD screen with clear interface,easy to use and flexibility.
VVDI Key Max Features:
1. Use KEY TOOL MAX to connect the dolphin to cut the key for the customer.
2. Support Generate transponder and remote.etc
3. Enter the car directly using KEY MAX+MINI OBD for matching. The entire process can be seamlessly connected without switching devices.
4. KEY TOOL MAX +MINI OBD TOOL can not only match the chip remote control of imported domestic cars, smart card, but also Toyota H chip will be released first on KEY TOOL MAX.
5. Language: English, Spanish and French
6. New Update File make key for free, free cloud storage for temporary data
VVDI Key Tool Max Function:
Generate remote and smart key
Program and Immo transponder
Generate speical transponder
Renew remote
Recognize and copy access card
Generate and copy garage remote
Frequency detection and copy remote
Connect to Xhorse key cutting machine
Special function (VVDI Special TP, Unlock Toyota Smart Key, Special 4D to 4C, ID63 to ID83, VVDI smart key clone, VVDI remote repair calibration etc)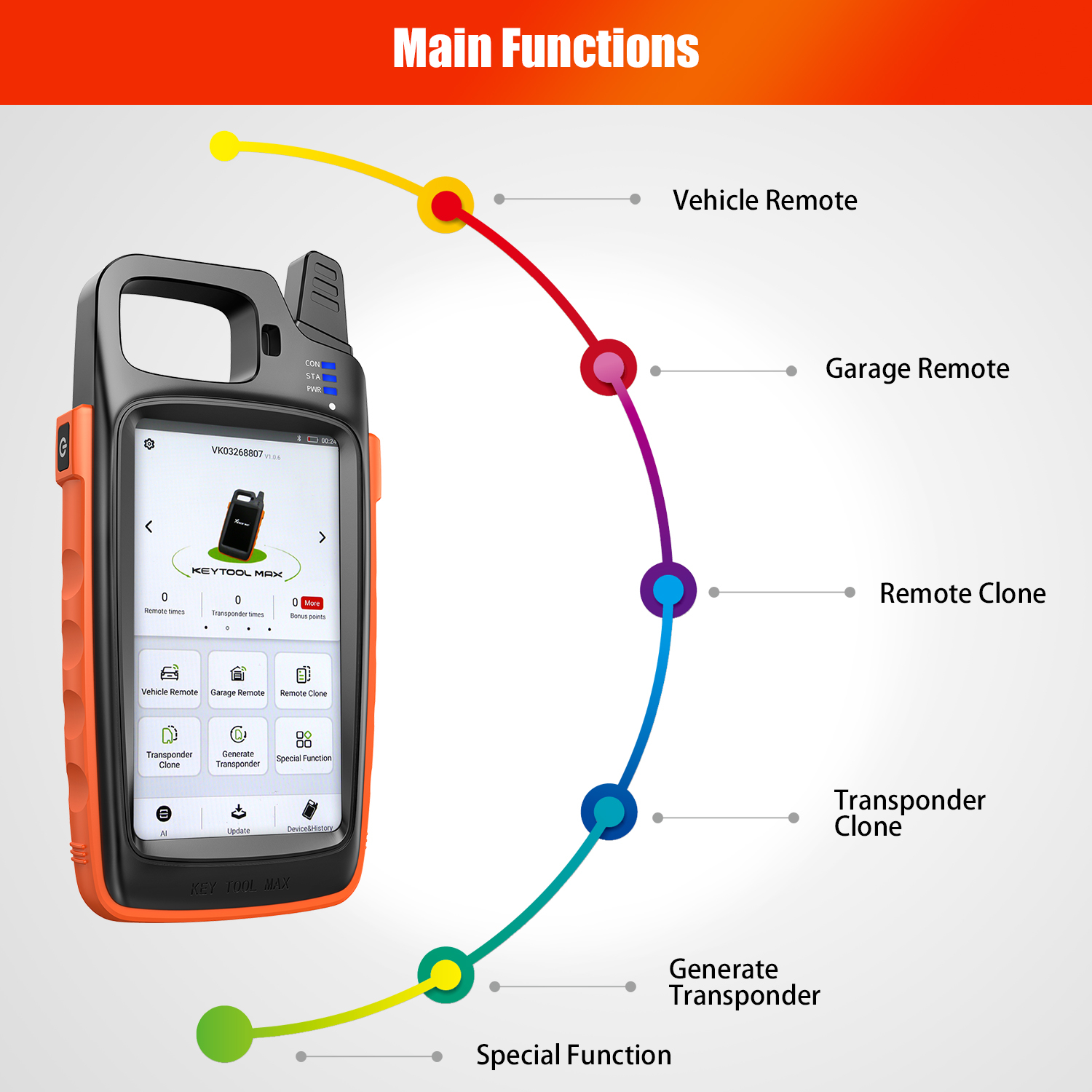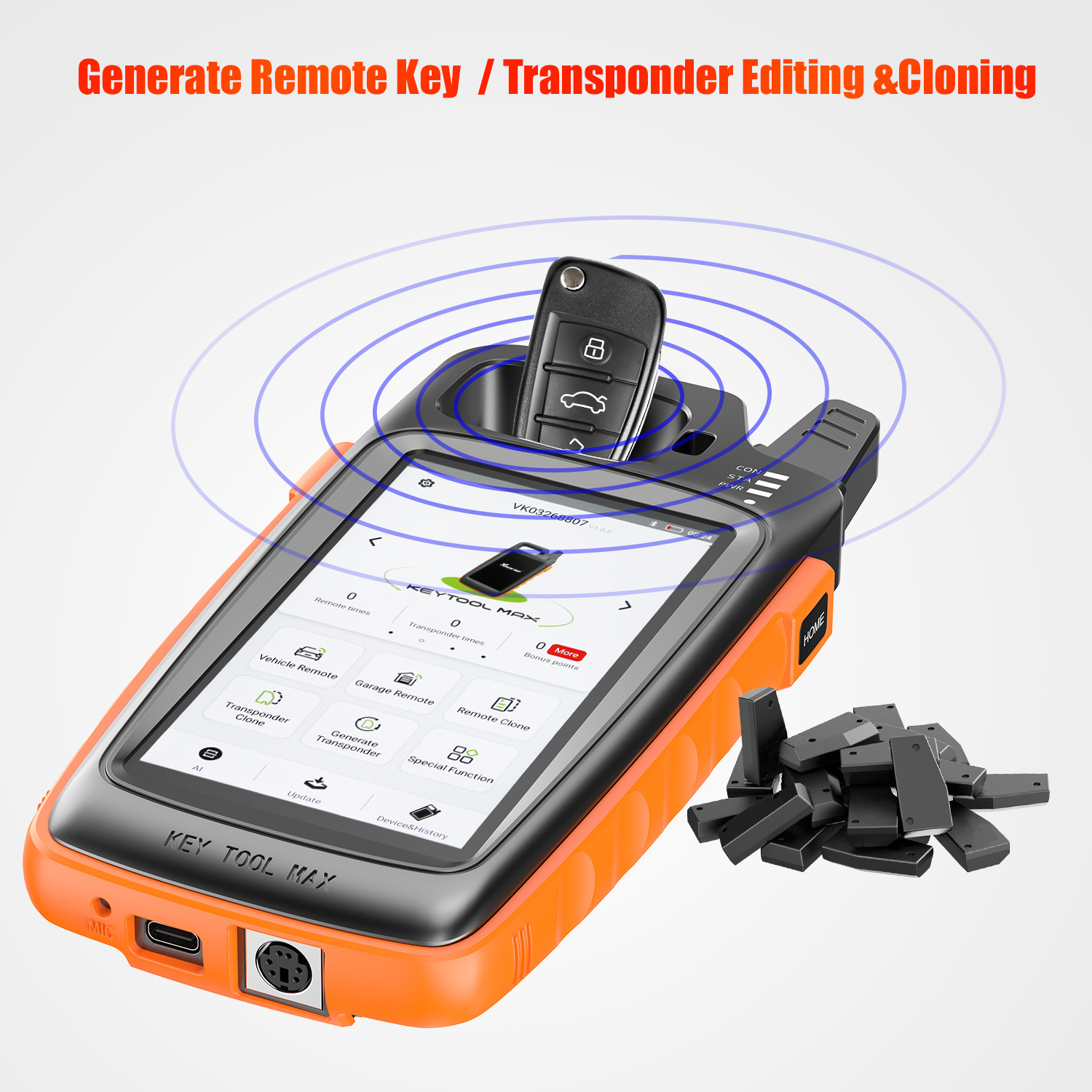 How to Use VVDI Key Tool Max?
Step 1: Read the vehicle data (VIN & immobilizer) via OBD utilizing the soon-to-be released Mini OBD Tool.
Step 2: View the remote and transponder chip information for the vehicle you're plugged into and instantly generate your chip and key.
Step 3: View the proper keyway for cutting on the Dolphin and cut your blade (once you've Lishi'd to determine your cuts).
Step 4: Take your completed key back to the vehicle for immobilizer programming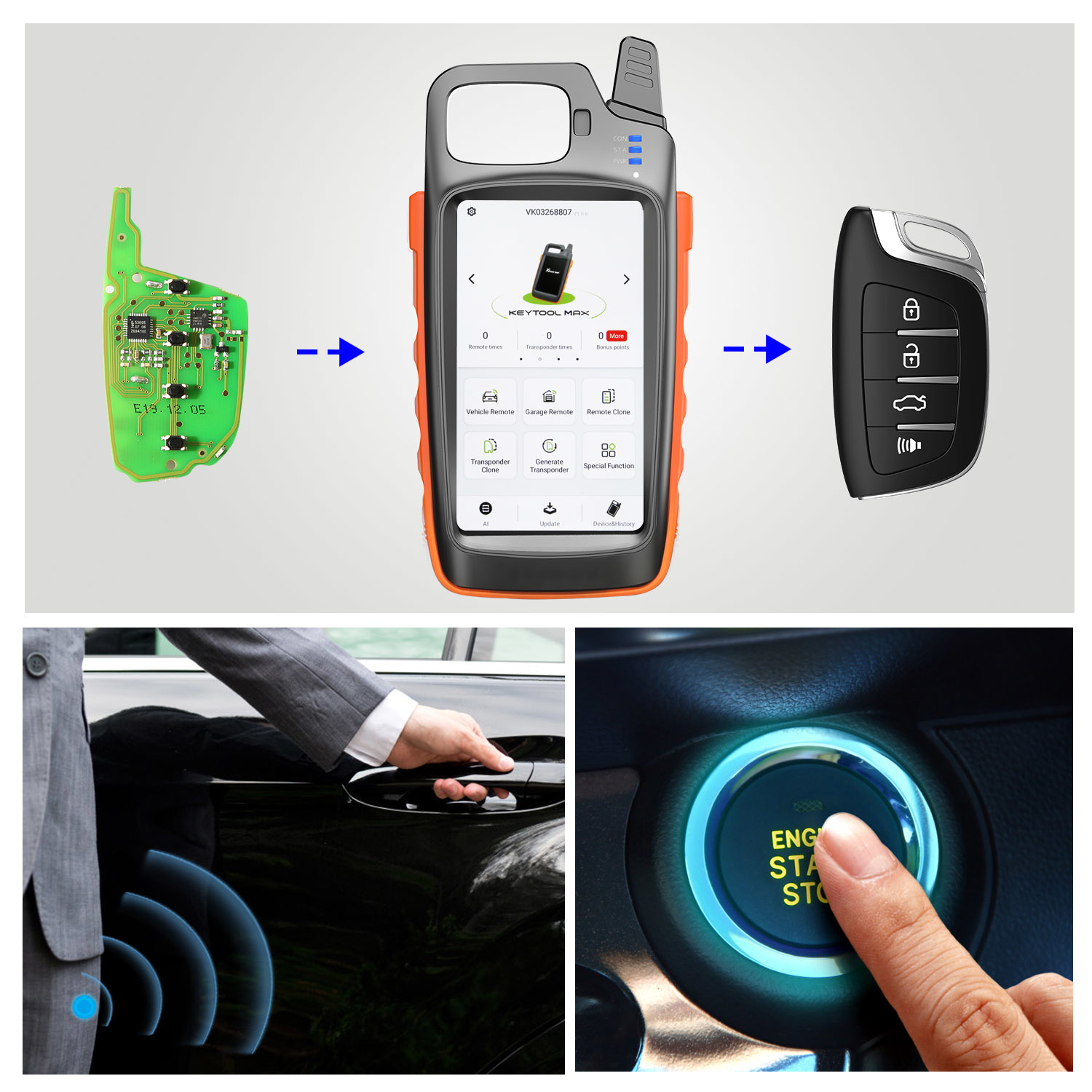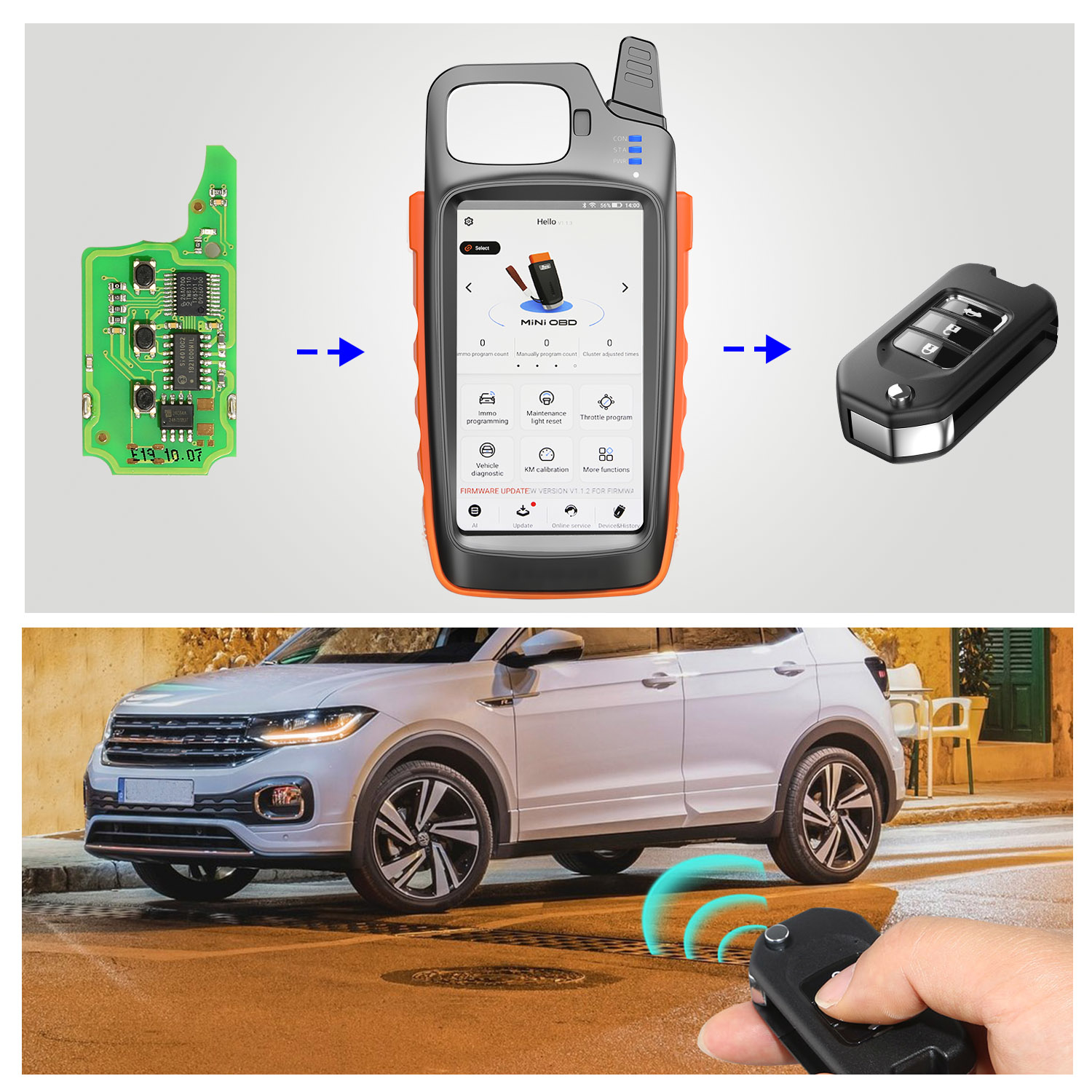 VVDI Key Tool Max Connect to MINI OBD TOOL
There are 3 ways for Key Tool Max connect to MINI OBD TOOL:
1--USBTYPE-C cable
2--WIFI
3--Bluetooth
1) Click on the [Select] on the HOME page,available device will be shown on the screen,choose device to connect according to Serial Number
2) Software will detect current device with software interface connection status,WLAN connection status and WIFI connection status.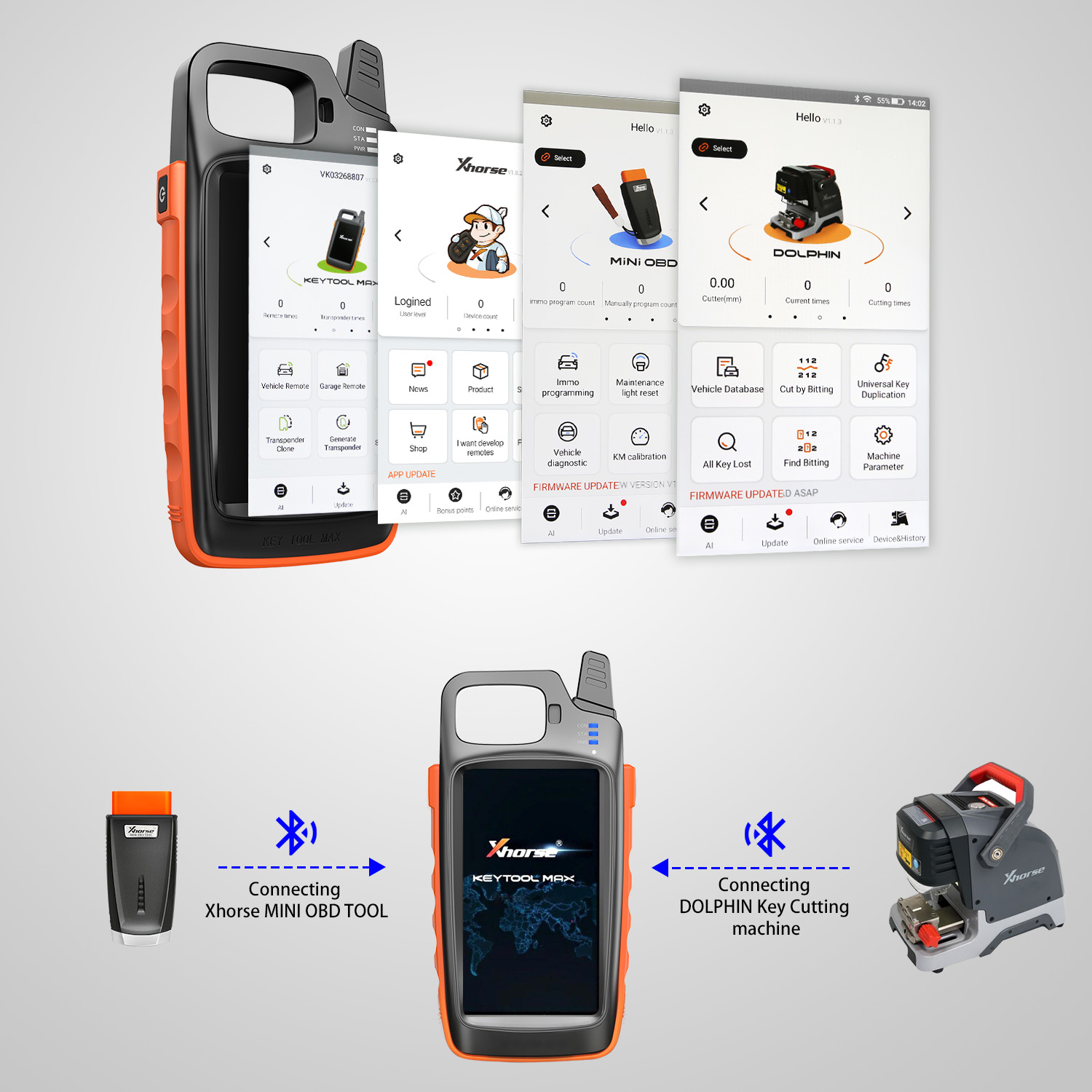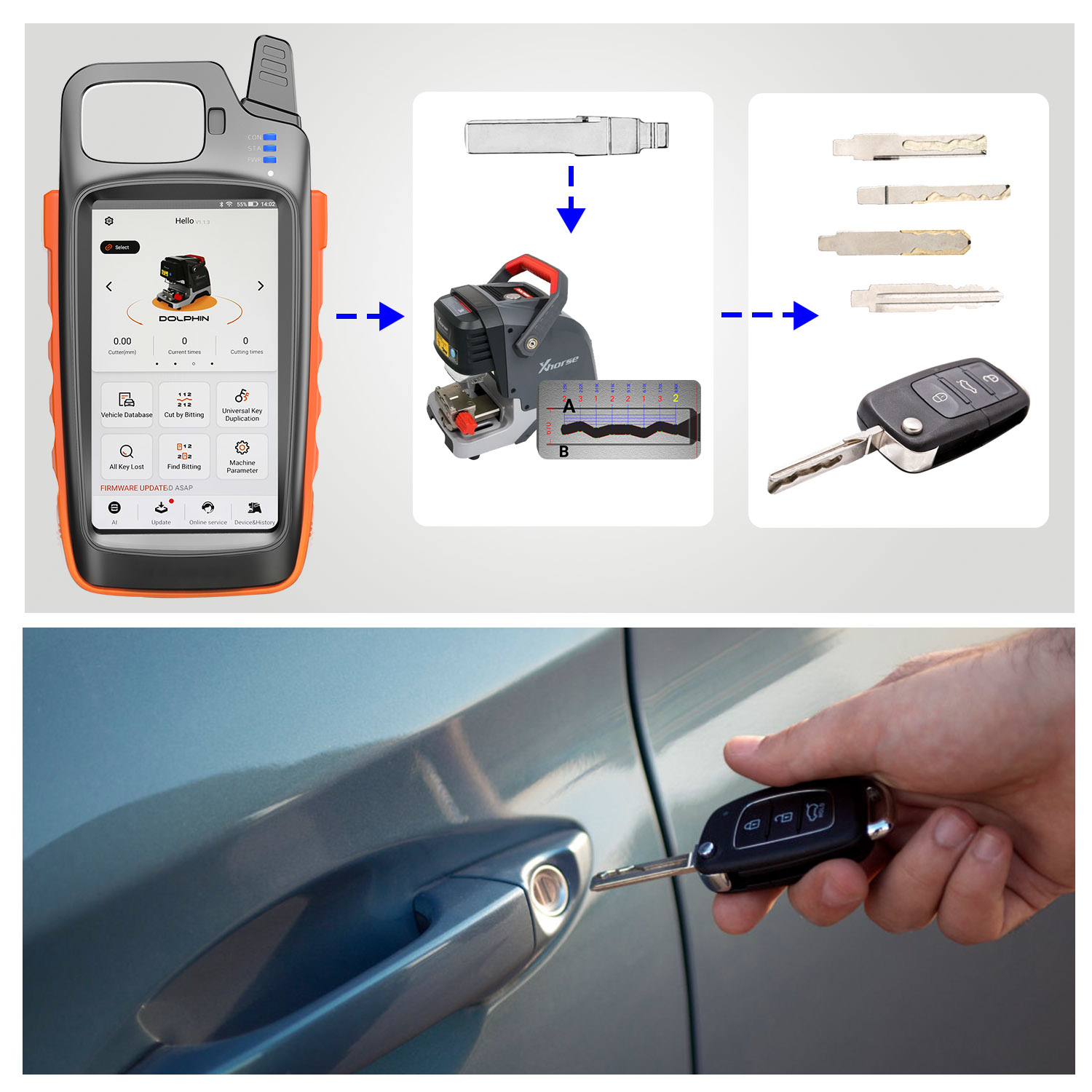 VVDI Key Tool Connect to Xhorse Dolphin XP005 Key Cutting Machine:
Key Tool MAX connects to Key Cutting Machine by Bluetooth to do cutting operations.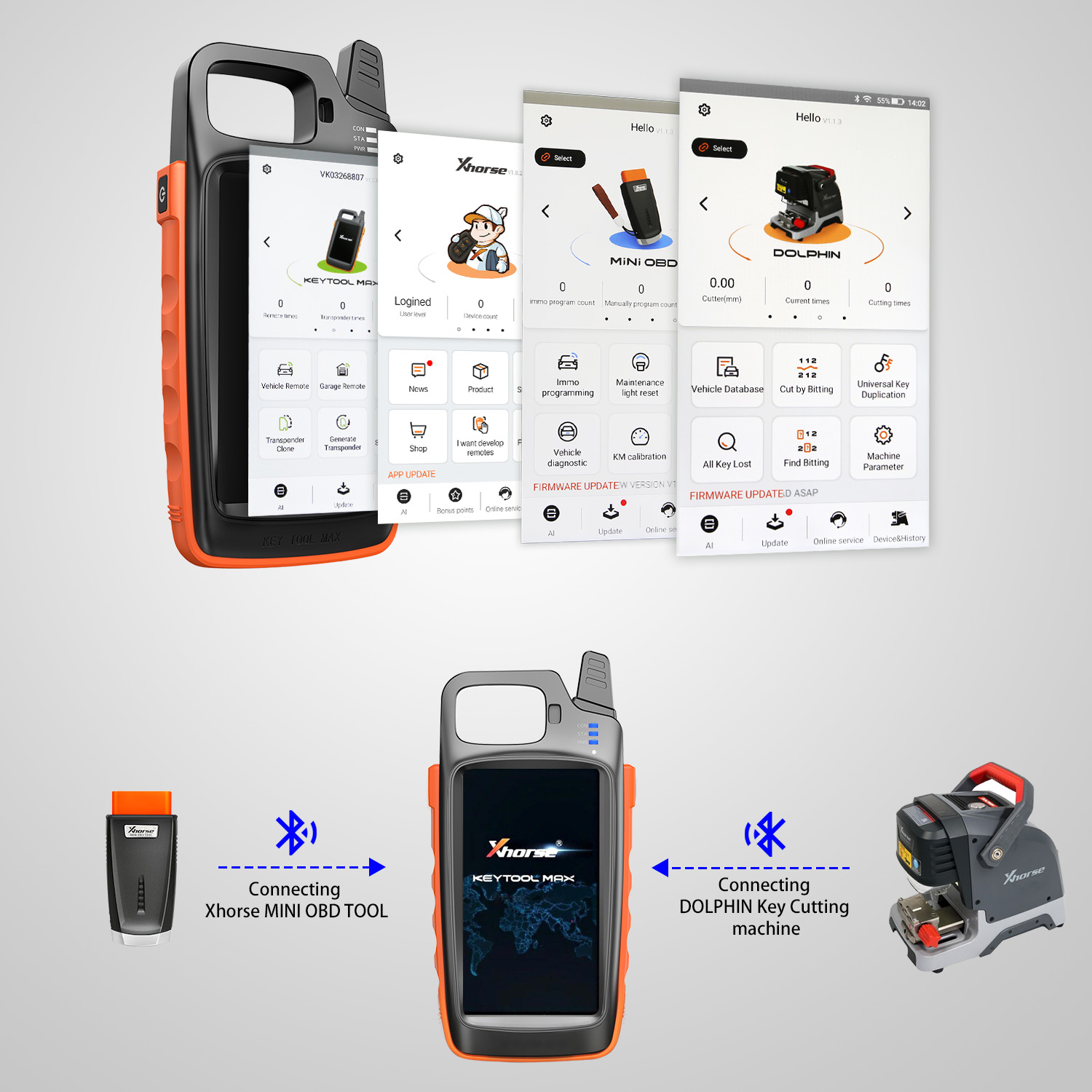 VVDI Key Tool Max Latest Update Information:
Update File make key for free, free cloud storage for temporary data (Jul 16th, 2020)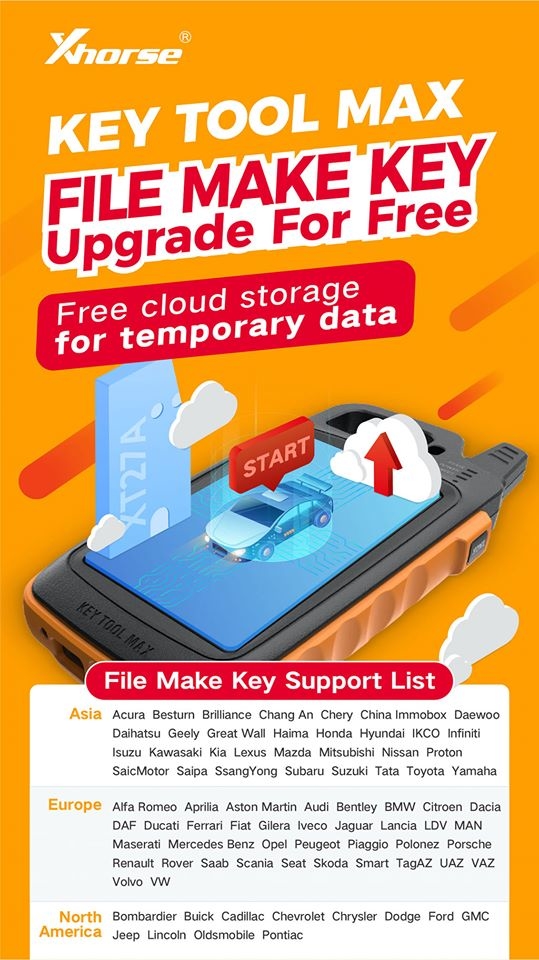 File make key support list:
Asia:
Acura, Besturn, Brilliance, Chang An, Chery, China Immobox, Daewoo, Daihatsu, Geely, Great Wall, Haima, Honda, Hyundai, IKCO,
Infiniti, Isuzu, Kawasaki, Kia, Lexus, Mazda, Mitsubishi, Nissan, Proton, SaicMotor, Saipa, SsangYong, Subaru, Suzuki, Tata, Toyota, Yamaha
Europe:
Alfa Romeo, Aprillia, Aston Martin, Audi, Bentley, BMW, Citroen, Dacia, DAF, Ducati, Ferrari, Fiat, Gilera, Iveco, Jaguar, Lancia, LOV, MAN,
Maserati, Mercedes Benz, Opel, Peugeot, Piaggio, Polonez, Porsche, Renault, Rover, Saab, Scania, Seat, Skoda, Smart, TagAZ, UAZ, VAZ, Volvo, VW
North American:
Bombardier, Buick, Cadillac, Chevrolet, Chrysler, Dodge, Ford, GMC, Jeep, Lincoln, Oldsmobile, Pontiac
Tech Support:
Xhorse Key Tool Max File Make Key Funtion Use Tips
VVDI Key Max Parameter:
Battery Capacity: 3375mAh
Battery Life: >6 hours
Standby Time: >5 days
Recharging Current: 1500mAh
Brightness: >400nlts
Screen Resolution: 1280*720P
Camera Resolution: 800W
VVDI Key Tool Max Package List:
1x VVDI Key Tool Max tablet
1x USB-C cable
1x Remote generation cable
1x User Manual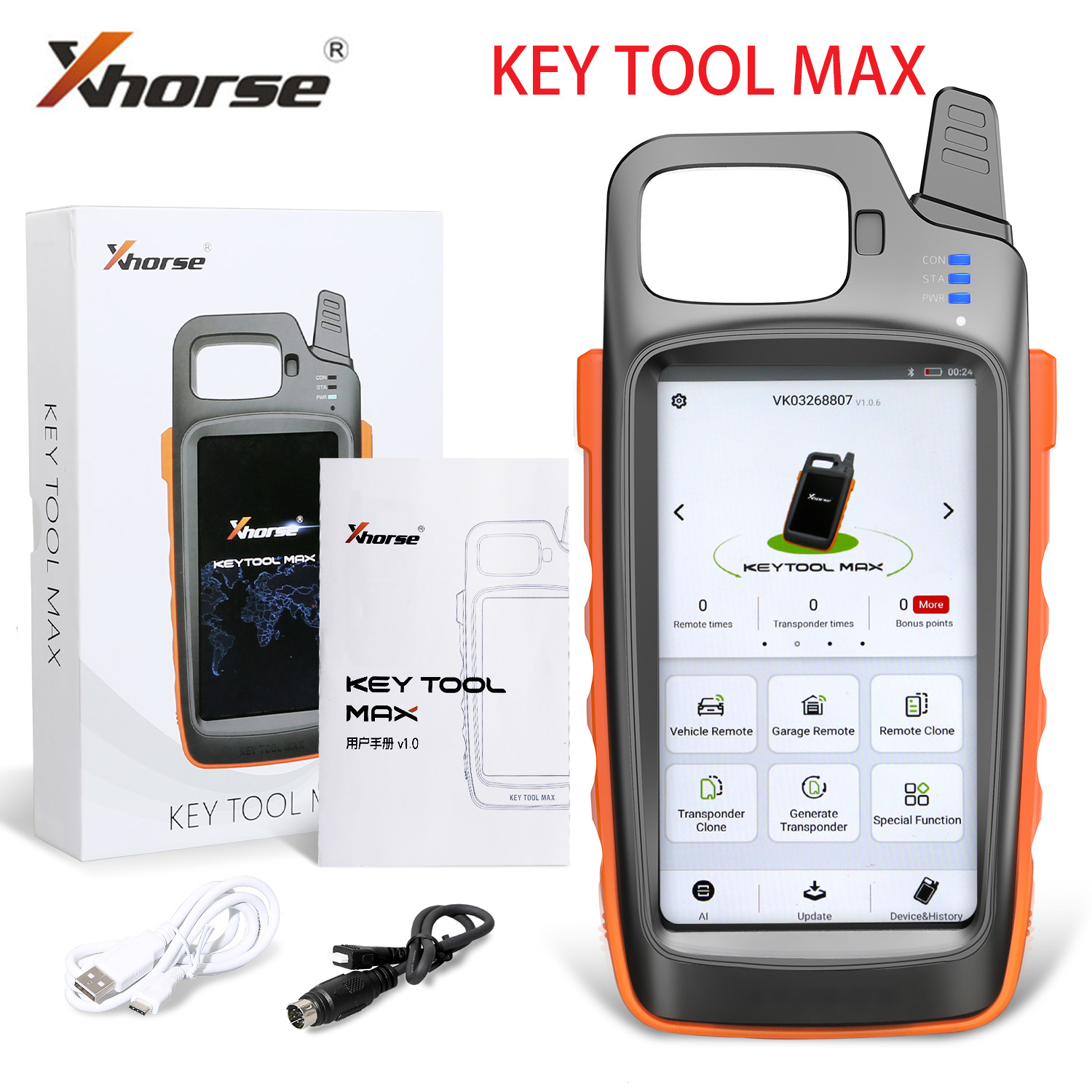 Shipping Method and Delivery Time:
US, UK, Czech and Russia Warehouse Shipping:
3-5 working days. Fast Delivery & Tax Free.
US Check:
Ship from US
UK Check:
Ship from UK
EU Check:
Ship from Czech
Russia Check:
Ship from RU
DHL Shipping:
3-5 working days. Usually we declare a lower value on DHL invoice to help with customs clearance. If address belongs to remote area, customer will need to pay remote handling cost or we can change to ship by EMS. Please remember to leave message if you have any special requirement.
Yanwen Express:
7-10 working days. No Tax or remote cost for European Countries.
Standard Post:
7-15 working days. To South America and Africa countries it may take 20-25 working days. Customers can tick Express Shipping Service to ship by DHL.