Original Autel MaxiDAS DS808K Tablet Diagnostic Tool Full Set Support Injector Coding & Key Coding
Autel DS808K, as an advanced version of DS808, is a professional automotive scan tool that not only has complete OBD2 functions but can also access all available vehicles ECUs and perform OE-Level Diagnosis. With 23 most commonly used service functions like Oil Reset, EPB, SAS Calibration, ABS Brake Bleeding, IMMO keys and etc and intuitive interface, it's considered an ideal diagnose and service scanner tool pick for home mechanics and DIYers. It comes with unmatched vehicle coverage of 80 makes of American, European and Asian vehicles with 11 Non-Standard OBD adapters included.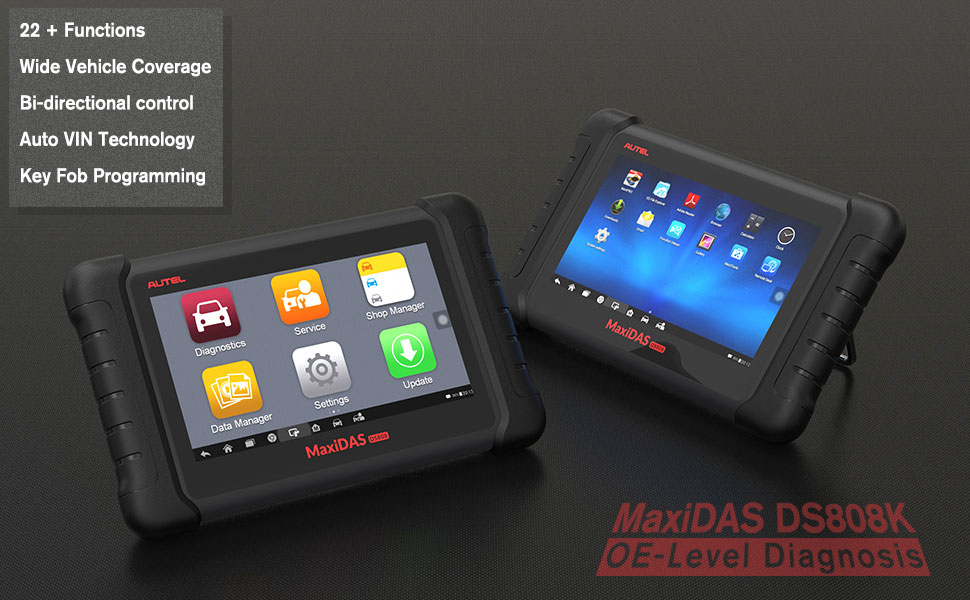 Autel MaxiDAS DS808K Features:
1. Instant remote control tech support anytime, anywhere
2. Smart AutoVIN technology for identifying vehicles easily
3. Exceptional OE-Level system coverage for all electronic systems
4. Complete capabilities for codes, live data, active test, ECU information, adaptation, matching, etc.
5. Automatic system and software updates with real-time push message notifications via Wi-Fi
6. Convenient data management system for managing internal program applications and reviewing data
7. Cloud-based MaxiFix online community provides a vast database of diagnostic and repair tips and proven filed fixes
8. Interactive Data Logging sessions enable direct contact with Autel Technical Support for first-hand troubleshooting of diagnostic bugs and errors
9. One-stop multitasking designed for ideal management of workshop operations to keep all data files, customer info, and vehicle records well organized
10. One Year Free Update Online, after one year, it will cost 289usd per year.
11. Vehicle Coverage: Handheld 7inch Touch Screen Android System Autel Diagnostic Tools for more than 80 US, Asian and European vehicle makes, also support New Function INjector Coding & Key Coding
Notice:
AUTEL MaxiDAS DS808K US Version
has Chrysler 16Pin Adapter, doesn't have Benz 14Pin Adapter
AUTEL MaxiDAS DS808K EU Version
has Benz 14Pin Adapter, doesn't have Chrysler 16Pin Adapter.
Autel MaxiDAS DS808K Functions:1. All Systems Comprehensive
Diagnostics for Deep Inspection in Vehicle
Autel DS808k is an ideal diagnostic tool designed to work for diagnoses of complete systems, which allows users to operate functional tests, retrieve vehicle diagnostic information (trouble codes), freeze frame data and live data for various vehicle control systems (engine, transmission, ABS, etc.), providing its users with all the information pertinent to a vehicle's health quickly and in an accessible, reader-friendly format. To name just a few:
1) ECU Information:
Retrieves and displays the specific information for the tested control unit, including unit type, version numbers and other
specifications.
2) Trouble Codes:
Includes Read Codes and Erase Codes functions. Displays detailed information of DTC records retrieved from the test vehicle's ECU and
erases DTC records and other data from the test vehicle's ECU.
3) Freeze Frame:
Displays the freeze frame data of the DCTs.
4) Live Data:
Retrieves and displays live data and parameters from the test vehicle's ECU.
5) Active Test:
During the actuation test, DS808 outputs command to the ECU in order to drive the actuators, and then determines the integrity of the system or parts by reading the ECU data, or by monitoring the operation of the actuators, such as switching an injector between two operating states. (This option is used to access vehicle-specific subsystem and component tests. Available test varies by the vehicle manufacturer, year, and model.
Provides specific subsystem and component tests. This selection may appear as Actuators, Actuator Test, or Function Tests, etc., and the
tests options may vary depending on the manufacturer and model.
And much more …
2. Functions Customized for Specific Needs
The Service section is specially designed to provide you with quick access to the vehicle systems for various scheduled service and maintenance performances
Autel DS808K is specially designed to add benefits of providing its users with quick access to the vehicle systems for 7 commonly performed service functions including:
1). Oil Service Reset – Performs reset for the Engine Oil Life system, which calculates an optimal oil life change interval depending on the vehicle driving conditions and climate, and turns off the warning light;
2). TPMS Service – Quickly looks up the tire sensor IDs from the vehicle's ECU, as well as to perform TPMS programming and reset procedures after tire sensors are replaced;
3). EPB Service – Initialize the throttle actuators to the default state for regulating throttle (or idle engine) operations accurately;
4). ABS/SRS Services – Performs various bi-directional tests to check the operating conditions of both the Anti-lock Braking System and the Supplemental Restraint System;
5). SAS Service – Performs steering angle adjustment, clears steering sensor fault memory and turns off steering wheel warning light;
6). DPF Regeneration Service – Clears particulate matter from the DPF filter to stabilize the filter performance.
7). BMS Service - Perform a reset on the vehicle battery for clearing the fault information and re-match the battery;
8). Brake Bleed - When your brake pedal becomes soft and inconvenient to control, this diagnostic tool can perform bi-directional tests to check the Anti-lock Braking System;
9). IMMO Service - Clear the lost car key's information and program the new key into the ECU database to protect user's car from being stolen;
10). Injector Coding - Make the cylinder better identify injector after ECU or injector is replaced;
11). SAS Service - to perform calibration for the Steering Angle Sensor and clear steering sensor fault memory;
12). Throttle Adaptation - initialize the throttle actuators to the default state for regulating throttle (or idle engine) operations accurately
13). Headlamp, Suspension, Lang change, Odometer, Seats, CHG tire size, TEC learn and WIN DR ROOF, etc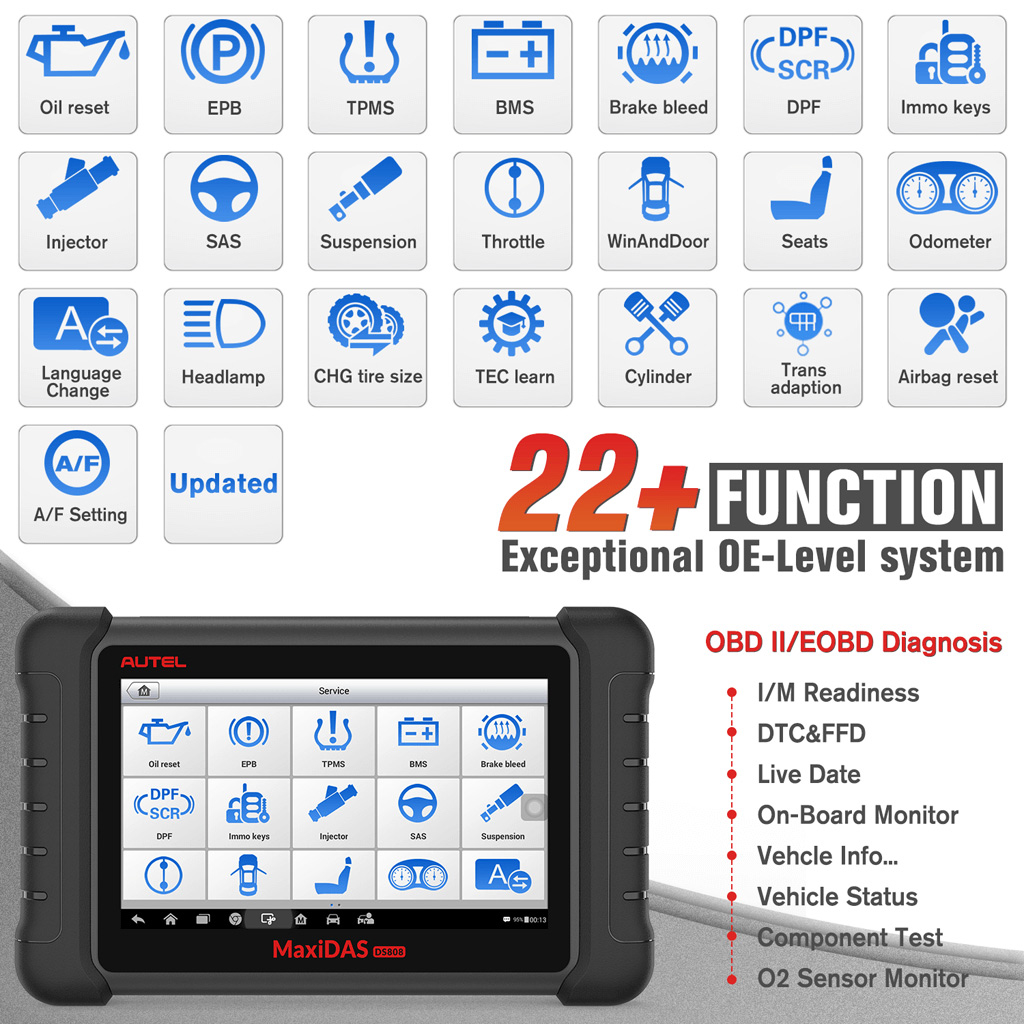 3. Intelligent Applications to Facilitate Your Daily Repair Work
1) MaxiFix:
The cloud-based MaxiFix application launches the on-line troubleshooter database, which not only provides users virtually all common diagnostic trouble codes (DTCs) database for most vehicles, but also serves as a forum allowing to network with others and gives the access to a vast database of repair and diagnostic tips along with proven filed fixes.
2) Shop Manager:
The Shop Manager application helps users to manage the workshop information, customer information records, and keep test vehicle history records, convenient for related information search and helpful for time-saving, which is a great assist in dealing with daily workshop business and improves customer service.
3) Data Manager:
The Data Manager application is used to store, print, and review the saved files, which is a convenient data management system for managing internal program application and reviewing data. Save needed or might-be needed data for later check or problem summary.
4) Data Logging:
Interactive Data Logging sessions enable direct contact with Autel Technical support for first-hand troubleshooting of diagnostic bugs and errors.
5) Notification Center:
Receives the regular on-line messages from the server for system update notification or other service information. Never miss news or updates.
Autel DS808K Supported Automotive Protocols:
ISO9141-2, ISO14230-2,ISO15765, K/L-Line, Flashing Code, SAE-J1850 VPW, SAE-J1850 PWM, ISO11898(Highspeed, Middlespeed, Lowspeed and Singlewire CAN,
fault-tolerant CAN), SAE J2610,GM UART,UART Echo Byte Protocol, Honda Diag-H Protocol, TP2.0, TP1.6
Autel Maxidas DS808K Vehicle List:1. European vehicle list:
AUDI, BENZ, BMW, DACIA, EU FORD, LANDROVER, MINI, OPEL, PEUGEOT, RENAULT, SEAT, SKODA, VW, VOLVO, SMART, JAGUAR, BENZ SPRINTER, SAAB, FIAT, ABARTH, LACIA, ALFA ROMEO, VAUXHALL, MAYBACH, BENTLEY, BUGATTI, PORSCHE.
2. USA vehicle vist:
GM, CHRYSLER, FORD
3. Asia vehicle list:
SUZUKI, KIA, DAWEOO, ISUZU, TOYOTA, SUBARU, SCION, NISSAN, MITSUBISHI, LEXUS, INFINITI, HYUNDAI, HOLDEN, HONDA, ACCURA, MAZDA.
How to update Autel DS808K (With Conkit) software:
1. Make sure the Display Tablet is connected to a power source with stable access to the internet.
2. Tap the Update application button from the MaxiDAS Job Menu;
or tap the update notification message when received one;
or tap the Update icon on Vehicle Menu in Diagnostics application.
The Update application screen displays.
3. Check all available updates:
If you decide to update all the items, tap the Update All button.
If you only want to update one or some of the item(s), tap the Update button on the right column of the specific item(s).
4. Tap the Pause button to suspend the updating process. When you tap Continue to renew the update, the updating process will resume
from the break point.
5. When the updating process is completed, the firmware will be installed automatically. The previous version will be replaced.
Autel MaxiDAS DS808K Specifications:
Operating System: Android™ 4.4.4
Processor: Cortex-A9 processor (1.5 GHz)
Memory : 32GB
Display: 7-inch LCD capacitive touchscreen with 1024x600 resolution
Connectivity: Mini USB 2.0 • USB 2.0 • Wi-Fi • Micro SD card (supports up to 32GB)
Sensors: Ambient light sensor for brightness auto changing
Audio Input/Output:• Input: N/A • Output: buzzer
Power and Battery: 3.7 V/3200 mAh lithium-polymer battery • Charges via 5 VDC power supply
Tested Battery Life: Around 4.5 hours of continuous use
Battery Charging Input: 5 V/1.5 A
Power Consumption: 500 mA (LCD on with default brightness, Wi-Fi on) @3.7 V
Operating Temp: -10 to 60°C(14 to 140°F)
Storage Temp: -20 to 70°C (-4 to 158°F)
Operating Humidity: 5% - 95% non-condensing
Dimensions (W x H x D): 237.8 mm (9.4") x 148.6 mm (5.9") x 35.5 mm (1.4")
Net Weight: 788 g (2.42 lb.)
Autel Maxidas DS808K Full Set Questions and Answers (FAQ)Question:
Can you use this to program new keys
Answer:
Yes you can reprogram keys with this tester
Question: Is it true that this model is no longer updateable? I was just going to purchase one,but if that is the case it is worthless
Answer: I can only tell you that I updated mine for Mercedes and chevy right after I registered it
Question: Is it availalable with standard package which has less adapters and cables?
Answer: Yes, we have standard package Autel Maxidas DS808.
Question: Can i use for other connections besides OBD2?
Answer: Yes, this is full set version, it is included with many cables and adapter which are not OBD2.
Question: Does it do tire pressure and how about the free headset?
Answer: It will perform limited tire pressure functions (i.e. Read it) if the ECU program allows it via OBD II connector. The free head phones are surprisingly very good, they are comfortable, easy to use, battery lasts a long time and rechargeable.
Question: Does this tool have bi-directional control and diagnostics for the Body control Module?
Answer: Yes of course, it can support it.
Question: Can this unit be used to relearn the idle, on a 2010 chevy 1500 silverado z71, auto trans, 5.3?
Answer: Yes, it can be supported.
Question: Dose it work on 24v truck
Answer: Mine is a 708 and is 12 volt only. You may have to get one for heavy duty trucks, depending on the make. Sorry I couldn't help.
Autel DS808K Package Includes:
1pc x USB External
1pc x Power Adapter
1pc x USB External Power AdapterUser
1pc x ManualQuick reference guide
1pc x Mini USB Cable
1pc x User Manual
1pc x Quick Guide
1pc x Benz-14 (EU Version)
1pc x Chrysler-16 (US Version)
1pc x BMW-20
1pc x Kia-20
1pc x Nissan-14
1pc x GM/Daewoo-12
1pc x Honda-3
1pc x VW/AUDI-2+2
1pc x Mitsubishi/Hyundai-12+16
1pc x Benz-38
1pc x PSA-2
1pc x Fiat-3
Shipping Method and Delivery Time:
US, UK, Czech and Russia Warehouse Shipping:
3-5 working days. Fast Delivery & Tax Free.
US Check:
Ship from US
UK Check:
Ship from UK
EU Check:
Ship from Czech
Russia Check:
Ship from RU
DHL Shipping:
3-5 working days. Usually we declare a lower value on DHL invoice to help with customs clearance. If address belongs to remote area, customer will need to pay remote handling cost or we can change to ship by EMS. Please remember to leave message if you have any special requirement.
Yanwen Express:
7-10 working days. No Tax or remote cost for European Countries.
Standard Post:
7-15 working days. To South America and Africa countries it may take 20-25 working days. Customers can tick Express Shipping Service to ship by DHL.