Xhorse CONDOR XC-002 Plus VVDI MB BGA Tool

Promotion: Buy Xhorse CONDOR XC-002 with VVDI MB Tool, Get

1 Year Unlimited Token Service.

After one year, it will be one token free everyday.

Notice:
If you buy this Condor XC002, you can authorize your VVDI MB one free token per day .
If you have both Condor XC002 and Condor XC Mini, your VVDI MB can has 2 free token per day .
Top 3 Reasons to Get Xhorse Condor XC-002:
1. Aluminum Die-casting chassis,Precision Machining
2. Renishaw line detection system,Column Cross guide rail
3. 3 year warranty. Lifelong technical support
Main Features:
1.Minimalism streamline design
2.Ultra-strength aluminum alloy die casting with superior texture.
3.Convenient and practical ergonomics handle design.
4.Patented rotating clamp design suitable for multi key blanks and blades
5.Gross rolling guided bearing track ensures easy operation.
6.Modulated components for easy disassembly and maintenance.
7.DMG CNC Processing
Condor XC-002 Specification:
Input voltage: 220VAC
Input frequency: 50Hz
Consume: 200W
Package Dimensions: L595xW550xH375mm
Machine Dimensions: L298xW445xH525mm
Spindle Speeds: 8000-10000rpm
Noise Decibel:77dB
Working Temperature: 0-50℃
Humidity: 10-90%
Xhorse VVDI MB BAG TOOL

Xhorse VVDI MB BGA TOOL Function Introduction:
1. Support BE key, read password and prepare new key via IR.
2. NEC V051,V057 support on board get password
3. All NEC keys support on board write and erase
4. Password calculate:support BGA keys,NEC keys(include 51,57version)etc.,work fast.
5. Support renew EIS and ELV
6. Support write EIS and ELV
7. Support online generate key file
8. Unlock ELV function
VVDI MB BGA Tool Support Key Types Display: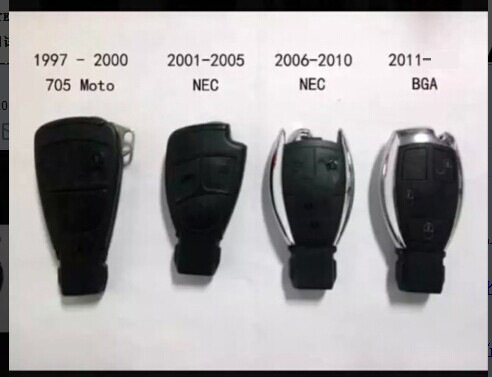 Package List:
1 Full Set of Xhorse CONDOR XC-002
1 Full Set of VVDI MB BGA Tool
Shipping Method and Delivery Time:
US, UK, Czech and Russia Warehouse Shipping:
3-5 working days. Fast Delivery & Tax Free.
US Check:
Ship from US
UK Check:
Ship from UK
EU Check:
Ship from Czech
Russia Check:
Ship from RU
DHL Shipping:
3-5 working days. Usually we declare a lower value on DHL invoice to help with customs clearance. If address belongs to remote area, customer will need to pay remote handling cost or we can change to ship by EMS. Please remember to leave message if you have any special requirement.
Yanwen Express:
7-10 working days. No Tax or remote cost for European Countries.
Standard Post:
7-15 working days. To South America and Africa countries it may take 20-25 working days. Customers can tick Express Shipping Service to ship by DHL.