Iprog+ Pro Programmer with Probes Adapters for in-circuit ECU Free ShippingTop 3 Reasons to Get Iprog+ with Probes Adapters:

1. Functions including airbag, dashboard, car radio, ecu, eeprom, immo, mcu.
and more special functions like
dpf off, MIL to KM, PINABS, PINCODE SMATRA3,PINCODE SENSOR SPEED LIMIT,ODO Adjust, Fujutsu, Microchip, Motorola, Motorola912EN, NECV850, BLR, CAN,CRC_Cript, ibutton, sd_unlocker,test etc.
2. Reasonable price:
much more cheaper than original iprog+, but work as well as the original
3.With Probes Adapters, you can get your job done much easier. For some ECUs no need soldering.

IProg+ Programmer Detailed Function List:
Working with odometers on OBDII connector
Working with odometers on the table through adapters
Work with multimedia unlocking the tape recorder
Work with keys (IMMO, Transponders), copying, preparation, unlocking
Work with IMMO-Key Auto dumps
Working with the airbag computer, deleting crash data
Transfer readings from miles to km
Read and write processors and its used in cars
Connection Picture: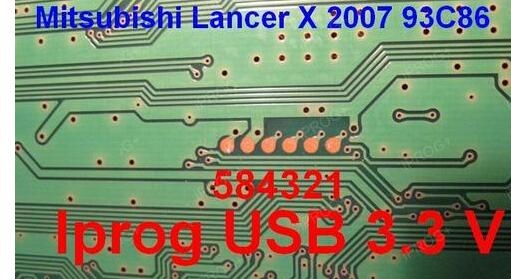 IProg+ Programmer Package List:
1pc x iprog+ Main Unit
1pc x RFID 125+134 adapter
1pc x Eeprom adapter
1pc x UARTBDM adapter
1pc x OBD Cable
1pc x USB
1pc x CD
1pc x Can Adapter
1pc x K-line Adapter
1pc x Welding Line
1set x Probes Adapters for in-circuit ECU
Shipping Method and Delivery Time:
US, UK, Czech and Russia Warehouse Shipping:
3-5 working days. Fast Delivery & Tax Free.
US Check:
Ship from US
UK Check:
Ship from UK
EU Check:
Ship from Czech
Russia Check:
Ship from RU
DHL Shipping:
3-5 working days. Usually we declare a lower value on DHL invoice to help with customs clearance. If address belongs to remote area, customer will need to pay remote handling cost or we can change to ship by EMS. Please remember to leave message if you have any special requirement.
Yanwen Express:
7-10 working days. No Tax or remote cost for European Countries.
Standard Post:
7-15 working days. To South America and Africa countries it may take 20-25 working days. Customers can tick Express Shipping Service to ship by DHL.