WIFI GM MDI 2 Multiple Diagnostic Interface with V2021.4 GDS2 Tech2Win Software Sata HDD for Vauxhall Opel Buick and Chevrolet

This package equals GM MDI2 (SP163-E) and V2021.4 GDS2 Software HDD (SP163-S1).



GM MDI 2 is the Multi Diagnostics Interface works as the high-quality Vauxhall/Opel dealer diagnostic interface, used with Global TIS, GDS 2, Tech2Win software on a new laptop.
GM MDI 2 Scanner Highlights:
* Automatic vehicle recognition
* DTC reading and removal
* Complete list of live data streaming for all main ECU
* Recordable / playback of live data
* New software flash for existing ECU to fix drivability issues
* Programming and installation of new ECU (PCM, ABS, Instrument cluster, air bag, fuel pumps etc.,)
* Programming new keys
* Setting / removing speed limiters
* J2534 pass thru offering ECU re-flash and diagnostics for other vehicle manufacturers, when subscribed to their specified software
* More dealer specific functions
The J2534 Configuration Application
The Multiple Diagnostic Interface (MDI) is a J2534 device that connects between your computer and the vehicle's J1962 DLC connector for pass-thru programming of the vehicle's ECU. The J2534 Configuration Application is installed onto your PC at the same time as the MDI Manager software allowing you to control how your TIS 2 Web application will connect to an MDI. In addition, this application provides API Monitoring controls to aid in investigating problems encountered while using any J2534 devices (including the MDI).
To launch the J2534 Configuration Application from SPS, press the "configuration" button on the Diagnostic settings screen.
Engine Compartment
Check Engine Compartment for components which may be loose; kinked or pinched vacuum hoses or electrical connections, and for any other missing or disconnected components.
Check to assure that hoses and electrical wires are properly routed to provide sufficient clearance with adjacent moving or hot parts.
Observe the movement or freedom of movement of linkage, valves and other components.
Check for unusual noises within the engine compartment.
Visually inspect for seepage and leaks at hoses and pipe connections, seals, gaskets and plugs.
Tighten clamps and connectors as necessary.
Check power steering gear, lines and hoses for leaks and clearance with adjacent panels, moving or hot parts. Tighten clamps and connectors as necessary.
Test engine coolant protection.
Check all fluid levels; engine oil, transmission oil, power steering oil, battery, brake, and cooling system.
Add inspection items as needed
Check throttle linkage for freedom at wide open and closed throttle.
Check tension on all belts.
Body–Accessories
Check operation of all interior and exterior lights;
Road Test
Road test on a route with road conditions permitting the proper evaluation of squeaks and rattles.
During this test, check the following items for proper operation and function;
Under Vehicle:
Visually inspect vehicle undercarriage for looseness, missing components and line routing and clipping, and fluid leaks. – Tighten clamps, couplings and connectors as necessary.
Data transfer and Electronic Control Unit (ECU) reprogramming
Shop network communications (LAN and WLAN)
Future expandability, including diagnostic applications
What protocols does the GM MDI 2 support?
For immediate use — At present, vehicles have two buses on the 16 pin connector (high speed and low speed GMLAN). The GM MDI communicates using all of the existing GM protocols, the same as the GM Tech2:
- UART
- Class 2
- KWP2000
- GMLAN (CAN)
Beginning with the 2008 model year vehicles, Pass-Thru will be the only programming method available. (Remote will continue to be available for previous vehicle
GM MDI GDS2 GM MDI gds tech2 win software Sata HDD for Vauxhall Opel/Buick and ChevroletSystem:
Win7 64bit
Software Version:
V2020.9
Update time: GM Global V2020.09
GM MDI Manager version: V8.5.33.53
Supports GM vehicles till 2020
Used for:
Both China GM MDI USB version and GM MDI scanner wifi version
Easy to use:
Insert the HDD with GM MDI gds2 software into your computer; the software can be used directly with the GM MDI scanner, which doesn't need activation by users.
GM MDI Multiple Diagnostic Interface scanner will provides the full dealer level diagnostics and programming for all Vauxhall / Opel 16 pin vehicles from 1996 to 2020. The GM MDI diagnosticsoftware gds2 can be installed on 2.5' SATA HDD, with the Win7 Operation System.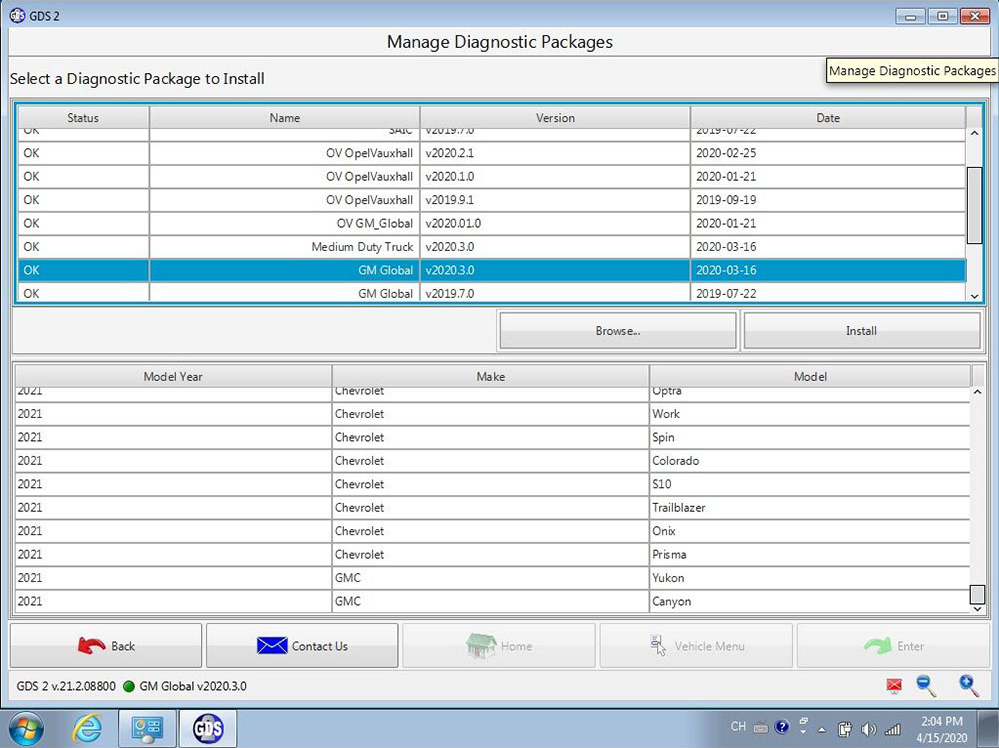 Package List:
1pc x GM MDI2 Main Unit
1pc x DLC Cable SAE J1962
1pc x 10-ft USB A to USB B Cable
1pc x Ethernet Cable
1pc x 500GB GM MDI 2.5" SATA HDD
Shipping Method and Delivery Time:
US, UK, Czech and Russia Warehouse Shipping:
3-5 working days. Fast Delivery & Tax Free.
US Check:
Ship from US
UK Check:
Ship from UK
EU Check:
Ship from Czech
Russia Check:
Ship from RU
DHL Shipping:
3-5 working days. Usually we declare a lower value on DHL invoice to help with customs clearance. If address belongs to remote area, customer will need to pay remote handling cost or we can change to ship by EMS. Please remember to leave message if you have any special requirement.
Yanwen Express:
7-10 working days. No Tax or remote cost for European Countries.
Standard Post:
7-15 working days. To South America and Africa countries it may take 20-25 working days. Customers can tick Express Shipping Service to ship by DHL.