Please click here to buy this product directly.

Original Autel Maxisys Elite One Year Update Service (Total Care Program Autel

All Maxisys tools include 1 Year FREE software updates and 1 Year warranty after registration. After the initial year expires, purchase an additional 1Year Total Care Program (TCP) subscription to extend software coverage and tool warranty.
Note:
1. it will need 1-2 days For the autel technician to open it
2. Very easy to operate, no shipping needed
3. Suitable for: Autel Maxisys Elite which are already over one year free update.
How to distinguish if your Maxisys MS908P or Elite?
Device with #SN V09RXXXXXXXX will be Elite, others will be MS908P.
How to Pay and Get the Update Service:
Now the Autel provide the update service for MS908P by using the Total Care Program Cards (TCP), Once you finish payment, we will share you the TCP code (Account and Password for updating online).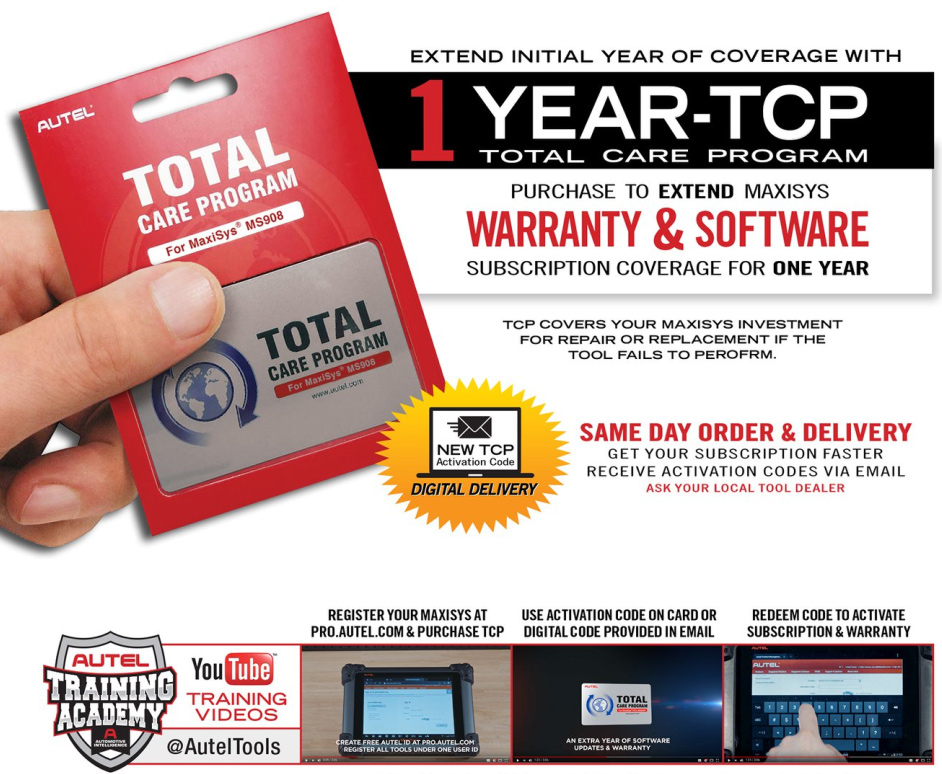 How to make it work?
Register all your Autel tools to your free Autel ID account at autel.com to download FREE software updates regularly to keep your Autel tools functioning like brand new.
Constantly Update MaxiSYS for Current Vehicle Coverage
Register Tool After Purchase for 1YR FREE Software Updates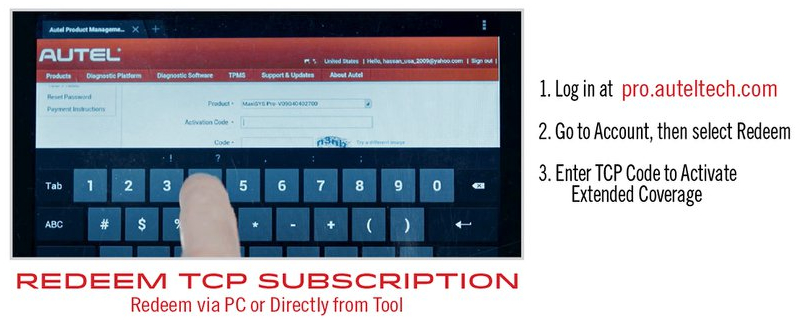 To Redeem on your Autel Maxisys Elite:
1. Sign in to your Autel account at Autel official website
2. Select Redeem on the left
3. Select the product
4. Peel off table & enter Activation Code
5. Press OK Button to confirm
Finally, wow, instantaneous access to the new updates!
Shipping Method and Delivery Time:
US, UK, Czech and Russia Warehouse Shipping:
3-5 working days. Fast Delivery & Tax Free.
US Check:
Ship from US
UK Check:
Ship from UK
EU Check:
Ship from Czech
Russia Check:
Ship from RU
DHL Shipping:
3-5 working days. Usually we declare a lower value on DHL invoice to help with customs clearance. If address belongs to remote area, customer will need to pay remote handling cost or we can change to ship by EMS. Please remember to leave message if you have any special requirement.
Yanwen Express:
7-10 working days. No Tax or remote cost for European Countries.
Standard Post:
7-15 working days. To South America and Africa countries it may take 20-25 working days. Customers can tick Express Shipping Service to ship by DHL.