LONSDOR K518S Key Programmer Basic Version
Lonsdor K518S is the basic version of Londor K518ISE with lifetime free update and no token limitation. Lonsdor K518S is an universal key programmer for all makes from Europe, America, Asia and China, also it can perform odometer adjustment for some makes. Its nice features are built-in Volkswagen 4th 5th adapter & RFID transponder reader / writer, program Toyota/Lexus smart key all key lost via OBD and free BMW FEM key programming (for all keys lost, enter 32-bit ISN code). Lonsdor K518ISE is specialized on Volvo, Maserati, Ferrari, Lamborghini, Bentley, Nissan etc.

Lonsdor K518IS Main Functions & Features:
Immobilization
Odometer adjustment
Built-in Volkswagen 4th 5th adapter
Built-in Chip & remote detection module.
Free BMW FEM key programming
Program Toyota/Lexus smart key all key lost via OBD
Latest Update (May.14th,2021):
Support Lastest Volvo data reading and programming for XC40(2020-), XC60(2018-), XC90(2015-), S60(2020-), S90(2017-), V60(2018-), V90(2016-)
Please note that this function requires to open Lonsdor Volvo License.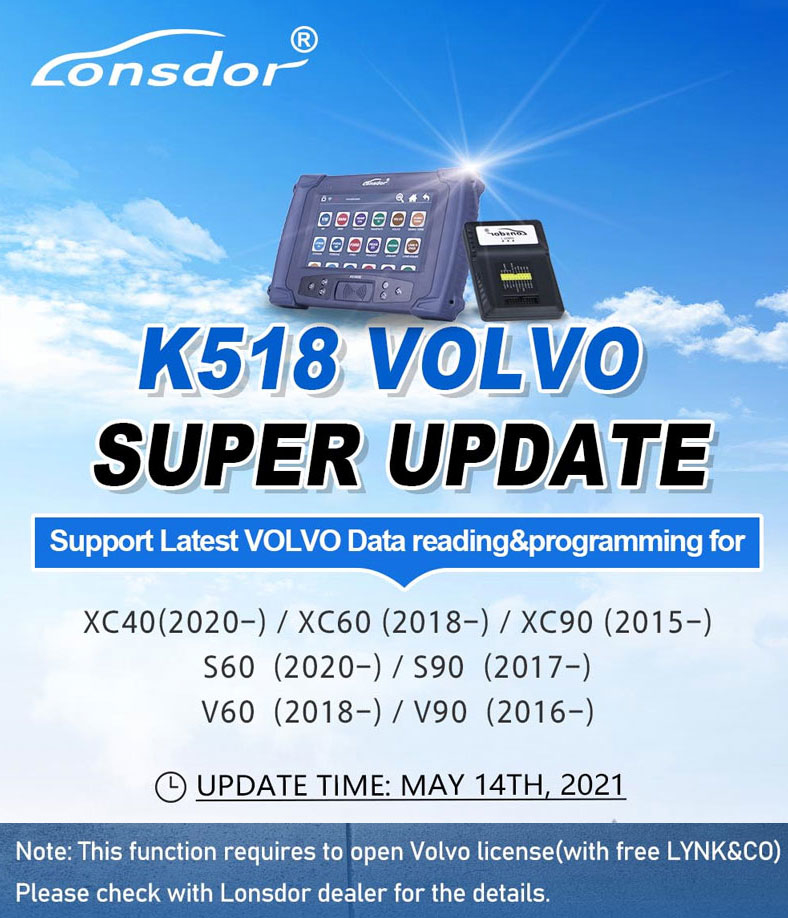 Lonsdor K518IS Latest Update Policy:
Menus are divided into two parts: Free Menus and Subscribed Menus.
1. Free menus are free for lifetime.
2. Subscribed menus can be used for free for 360 days. You need to pay for them after the trial period. After the trial period, subscribed menus will not work properly if you don't pay. And the menus will disappear after updating the device.
360 days is a period. One year period starts from the day of the trial period finished.
1st Year Subscription, $600
2nd Year Subscription, $450
3rd Year Subscription, $300

Lonsdor K518IS Basic Partial Vehicle List:
SSANG YONG:
Actyon,Chairman,Korando,Kyron,Musso,Rexton,Stavic,Rodius,Rexton2,Rexton3...

Citroen:
C4,Triomphe,C5,Quatre,C4L,C3-XR,C1,C2,C3,C8,Dispatch,Jumpy,Nemo,Picasso,Relay,Relay2,Synergie...

Ford:
New Mondeo,Mondeo,Escort,Edge,Explorer,Mustang,Escape,Raptor F350,Transit,Focus,Kuga,Ecosport Fiesta

Peugeot:
207,207CC,208,2008,301,307,308S,4007,406,408,508,607,807,1007,Partner,Exper...

Land Rover:
Range Rvoer,Freelander2,Freelander,Discovery4,Evoque,Defender,Discovery3,New Land Rover 2015-

Mazda:
Axela,Atenza,CX-5,M6,M3,M2,M5,M8,CX-7,CX-3,CX-4,CX-9,BT50,New CX-7,Demin,MX-5,M121...

Nissan:
Teana,Cima,JX35,QX60,Q50,X-Trail,Qashqai,New Sunny,350-Z,New X-Trail...

Suzuki:
Vitara,Alto,SX4,Alivio,Liana,S-Cross,Jimny,Swift,Kiazshi...

Hyundai:
IX35,Sonata,Tucson,Mistra,Elantra,I30,Verna,Elantra,IX25,Mistra,ATOZ,Getz,Accent,Matrix...

More vehicle models list,please check the file in the "Related Download Files"
Note:The vehicle models with red mark need extra payment.

Lonsdor K518ISE can program Toyota/Lexus smart key all key lost via OBD by working with Lonsdor LKE Smart Key Emulator 5 in 1 (optional)
Lonsdor LKE Smart Key Emulator=SKE-LT Smart Key Emulator 4pcs+ SKE-LT-DSTAES 128 Bit Smart Key Emulator 1pc

SKE-LT: Smart Key emulator - Toyota/Lexus smart key for all key lost via OBD.
Black: SKE-LT-DST40(94/D4) -Supports 94/D4 smart key.
Red: SKE-LT-8A(88/A8)-Support 88/A8 smart key.
Green: SKE-LT-DST80(98)-Supports 98 smart key.
Blue: SKE-LT-8A(A9)-Supports A9 smart key.
Orange smart key emulator for chip 39 (128bit) test car models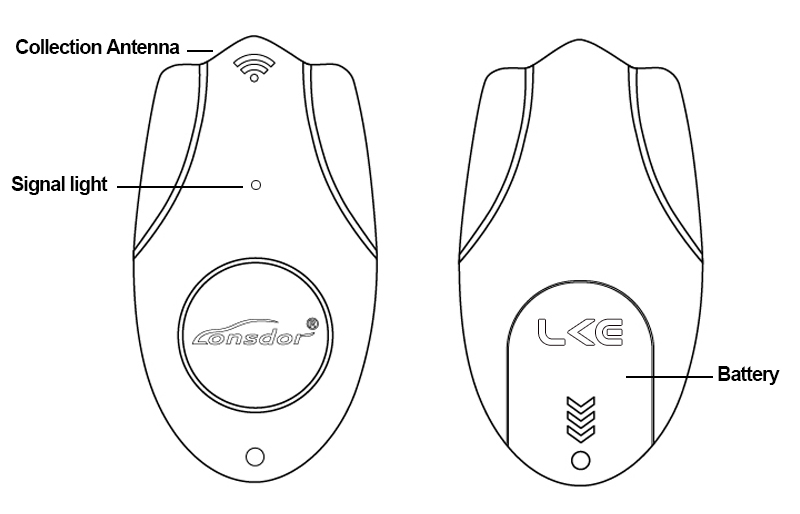 Collection Antenna: place one end of antenna into K518 card slot to operate.

Signal light: State ① start to work. (the light will go on)
State ② collecting...( the light will flash)
State ③ finished. ( the light will go out after 3 secs)

Battery: standard CR2032

Lonsdor K518S Update Information:

Lonsdor K518S Latest Update Information (Apr 27th, 2019.)
MEGANE 4 (2015-)
Make dealer key/Program smart key & Mechanical key

SCENIC 4 (2015-)
Make dealer key/Program smart key & Mechanical key

ESPACE (2015-)
Make dealer key/Program smart key & Mechanical key

Package includes:

1 x Portable Bag(big)
1 x Main Host
1 x Power Adaptor
1 x USB Cable
1 x Packing Bundle
1 x OBD Test Cable
3 x Extra Connector
1 x Londor K518 S User Manual
1 x Portable Bag(small)
1 x KPROG Adapter
1 x RN-01 Board
1 x E-01 Board
1 x FS-01 Board
1 x 20P Cable
5 x Backup Pin
1 x Certificate
Shipping Method and Delivery Time:
US, UK, Czech and Russia Warehouse Shipping:
3-5 working days. Fast Delivery & Tax Free.
US Check:
Ship from US
UK Check:
Ship from UK
EU Check:
Ship from Czech
Russia Check:
Ship from RU
DHL Shipping:
3-5 working days. Usually we declare a lower value on DHL invoice to help with customs clearance. If address belongs to remote area, customer will need to pay remote handling cost or we can change to ship by EMS. Please remember to leave message if you have any special requirement.
Yanwen Express:
7-10 working days. No Tax or remote cost for European Countries.
Standard Post:
7-15 working days. To South America and Africa countries it may take 20-25 working days. Customers can tick Express Shipping Service to ship by DHL.