Top 7 reasons to get SBB Key Programmer:
1. Latest Software Version:
46.02
2.Suppoted Multi-Language:
English/Italian/German/French /Spanish /Greek /Portuguese /Turkish /Russian
3.Support
Toyota G Chip
4.Support Pin Code Reader Function for Part of Cars
5.Support Toyota,Honda and Ford to Year 2014
6.It is a new generation of the SBB Key Programmer
Notice:
1. If SBB fails to adapte key, pls disconnect OBD16 adapter and car, after 10 seconds connect again, otherwise vehicle immo system may get damaged and SBB will be locked too
2. Need pin code to do Ford and Nissan
SBB Key Programmer Update Version V46.02 Compare with SBB V33.02
(1)New SBB V46.02 add more newer cars, such as for Acura 2012, For Chevrolet 2013, For GMC 2013.SBB V33.02 can only support some cars untill 2011
(2) 2017 New SBB V46.02 Add RS232 cable ,can support firmware update,While SBB V33.02 can not support firmware update .
(3).V46.02 SBB Key Programmer supports Multi-Languages:Italian/German/French /English /Spanish /Greek /Portuguese /Turkish /Russian
SBB Key Programmer Working Parts: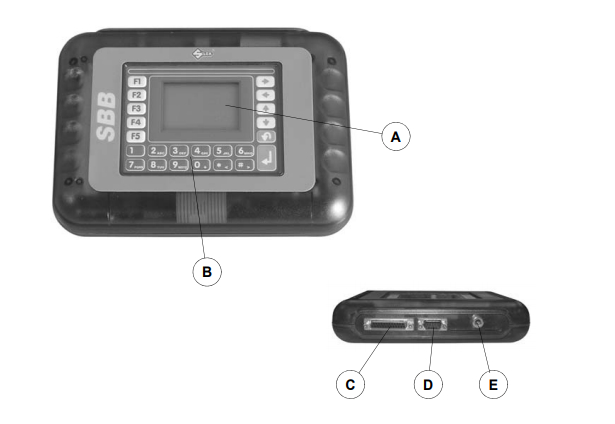 A-Retro illuminated LCD graphic display
B-23-key keypad(numerical,functions,arrows,ESC,Enter)
C-Parallel Port(25 Poles) to communicate with the vehicle.
D-Serial Port RS232(9 Poles) use only for Serial cable.
E-Socket for cigarette lighter power cable for feeder.
SBB Key Programmer Specification:
Material: plastic,metal
Size(approx.): 23*16.5*5cm
Supported Languages: Italian/German/French/English/Spanish/Greek/Portuguese/Turkish/Russian
Supported cars: Multi-brands (2009 years ago)
Main Color: Black
SBB Key Programmer Function List:
1. Programming new keys.
2. Reading keys from immobilizers memory
3. Deactivating keys no longer in the car owners possession
4. Operation by means of a menu guided programming
5. Programming new remote controls
6. Software with full database containing all the most important vehicle makes
SBB Key Programmer Car List:
ALFA ROMEO/CADILLA(GM)/CHRYSLER/CITROEN/DODGE/EAGLE/FIAT/FIAT PSA/FORD AUS/FORD EU/FORD USA
/GEN-ER.AL MOTORS BRASI/HOLDEN/HYUNDAI/HYUNDAI USA/JAGUAR/JEEP/KIA/KIA USA/LANCIA/LEXUS
/LINCOLN/MAZDA/MERCURY/MITSUBISHI/MITSUBISHI USA/NISSAN/NISSAN JAPAN/NISSAN (TRUCKS)/NISSAN USA
/OPELVAUXHALL/PEUGEOT/RENAULT/SEAT/SKODA/SUB-ARU/SUZUKI/VOLKSWAGEN/VOLKSWAGEN (BRASILE)
SBB Key Programmer Usermanual:
SBB Key Programmer usermanual include contents:
1.Machine Description
2.Transport
3.Accessories Provide
4.Installation and Preparation
5.Regulation and Gauging
6.How to use
7.Model Change
8.Warning/Error Messages
9.Maintaenance
....
More informaiton click link at related download file.
Comparison for SBB V46.02 and SBB V33.02: The icon shows the new version on the right
ACURA: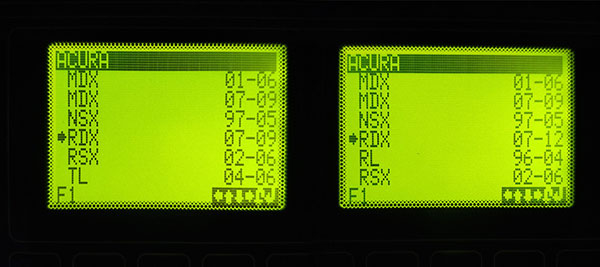 FORD-USA: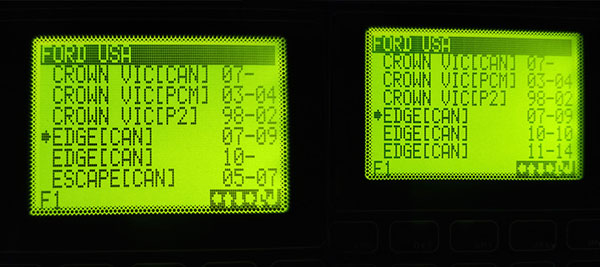 KIA-USA: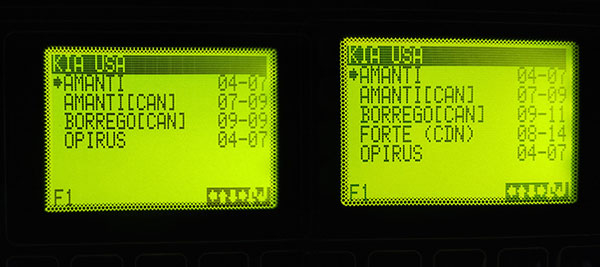 How to use SBB Key Programmer
SBB key programmer is used to copy chip according to car model, and it is used to program keys, not clone keys, you only need to insert SBB 16-pin interface into your car OBD2 diagnostic seat, then read out immobilizer pin code from immobilizer dump/EEPROM of the car before write it into new blank key. When programming For Ford vehicle,no need pin code.
Step 1 : Before opreating SBB key programmer, please insert the blank new key into your car keyhole;
Step 2 : Turn on ignition switch;
Step 3 : Insert SBB 16-pin interface into your car OBD2 diagnostic seat.
Step 4 : Follow the instructions showed on the SBB screen.
SBB Key Programmer FAQ:
Q: Why SBB do not have lots of connectors?
A: This product can directly connect with the car's OBD2 16pin connector.
Q: What type of cars can this product programming?
A: SBB is a univeral key programming tool.It can do lots of cars,but to detail car compatible list,there is a file on our website or you can contact digiobd customer service.
Q: If it can do all model list below the brand.
A: It can do most models till to 2010 year,but not all models. If you need confirm eaxct model,just contact with seller.
SBB Key Programmer Package List:
1pc x SBB Main Unit
1pc x OBD II cable
1pc x AC adapter
1pc x CD with user manuals
Shipping Method and Delivery Time:
US, UK, Czech and Russia Warehouse Shipping:
3-5 working days. Fast Delivery & Tax Free.
US Check:
Ship from US
UK Check:
Ship from UK
EU Check:
Ship from Czech
Russia Check:
Ship from RU
DHL Shipping:
3-5 working days. Usually we declare a lower value on DHL invoice to help with customs clearance. If address belongs to remote area, customer will need to pay remote handling cost or we can change to ship by EMS. Please remember to leave message if you have any special requirement.
Yanwen Express:
7-10 working days. No Tax or remote cost for European Countries.
Standard Post:
7-15 working days. To South America and Africa countries it may take 20-25 working days. Customers can tick Express Shipping Service to ship by DHL.