Xhorse VVDI2 BMW Version With Basic+BMW OBD+BMW CAS4+BMW FEM/BDC

This VVDI2 with Activated Software List:
VB-01 BMW OBD
VB-02 BMW CAS4
VB-03 FEM/BDC Function
VP-01 Porsche immo data tool
VJ-01 Passthru J2534
VK-01 Transponder Programmer
VVDI2 BMW Functions:EEPROM/KM/Synchronization Codes (OBD)
Read EEPROM / Write EEPROM
Read KM / Write KM
Synchronize DME-CAS, CAS-ELV
Key Learn
Get Key Info
Write Key Info
Load Key Info / Save Key Info
Prepare dealer key with programmer
Prepare dealer key with ignition switch
Add key
Program Key Info
Repair Keyless Key
Enable Key / Disable Key
Clear DTC / Clear Shadow
File Make Key
EWS1/EWS2/EWS3/EWS4
CAS1/CAS2/CAS3/CAS3+/CAS4
Unlock Key
Unlock with key info file
Unlock with CAS1/CAS2/CAS3/CAS3+ EEPROM
File Change KM
EWS3/EWS4
CAS1/CAS2/CAS3/CAS3+ CAS4
Cluster (E Series): M35080 EEPROM dump
Cluster (F Series)
CAS Repair
CAS1(0K50E) OBDII Repair
ISTAP4* Version OBDII Repair
VVDI2-BMW FEM/BDC System
(Function released and available)
Users can refer to following information (3 steps for make keys:get key info->programming FEM/BDC system->make keys)
1.support make new key with ignition switch(support add spare key and all key lost, all key lost require ISN)
2.support reset FEM/BDC KM(cluster require reset manually)
3.support erase key(after erase the key position become blank position)
4.support backup coding
5.support restore coding
Notes:

1. Backup coding and restore coding can direct operation generally.
2. Add keys, reset KM, erase key must programming FEM/BDC system first
3. In FEM/BDC interface, if 'get key info' the type not support, it will show:customer should use "BMW E-sys software" program FEM/BDC system.then programming FEM/BDC system with VVDI2-BMW
4. When operation on 'programming FEM/BDC system'interface,please don't close this software window until all procedures completed.
5. Programming FEM/BDC system, require soldering and get eeprom.(FEM 95128 chip, BDC 95256 chip)usually there are 2 same chips on the module, please refer to the software diagram, select the correct one.
6. Programming FEM/BDC system,must restore the original eeprom, restore coding.if cannot restore coding or after restore coding assemble FEM/BDC module back to car,but with problem(such as the remote control cannot start the car
or the car with window problem)please use "BMW E-sys software" coding for FEM/BDC system
7. If connect power to FEM/BDC module, but the relay keep ringing,please contact technical support for help.usually operation on FEM/BDC should be ok,just need to programming.
Package List: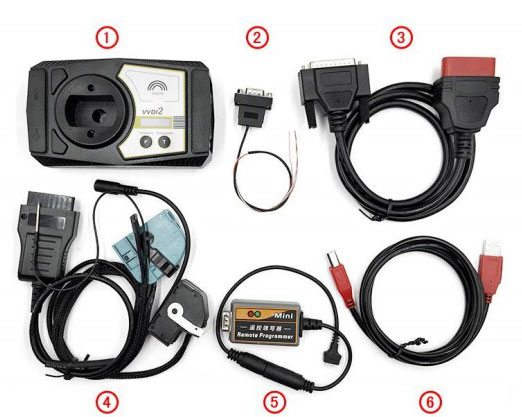 1. VVDI 2 Main Interface
2. 5th BDM Programmer
3. OBD2 cable
4. CAS Plus (additional part, need to buy alone
CAS Plug for VVDI2 BMW or Full Version
: 84.99usd)
5. Remote Programmer
6. USB Cable
Shipping Method and Delivery Time:
US, UK, Czech and Russia Warehouse Shipping:
3-5 working days. Fast Delivery & Tax Free.
US Check:
Ship from US
UK Check:
Ship from UK
EU Check:
Ship from Czech
Russia Check:
Ship from RU
DHL Shipping:
3-5 working days. Usually we declare a lower value on DHL invoice to help with customs clearance. If address belongs to remote area, customer will need to pay remote handling cost or we can change to ship by EMS. Please remember to leave message if you have any special requirement.
Yanwen Express:
7-10 working days. No Tax or remote cost for European Countries.
Standard Post:
7-15 working days. To South America and Africa countries it may take 20-25 working days. Customers can tick Express Shipping Service to ship by DHL.