Foxwell NT510 NT520 NT530 Software Authorization Service for Benz/Opel/Renault/Peugeot
This is software authorization service for NT510/NT520Pro/NT530 scanner. No Need shipping!
Available software for choose including:
1. ASTON MARTIN
2. Mercedes Benz (BENZ,MAYBACH,SMART,SPRINTER)(Only NT520 Pro/NT530 have)
3. Ferrari
4. Fiat(ABARTH,ALFA ROMEO,FIAT,LANCIA)
5. Hyundai (HYUNDAI,KIA)
6. Land Rover (LANDROVER,JAGUAR)
7. Maserati
8. Mitsubishi (Only NT530 have)
9. Opel (OPEL,VAUXHALL)
10. Renault (RENAULT,DACIA) (Only NT530 have)
11. Peugeot,Citroen (Only NT530 have)
Note: if you want open (BMW, Chrysler, Ford, GM, Honda, Mazda, Nissan, Toyota, VW, Volvo Software Authoriation), please check
SC283-S1

Note
:
1. Please provide serial number of your NT510/NT520Pro/NT530 after payment.
2. If you want to buy several software, just place server orders and select software model you need.
3. After we add the software for you, please update the software by yourself. If you login your foxscanner and connect the tool via usb, please click "Update" on your tool.
Foxwell NT510 Software List: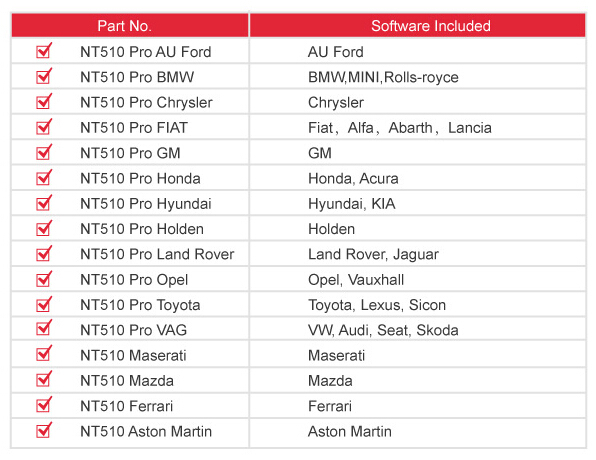 Foxwell NT520Pro Software List: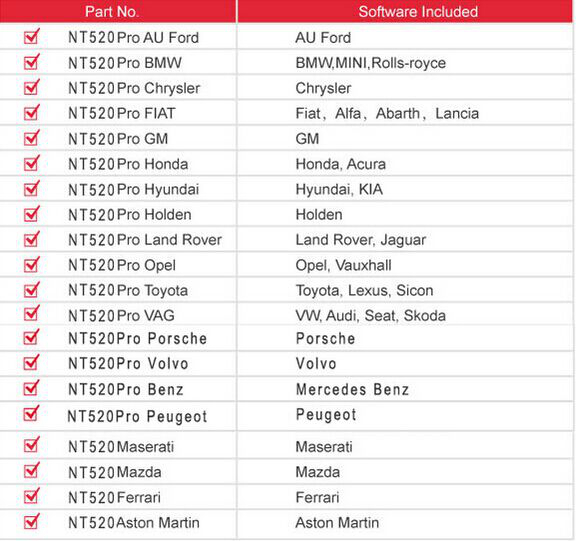 Foxwell NT530 Software List: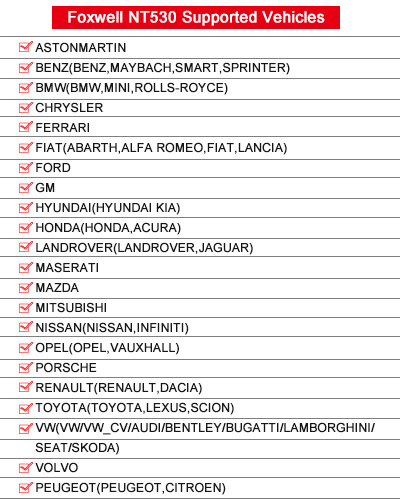 First of all, Please make sure your network works correctly and you have already created a Foxwell ID.

To update your scanner, please do as follows:
a: Obtain an FOXWELL ID on on foxwelltech.com
b: Register the device with the device serial number and password.
c: Update the product by the update application FoxScanner.
To update scanner, you need the following tools:
● The scan tool
● PC application FoxScanner
● PC or laptop with USB ports and Internet explorer
● Internet service
● TF card reader
To be able to use update tool, PC or laptop must meet the following minimum requirements:
● Operation System: Win98/NT, Win ME, Win2000, Win XP, VISTA, Windows 7, Windows 8 and Windows 10.
● CPU: Intel PⅢ or better
● RAM: 64MB or better
● Hard Disk Space: 30MB or better
● Display: 800*600 pixel, 16 byte true color display or better
● Internet Explorer 4.0 or newer
Shipping Method and Delivery Time:
US, UK, Czech and Russia Warehouse Shipping:
3-5 working days. Fast Delivery & Tax Free.
US Check:
Ship from US
UK Check:
Ship from UK
EU Check:
Ship from Czech
Russia Check:
Ship from RU
DHL Shipping:
3-5 working days. Usually we declare a lower value on DHL invoice to help with customs clearance. If address belongs to remote area, customer will need to pay remote handling cost or we can change to ship by EMS. Please remember to leave message if you have any special requirement.
Yanwen Express:
7-10 working days. No Tax or remote cost for European Countries.
Standard Post:
7-15 working days. To South America and Africa countries it may take 20-25 working days. Customers can tick Express Shipping Service to ship by DHL.