Xhorse Dolphin XP005 Automatically Key Cutting Machine Plus VVDI Key Tool Max As a Screen

Dolphin XP-005 Highlights:

1. DOLPHIN XP005 has all the capabilities of XC Mini. It is the latest portable automatic key cutting machine with built-in battery and datsbase inside.

2. Dolphin works on mobile phone application via bluetooth connection. It support both IOS and Android. There is no touchscreen, so you can work with Key Tool Max together as a screen to use.
3. Lifetime Free Update Online.
4. Support Sided/Track/Dimple keys/Tibbe keys/ some household keys. M1/M2 Jaw comes as standard. M3/M4 Jaw comes as optional purchase.

5. Support More Than 60 Global Brand,2000 car Models and 20000 all key lost database (Can cut all keys, except perforated key can't cut)

6. Supporting self-calibration, Supporting key duplication and cutting for vehicle keys,Supporting universal key decode for multiple key types

7. Operating in Multiple Languages: English, Spanish, French, Thai, Polish, Italian, Portuguese, Hindi, Hebrew, Korean, Indonesian and Chinese

8. 1 Year warranty for machine and 6 months warranty for battery.

9. Free Technical Support, Online Service to Provide Remote Control Support.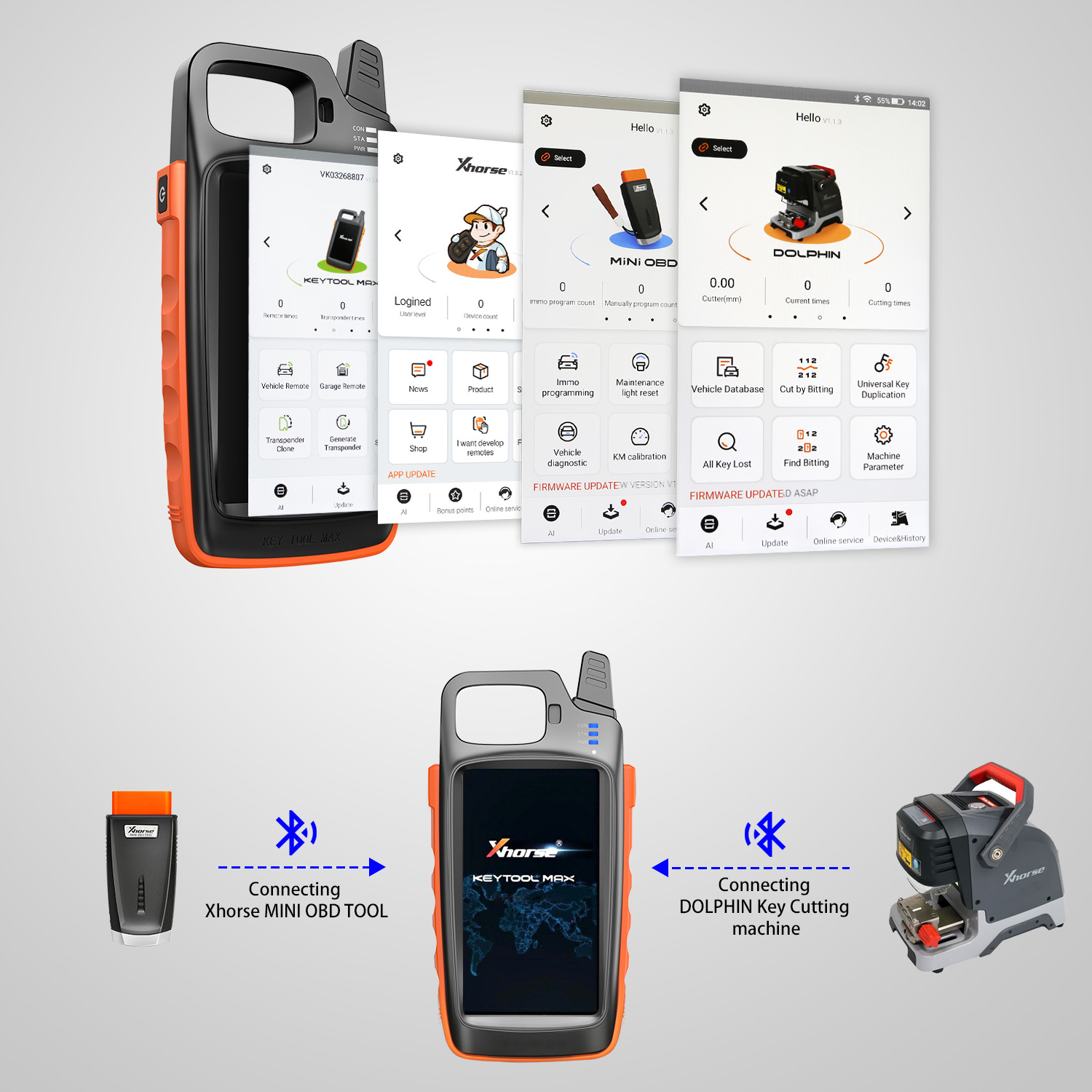 Dolphin Key Cutting Machine Features:

APP Smart Cellphone Operation
Built-in Bluetooth function, use smart cellphone to download APP, easy for smart operations
Precision Production
All aluminum body structure, Manufactured by Germany-made DMG CNC machine
Portable and convenient
Compact structure design, perfect space utilization; built-in lithium battery one-time full charge, machine will cut 30-50 keys stable solid handle for safe and portable movement, perfect experience

Data Richness
Provide rich vehicle data, blank key data, the best tool of all key lost.

Intelligent Control
Provide powerful free App, support multi-language, support mobile phone, tablet computer and other intelligent terminal control, easy for operations.

Built-in Lithium Battery
Optimized lithium battery of well-known brand, stable and reliable, support cutting under no power conditions.

Online update
Free online update software, the latest update information will be released timely, 24hours support server online update, no need to back for update.
Update link: https://mega.nz/file/jrgUhYoK#YAI-aMcPQ8sn25UwVi-1jkH_vNNydFP7TswyvIz7v7k
Technical service
One-year warranty, free technical support, online service to provide remote control support
Standard equipped 2 clamps with powerful function

Standard equipped two clamps M1 and M2, supports Sided, Track, Dimple and Tibbe keys.

Optional M3 clamp and M4 clamp are optional, M3 clamp is applicable to Ford FO21 & Citroen SX9 keys, M4 clamp is applicable to single sided house-key.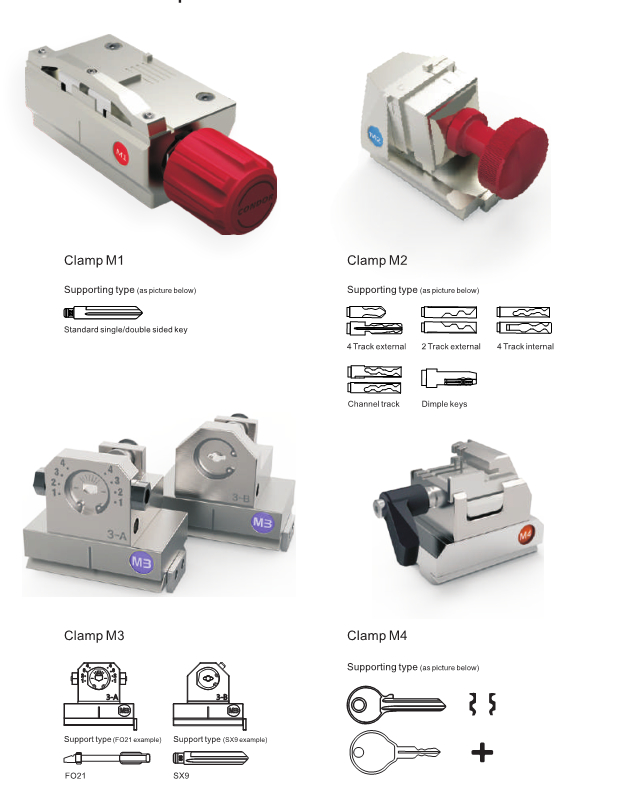 Manufacture Process

All aluminum body structure, Manufactured by Germany-made DMG CNC machine;
American imported 3-Axis Precision Ball Screw with clearance function, ensures high precision cutting.

VVDI Key Tool Max Highlights:

1. VVDI Max covers the same functions as an original VVDI Key Tool
2. Added ability to control the Condor Dolphin XP005 (via Bluetooth Connection)
3. Added ability to program immobilizer via Mini OBD Tool (available for purchase separately)
With the added ability to control the Condor Dolphin XP005, you will no longer need to use a mobile phone,
just use the Key Tool MAX screen to perform all Dolphin functions.
4. Newly add unlock toyota smart key 128bit function.
5. Get free ID48 96bit function. Please use VVDI Max tool to generate Xhorse new remote key 10pcs,after collect points,1 hour later,server will open ID48 96bit function free.

VVDI Key Tool Max Remote and Chip Generator:

1. KEY TOOL MAX is a professional smart device with multi-function. Bluetooth and WIFI communication interface are integrated inside, which is convenient for connecting Xhorse Key Cutting machine. MINI OBD TOOL and other products to do speci?c operations.
2. This device adopts HD LCD screen with clear interface、easy to use and ?exibility.
3. It covers the same functions as the original VVDI Key Tool, but on a robust Android tablet with optimized memory and processing power for future-proof updates.

VVDI Key Tool Max is 3-in-1 tool:

1) All functions of Key Tool which includes key cloning, remote generate, copy transponder etc.

2) Mini OBD tool provides universal key programming functions & remote programming via OBD connect with Key Tool MAX

3) Key Tool MAX has inbuilt function for DOLPHIN XP005. No need of mobile phone, just use Key Tool MAX to perform all Dolphin functions.

VVDI Key Tool Max Functions:

1.Transponder Editing & Cloning Support identify most of the immobilizer transponders launched on the transponder
market. Support Editing and Copy of most common transponders.

2. Generate Transponder
Support generate immobilizer transponders for over 850 car models of 80 brands worldwide; Support generate immobilizer transponders and write immobilizer data, especially for some special car models, old car models, etc.

3. Frequency Detection
Support the power test within the range of 300-450MHz;

4. Generate Remote
Support remote generation of over 2000 vehicle models of 200 brands worldwide;
Support HCS/Fixed code cloning, support non-HCS rolling code cloning, support fixed code, editing such as PT22XX, LX918, HT6P20, VD5026, AX5326, HT12X, etc.

5. Generate Garage Remote
Support recognize and copy common ID & IC cards for unlocking Community door locks.

6. Work with DOLPHIN XP-005
KEY TOOL MAX can be connected with the DOLPHIN XP-005 via Bluetooth; The operating screen of KEY TOOL MAX can fulfill the same function of the DOLPHIN XP-005 to perfectly complete automatic key cutting work. you will no longer need to use a mobile phone, just use the Key Tool MAX screen to perform all Dolphin functions.

7. Frequency Detection and Copy Remote
Support the power test within the range of 300-450MHz.

8. Rich Database
The Built-in abundant and thorough database which covers key pictures, transponder types, key blanks, and remote matching data, etc.

9. Copy Access Card
Support recognize and copy common ID & IC cards for unlocking Community door locks.

10. Honda H Transponder
Activate the function of Honda H transponder generation;

11. Remote Renew:
VVDI Max if you need the function,please choose free with Renew Cable,then use renew function is OK.

Generate transponder,Transponder Clone, Generate Remote,Remote Clone, OBD matching transponder/remote/smart card. The port which is used to connect the programmer is reserved. After the expansion, the chip can be written start data, and the operation of the IC reading data is equivalent to the function of the tango.

The underlying goal here is to provide you a single platform which will guide you through creating a functional key and get it programmed to the vehicle.

Step 1: Read the vehicle data (VIN & immobilizer) via OBD utilizing the soon-to-be released Mini OBD Tool.
Step 2: View the remote and transponder chip information for the vehicle you're plugged into and instantly generate your chip and key.
Step 3: View the proper keyway for cutting on the Dolphin and cut your blade (once you've Lishi to determine your cuts).
Step 4: Take your completed key back to the vehicle for immobilizer programming.
Step 5: Profit!
This is truly a one-of-a-kind, comprehensive key-generating platform from some of the most innovative minds in our industry. Future updates will include the ability to run vehicle diagnostics, kill check engine lights, adjust TPMS systems, performance tune engines and much, much more.

VVDI Key Tool Max Features:

1. Use KEY TOOL MAX to connect the dolphin to cut the key for the customer.
2. Support Generate transponder and remote.etc
3. Enter the car directly using KEY MAX+MINI OBD for matching. The entire process can be
seamlessly connected without switching devices.
4. KEY TOOL MAX +MINI OBD TOOL can not only match the chip remote control of imported
domestic cars, smart card, but also for Toyota H chip will be released first on KEY TOOL MAX.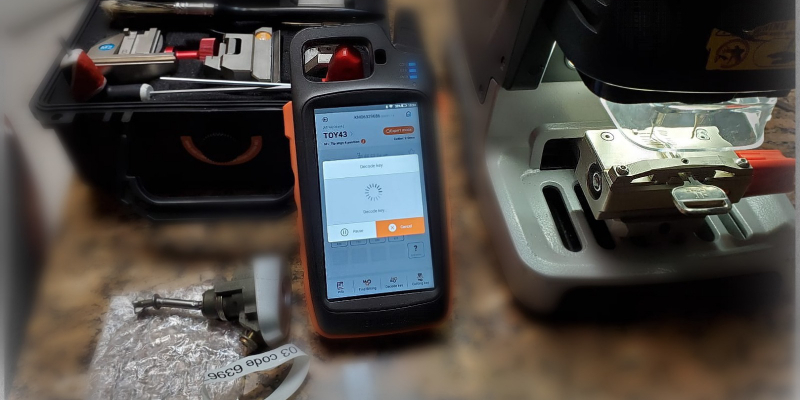 VVDI Key Tool Max Works with Dolphin XP005: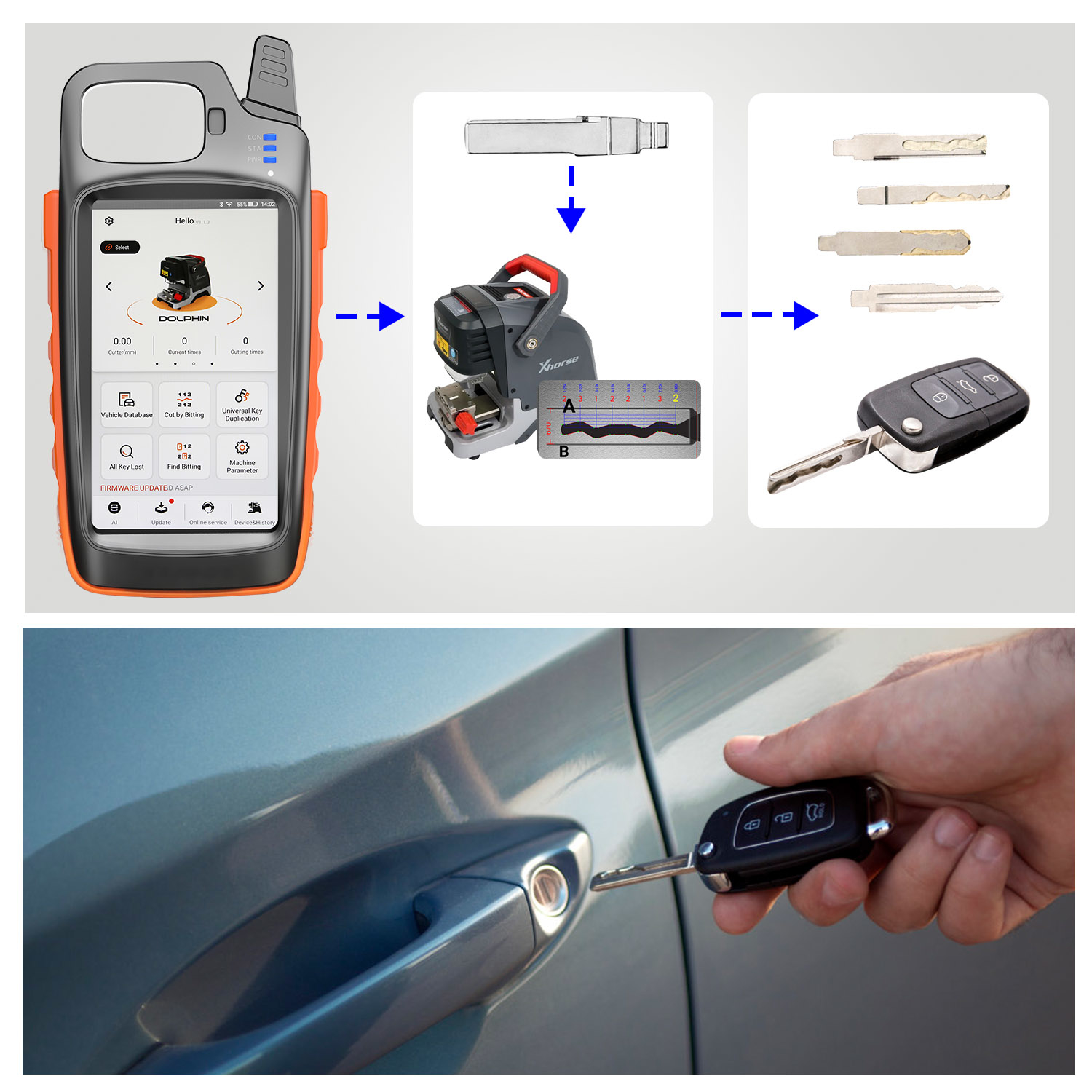 Xhorse Key Making Process: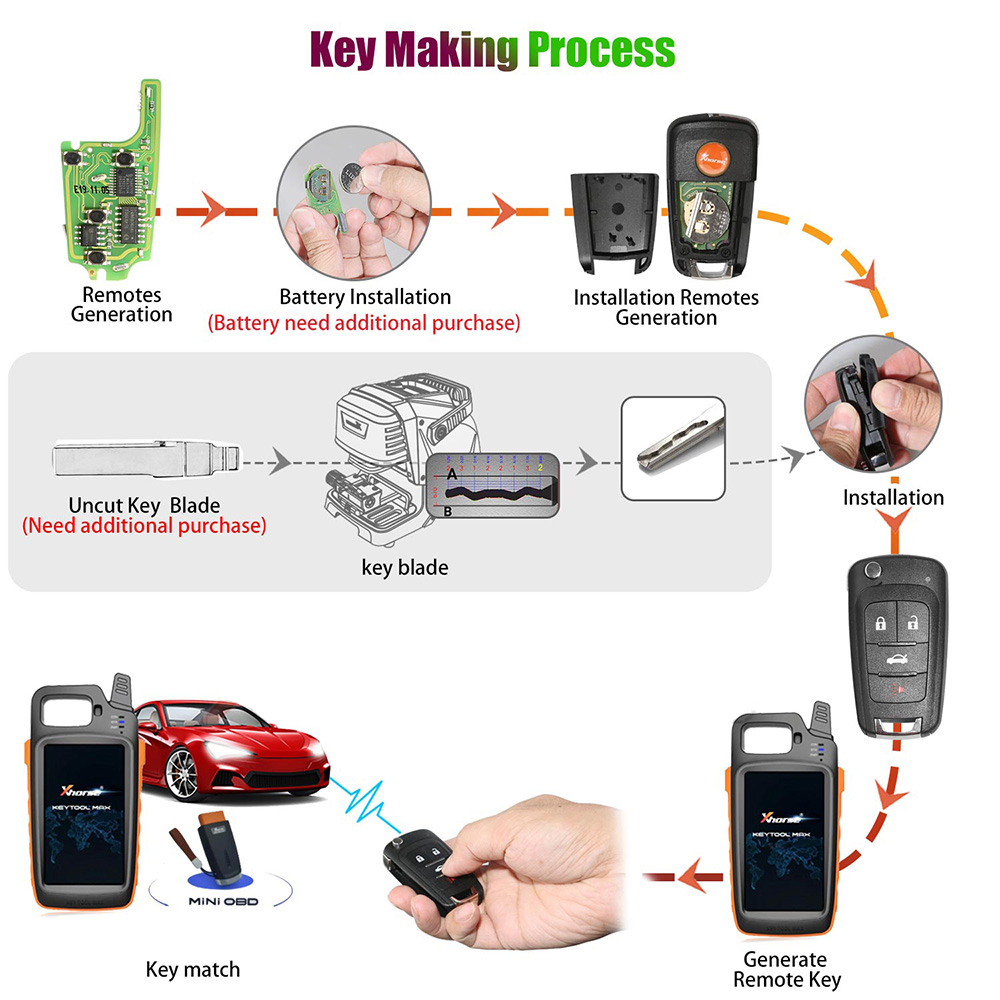 When you turn on the KEY TOOL MAX for the first time, you need to select language, region (System default setting is China Standard Time Zone), connect to WIFI, login with a registered account, if you don't have an account.

When you use VVDI Key Tool Max first time, you need to activate and combine the device.

Detailed steps here:

1. WIFI Connection;
2. Enter the mobile phone number for verification;
3. Enter the phone verification code to enter;
4. Enter the verification code binding again;
5. Device binding successful, setting completed, ready to use.

Xhorse Dolphin XP005 Key Cutting Machine Parameters:

Working Temperature: -10~50℃
Input Voltage: 12-24V
Battery Capacity: 64.75wh
Cutting Power: 100W
Standby Power: 15W
Motor Rotation Speed: 10000-13000RPM
Rated Torque: 0.15 Nm
USB Port: USB2.0
Machine Dimension: 315*218*270mm
Package Dimension: 510*315*345mm
Net Weight: 15kg
Gross Weight: 18kg

VVDI Key Tool Max Specifications:

Battery capacity: 3375mAh
Battery life: 6Hours
Standby Time: 5 Days
Recharging current: 1500mAh
Brightness: 400nits
Screen resolution: 1280*720P
Camera resolution: 800W
VVDI Key Tool Max Setting

VVDI Key Tool Max Package List:

1pc x VVDI Key Tool MAX Device
1pc x USB Cable (for charging)
1pc x Remote Generate Cable (for wired remotes)
1pc x User Manual

Xhorse Condor Dolphin XP005 Key Cutting Machine Package List:

1pc x Condor Dolphin Machine Body
1pc x M1 Clamp for Single/Double sided keys
1pc x M2 Clamp for Channel-track keys
1pc x 1.5mm Cutter
1pc x 2.5mm Cutter
2pc x 1.0mm Probe
1pc x Power cord
1pc x Power Supply Adapter
1pc x Car cigarette lighter charging cable
1pc x USB cable
1pc x Brush
Shipping Method and Delivery Time:
US, UK, Czech and Russia Warehouse Shipping:
3-5 working days. Fast Delivery & Tax Free.
US Check:
Ship from US
UK Check:
Ship from UK
EU Check:
Ship from Czech
Russia Check:
Ship from RU
DHL Shipping:
3-5 working days. Usually we declare a lower value on DHL invoice to help with customs clearance. If address belongs to remote area, customer will need to pay remote handling cost or we can change to ship by EMS. Please remember to leave message if you have any special requirement.
Yanwen Express:
7-10 working days. No Tax or remote cost for European Countries.
Standard Post:
7-15 working days. To South America and Africa countries it may take 20-25 working days. Customers can tick Express Shipping Service to ship by DHL.