OBDSTAR X300 DP Plus X300 PAD2 C Package Full Version



Buy OBDSTAR X300 DP Plus Get Free

Renault Convertor

and Free

FCA 12+8 Universal Adapter

.



Dealer Code: 860755B1
Language: English
Update: One Year Free Update Online, Update Cost is 500USD/year after first year.(2021-04) World First Newest Upgrade (GM IMMO V33.24)
, Support 2021 GM Vehicle
(2021-05) Honda IMMO V31.48 Update
(2021-06) Toyota IMMO V32.45 Update:
Support 8A H non-smart transponder no need to disassemble or replace the immo box all keys lost programmming
Peugeot & Citroen IMMO V32.46 Update
: Add Delphin BSI All keys lost pin code read (OBD)
Ford/Lincoln/Mustang IMMO V34.45 Update:
support ALK in alarm active
Click here to View Latest Update Detail
OBDSTAR X300 DP Plus Description:
OBDSTAR X300 DP Plus is a new Android-based vehicle trouble diagnostic device developed for internet applications. It inherits from OBDSTAR advanced diagnosing technology and it is characterized by covering wide range of vehicles, featuring powerful function, and providing precise result. Through vehicle diagnostic OBD connector and variant mobile intelligent terminals, it achieves vehicle trouble diagnosis for full car model and full system vehicle.Meanwhile, taking advantage of mobile internet, this device integrates more application and service, such as Maintenance Database, remote assistant, One Key Upgrade etc.
OBDSTAR X300 DP Plus X300 PAD2 C Package Full Version Functions:
Immobilizer+Mileage correction+Diagnosis+Special function (Oil rest +ABS+Battery matching+ECU programming+EPB+Throttle programming+Airbag rest+TPMS+Steering angle rest+OBDII+DPF+Injector code+Supension matching+Gear learning+CVT learning+EEPROM+Key renewing+ECU cloning)Adapter(P001 programmer+C001 circuit board+C002 circuit board+W001 data cable+W002 data cable+W003 data cable+Toyota smarkt key Emulator)+others(Ignition coil+Remote tester)
OBDSTAR X300 DP Plus Hardware Features:
1. The built-in VCI box offers more stable communication.
2. The 8" touch screen offers better vision experience.
3. Allow the user to
charge by the OBD port of car
. Not like the X300 DP 7" Pad, which need to be 100% charged before use.
4. With specialized toolkit, high grade and practical.
5. Industrial -grade design, comes with the silicone sleeve
6. The back bracket allows the user to hang it on the steering wheel or stand on the table, which brings great convenience to the operator.
7. Comes with
Toyota Lexus Emulators
(The first 4 pieces are already released, and the 5th one is under development)
8. The following 3 adapters are integrated into the X300 PAD plus: EEPROM /PIC 2-in-1 adapter, RFID adapter (VW Audi 4th / 5th IMMO programming and other cars e.g Porsche, BMW, Fiat etc.) and Renew Key PCF79XX adapter.
9. Adds the clip for reading
SOP 8PIN EEPROM
.
10. C001/C002 circuit board to read and write chip data with welding
11. IMMO induction coil to detect the key induction coil failure of the vehicle.
12. Adds the cables for
reading ECU via OBD
(Used to clone ECU and active the switch).
OBDSTAR X300 DP Plus Functions: (Software Keep Updating):IMMOBILISER:
1. EEPROM
2. Renew Key
3. Key programming
4. Remote programming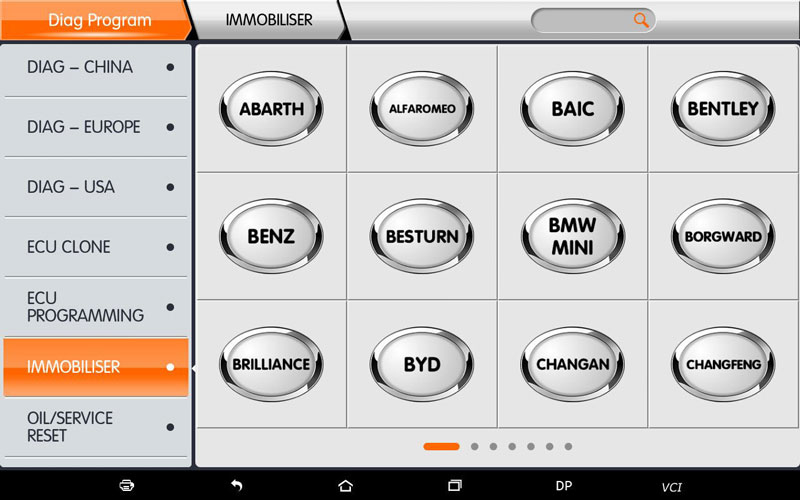 Cluster Calibrate:
wild vehicle coverage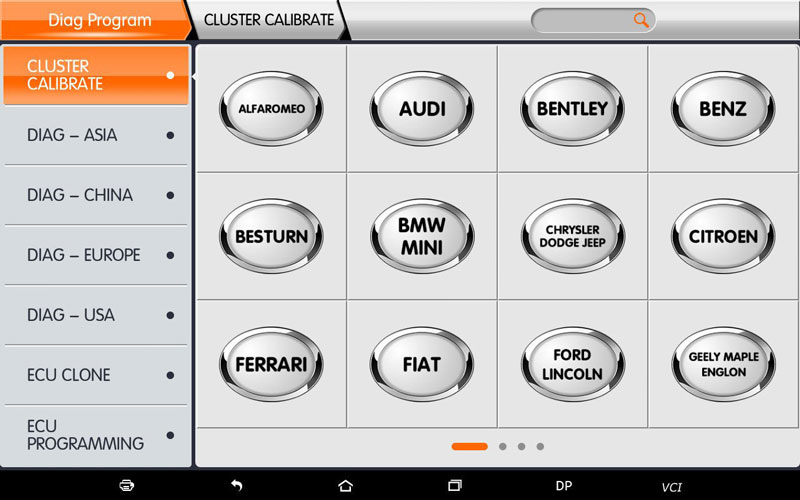 Diagnosis:
realize all vehicle systems diagnosis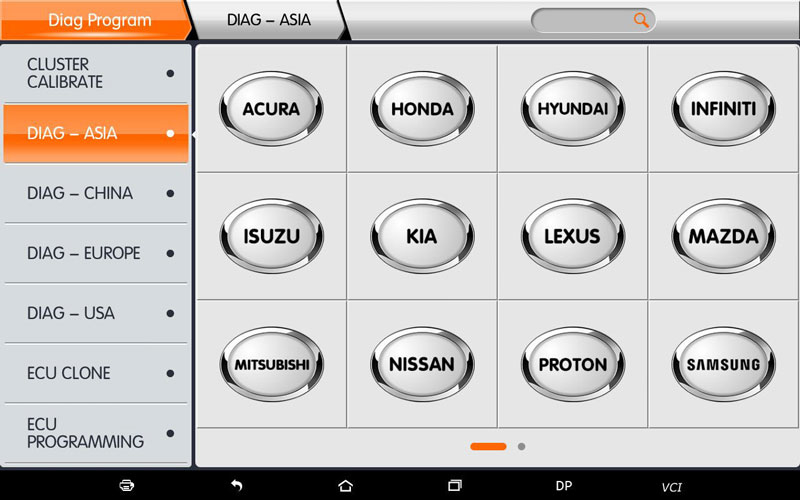 Special Functions:
Obdstar X300DP PLUS Key Master support TPS/ABS/EPB/DPF/TPMS/SRS Reset/Fuel Injector/Gear Learning/Battery Matching/ECU Programming/Throttle Matching/
Oil service reset/Steering Angle Reset/Remote Manual Setting/Electronic Steering Reset/CVT Learning value Reset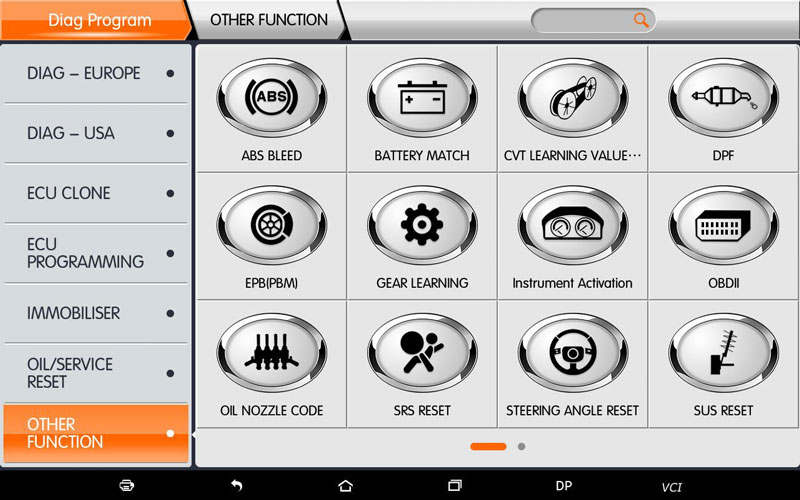 ECU Clone
1. ECU Clone, means ECU duplication.
Obdstar key master copies all the data from the original vehicle ECU, and then writes all data copied into ECU with the same hardware to realize the same ECU function with the original vehicle.
2. Clone directly when replacing a new or a used ECU!
Without online matching in 4S store or removal of ECU bonding wire for reading and writing! Directly write without dismantling OBD!
3. Three features for ECU Clone:
A. Free of 4S online:
break monopoly from 4S, benefiting automobile maintenance industry
B. Simplified operation procedures: realize foolproof operation
C. Non-dismantling with zero risks: read and write data without dismantling ECU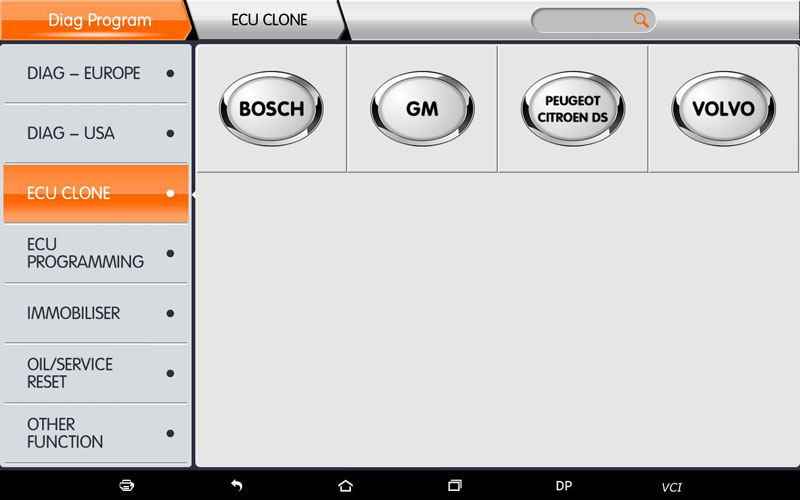 Switch activation function
Nowadays, many car models' secondary power supply of the dashboard or audio equipment needs to be activated to enter the boot status through the related module CAN.
However, when the car technician maintains the dashboard / audio equipment, the main unit is out of the CANBUS network so it maybe won't boot. X300 DP plus " switch activation function" can emulate the CANBUS communication to active the power supply of dashboard / Audio so that it can enter the boot status, then it will test and verify the dashboard and the Audio, also the technician can save money avoiding to purchase many the boot platform and cables of kinds of car models.
Adds the "Help" function
including the testable car models, update notice, special features, help instruction, wiring diagram etc.
Testable car models: The user can read the testable car models and year.
Update notice: The user can read all of the update content.
Features: The user can read all of the special features and the functions that only X300 DP Plus supports.
Help instruction: Built-in the guide and instruction for each car model or function.
Wiring diagram: Built-in ECU wiring diagram, more intuitive and convenient.
OBDSTAR X300 DP Plus Software Update Instruction:
It is easy to update OBDSTAR X300DP Plus Software, Enter the main interface, you can find "Upgrade", Enter "Upgrade" and will show your local latest version and the latest version which you can update. Just choose the software you want to update or bulk update.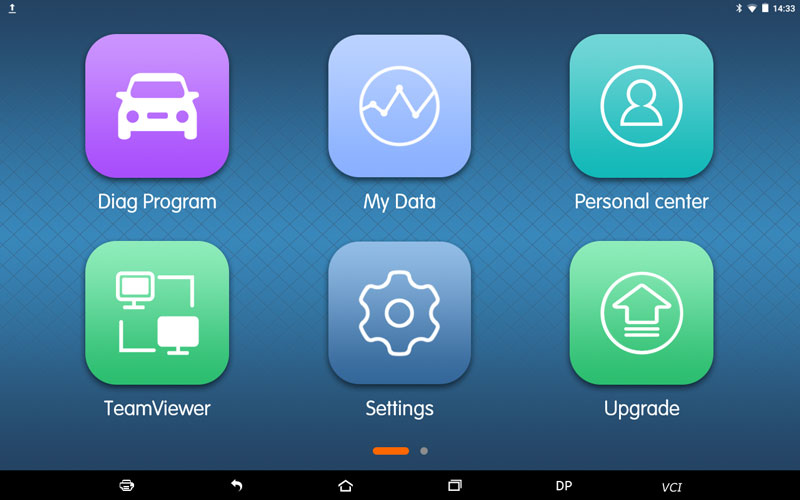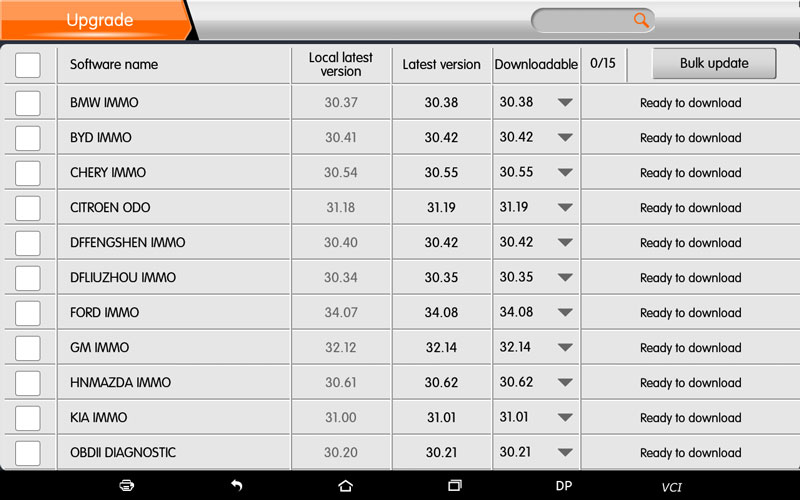 OBDStar X300DP Plus Lastest Update:

OBDSTAR Toyota IMMO V32.45 Upgrade( June,2021)

OBDSTAR Toyota IMMO Upgrade to V32.45, Support 8A H non-smart transponder no need to disassemble or replace the immo box all keys lost programmming for RAV4, HILUX, CROWN, KLUGER, COROLLA, CAMRY, LEVIN, PRADO, REIZ.
Need to work with P002 Adapter,Key SIM, Toyota-1/2 Cable,multi-functional cable.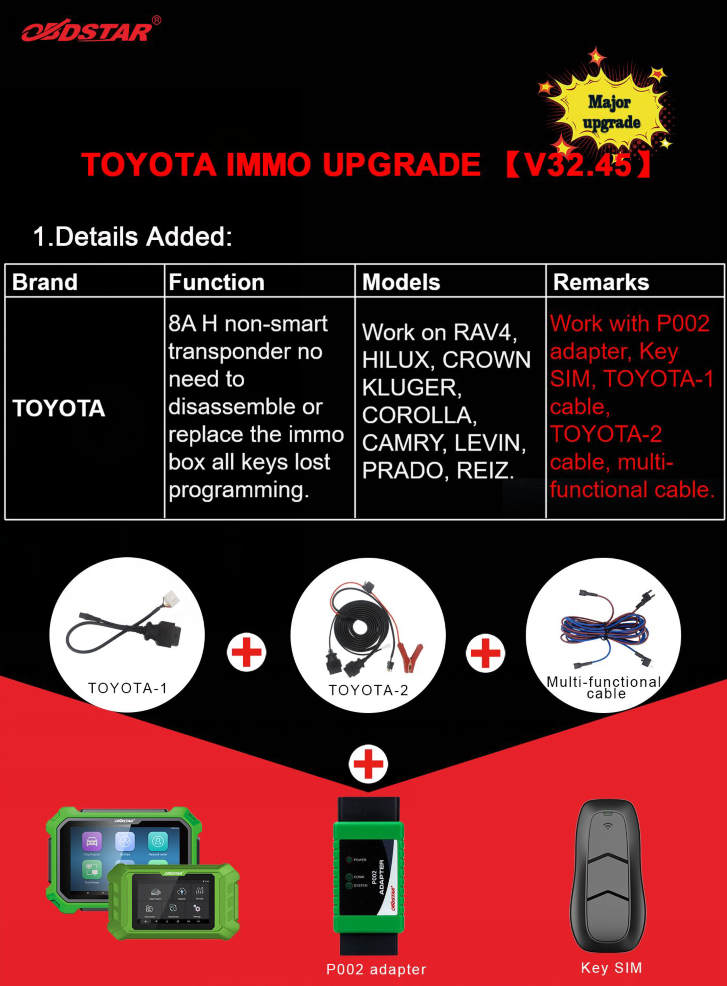 Ford/Lincoln/Mustang IMMO V34.45??????? Update ( June,2021)
???????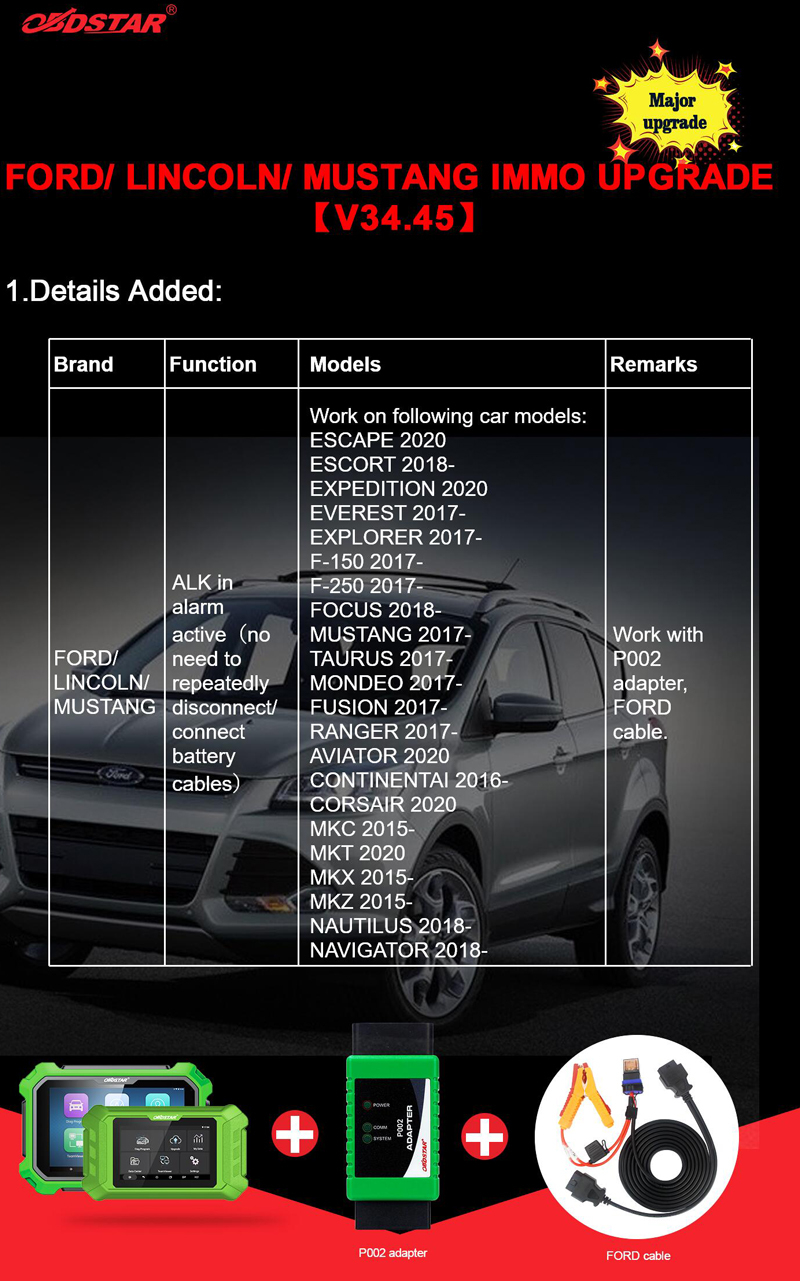 Peugeot & Citroen IMMO V32.46 Update (June,2021): Add Delphin BSI All keys lost pin code read (OBD)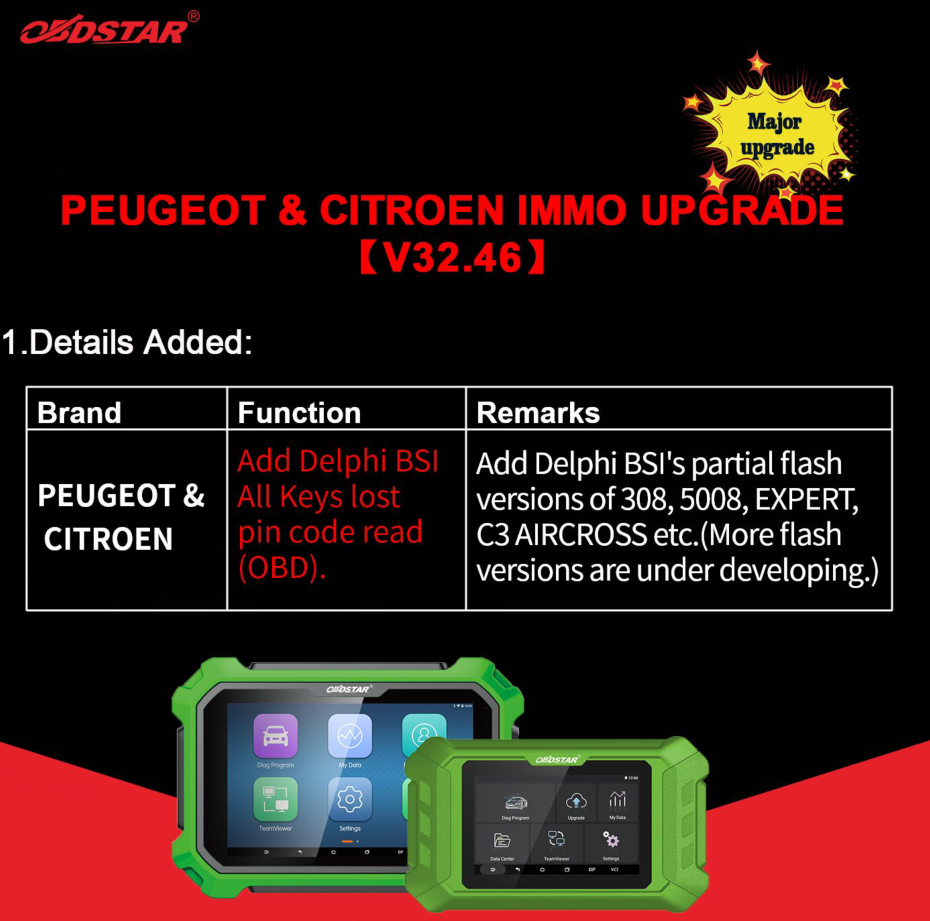 Honda IMMO Update V31.48 on May.21,2021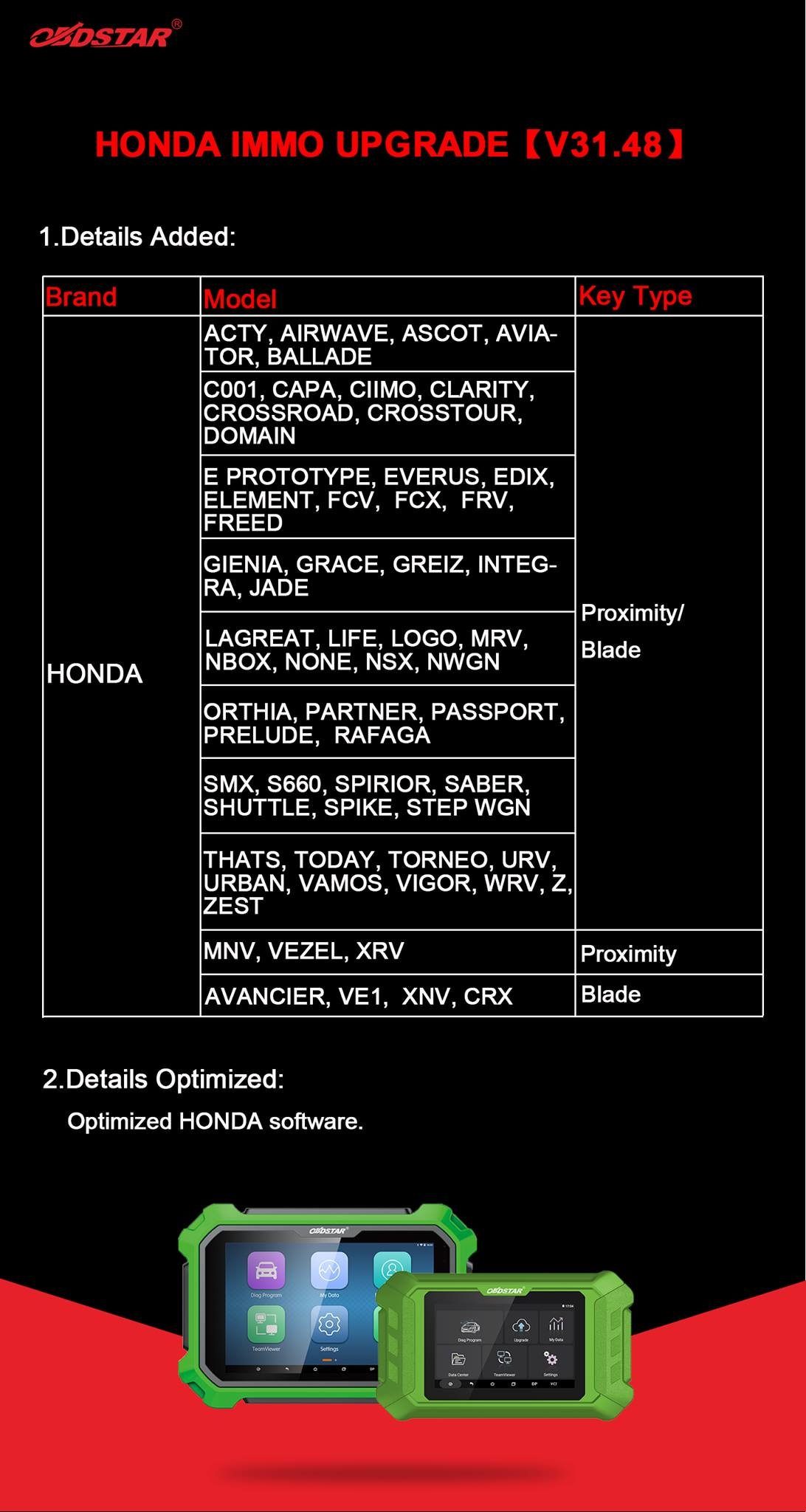 OBDSTAR World's First Relase GM IMM Upgrade V33.24, Support Lastest GM 2021 Vehicle, No need Pin Code
Please note that: It need work with OBDSTAR CAN FD Adapter

Key Type Proximity:
GMC Yukon/Sierra/Denali 2021
Buick Envision 2021
Cadillac Escalade/CT5/CT4 2021
Chevrolet Tahoe/Silverado/Suburban 2021

Key Type Proximity/Blade:
Chevrolet TRAX/TRACKER 2020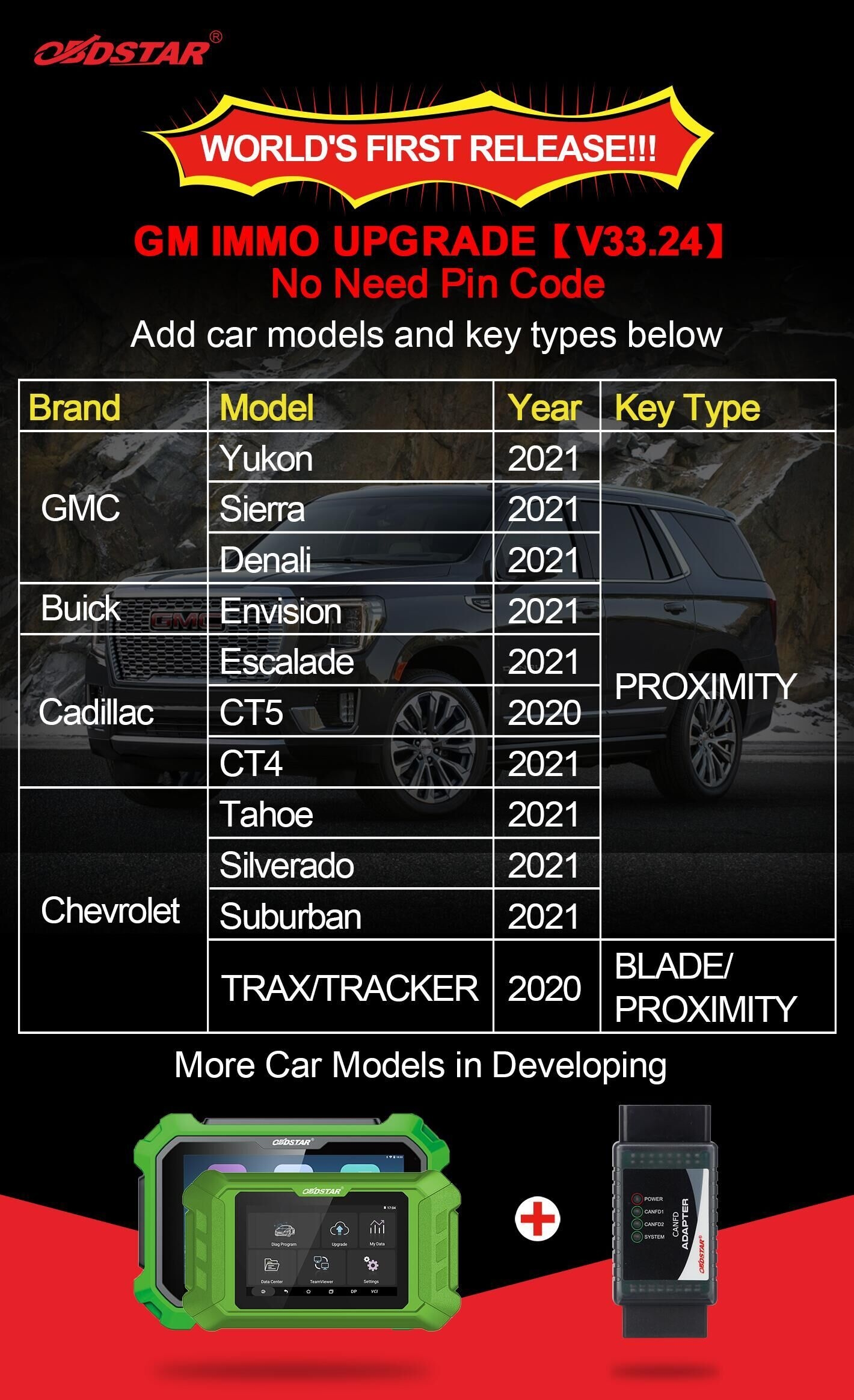 RENAULT [V30.91] IMMO UPGRADE

Increased Advanced Function: ECU Learning and Erase Immo Code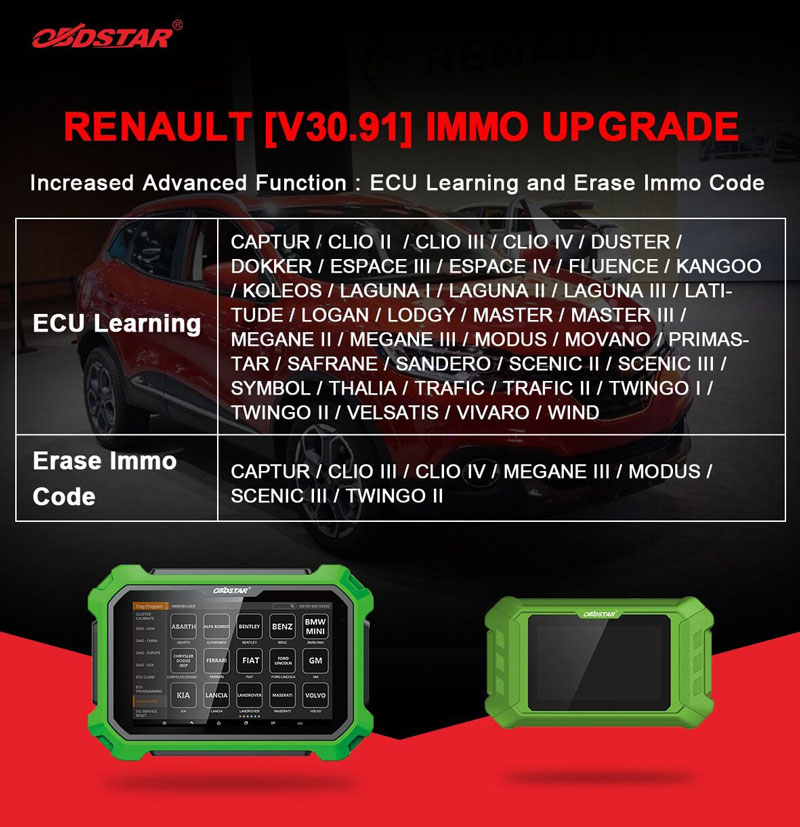 CHRYSLER IMMO [V33.09] UPGRADE

1. Increased AFRICA: GRAND VOYAGER 2009-2014 FOBIK, REMOTE
2. Increased AUSTRALIA: 300/300C 2019- PROXIMITY
3. Increased MIDDLE EAST: PACIFICA 2018 PROXIMITY
4. Increased USA-CANADA: VOYAGER 2020 PROXIMITY

JEEP IMMO [V33.09]

1. Increased AFRICA: CHEROKEE 2008-2012 FOBIK ; COMPASS 2007-2014 BLADE; LAREDO 2008-2010 FOBIK; RUBICON 2007-2009 BLADE
2. Increased ASIA: COMPASS 2007-2016 BLADE; PATRIOT 2007-2016 BLADE; WRANGLER 2007-2018 BLADE; WRANGLER 2018-2019 PROXIMITY; WRANGLER 2020 PROXIMITY
3. Increased AUSTRALIA: CHEROKEE 2014-2018 FOBIK
4. Increased SOUTH AMERICA: COMPASS 2019-2020 PROXIMITY
5. Increased USA-CANADA: CHEROKEE 2008-2012 FOBIK

More Update History: Obdstar X300DP Plus Update

OBDSTAR X300 DP Plus vs OBDSTAR X300 DP PAD:

OBDSTAR X300 DP Plus have back holder,it can work separately without VCI and Charged by OBD2.
4 Toyota emulators
P001 programmer
Wiring harness for new functions,such as ECU cloning and switch activation
ECU clone switch activation function
Help function-covers built in support car list,upgrade announcement,help notes and wiring diagrams
No need pay for software update ofr free during the valid time (one year)
Different among OBDSTAR X300 DP Plus C Package (Full Version), A Package and B Package:
Remark
 OBDSTAR X300DP Plus
 
A package
B package
C package
 
Immobilizer / Remote programming
European cars
VW/Audi/Skoda/Seat (Standard)
√
√
√
 
VW/Audi/Skoda/Seat (Advanced)
√
√
√
add NEC 24C64 2014-key programming.
BMW (Standard)
 
 
 
 
BMW (Advanced)
√
√
√
Add FEM/BDC key programming, ISN code reading etc.
Volvo
√
√
√
 
The other European cars
√
√
√
 
Asian cars
Hyundai /Kia (Standard)
 
 
 
 
Hyundai /Kia (Advanced)
√
√
√
Add 47/8A/46 smart key pin code reading
Toyota /Lexus (Standard)
 
 
 
 
Toyota /Lexus (Advanced)
√
√
√
For Middle east cars, it adds H chip all keys lost (Immo box reset)
The Asian cars
√
√
√
 
North American cars
Ford(Standard)
 
 
 
 
Ford (Advanced)
√
√
√
Add Ford after 2015 key programming functions, I.E: Mobdeo,Edge,Taurus,Escort,EVEREST,Explorer,F-150 SVT Raptor,Mustang,Lincoln MKZ, MKC and Continental 2015 - etc.
GM(Standard)
 
 
 
 
GM(Advanced)
√
√
√
 
The other American & Chinese cars
√
√
√
Can perform BMC pin code reaing on these cars: -2017 Lacrosse,Lacrosse, Trax,Envision, GL8,MALIBU,AVEO,Excelle before 2015,Cruze etc.
Cluster Calibration
 
All cars cluster calibration
 
√
√
 
 
 
4-system diagnosis
 
 
 
Engine, Transmission, ABS, airbag reset
OBDII Diagnosis
 
Full functions diagnosis
 
 
√
Full-system all-cars diagnosis
Special function
 
Oil service reset
 
 
√
Reset the Oil Service Light on
 
Manual remote setting
 
 
 
Some cars only supports manual remote setting.
 
ABS bleeding
 
 
√
After replace the ABS pump and related components.
 
Battery matching
 
 
√
After the battery is changed, you need to match the battery.
 
ECU programming
 
 
√
 
 
The car with EPB replace brake pads
 
 
√
Electronic Parking Brake release
 
Throttle programming
 
 
√
Used to clear the learning value after cleaning the throttle, otherwise it will cause high idle speed.
 
Airbag reset
 
 
√
Used to clear airbag ECU collision data after a vehicle collision, otherwise the ECU cannot be reused
 
TPMS reset
 
 
√
Used for reset after tire pressure alarm
 
Steering angle reset
 
 
√
Replacement of data lost after steering angle change or power off
 
OBDII Engine
 
 
√
Used to diagnose the car with OBD protocol.
 
DPF Regeneration
 
 
√
Diesel Particulate Filter Operational
 
Injector coding
 
 
√
Used to match and code the injector after replacement
 
Suspension match
 
 
√
Used to match and set the suspension after adjusting.
 
Gear learning
 
 
√
Used to learn the crankshaft position sensor after power off (only the domestic vehicle equipped with the Delphi system has this function)
 
CVT learning
 
 
√
Used to reset the learning value after maintenance of CVT transmission
 
EEPROM
 
 
√
Read and write the eeprom; read 8-pin IC chip password and reset some models anti-theft
 
Key Renew
 
 
√
Renew the used keys to solve the problem that used keys cannot be matched to other models
 
Steering angle repair
 
 
√
Used for the repair of lost data of vehicle steering angle sensor
 
ECU Clone
 
 
√
Used for copying the program when replacing the new/second-hand computer.
 
Switch activation
 
 
√
 
Hardware
 
P001 Programmer unit
√
√
√
 
 
C001 circuit board
√
√
√
 
 
C002 circuit board
√
√
√
 
 
W001 data cable
√
√
√
 
 
W002 data cable
√
√
√
 
 
W003 data cable
√
√
√
 
 
Toyota smart key emulators
√
√
√
 
 
Remote Tester
√
√
√
 
 
Anti-theft Induction coil
√
√
√
Used to test if the coil can send out the transmit signal.
OBDSTAR X300 DP Plus Technical Parameter
:
● Operation system: Android 5.1.1
● CPU: Exynos4418 Dual Core ARM Cortex A9 1.4GHz
● Battery: 3700mA, rechargeable polymer lithium battery
● Extension memory card: 32G Micro SD (TF) card supported
● Memory capacity: 1GB
● Storage capacity: 32GB
● LCD: 8.0 inch
● LCD resolution: 1280*800
● Touch screen: Capacitive touch screen
● Camera: 5 mega rear view camera
● Wi-Fi: Supported
● Working temperature: -10℃ ~ 55℃(14℉ ~ 131℉ )
● Storage temperature: -20℃ ~ 70℃(-4℉ ~ 158℉ )
● Weight: about 1.0 Kg
● Dimension: 254mm*174*mm*35mm
OBDSTAR X300 DP Plus FAQs:
Q1: There is a lot of upgrdae now but doesn't appear in my X300DP this new upgrade, is this upgrade available only for DP Plus?
A1: Is your device expired 1 year free update?

Q2: And how much the price if the subscription was already expired?
A2: You can get this subscription service here:OBDSTAR X300 DP Plus One Year Update Service

Q3: If we can use the adapter rfid, instead of the adapter p001 with obdstar x300dp
A3: P001 adapter= EEPROM adapter + RFID adapter + Key Renew adapter
OBDSTAR X300 DP Plus X300 PAD2 Package List: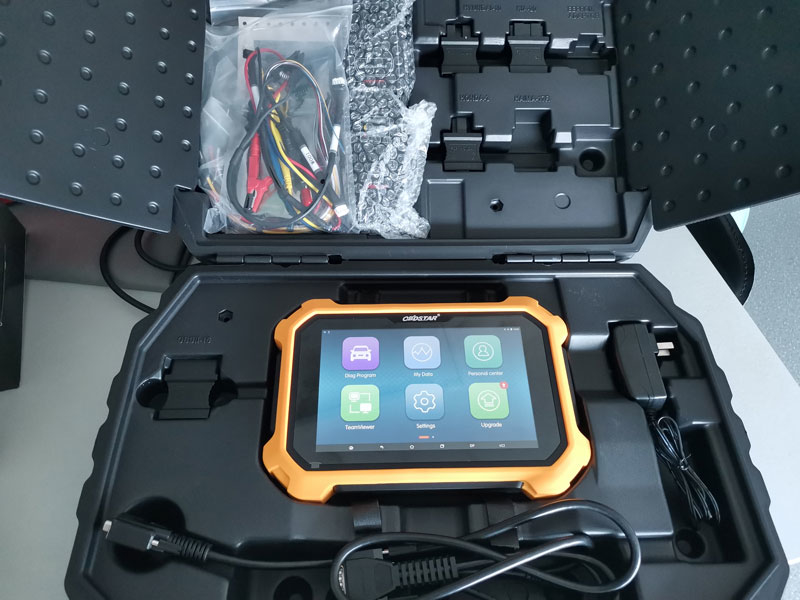 Key Master DP Plus Unit
Main Wire
12V2A DC Charger
KIA-20
OBD II-16 Connector
HONDA-3
HYUNDAI/KIA-10
IMMO Induction Coil
Muti-functional Jumper
P001 Programmer Unit
C001/C002 Circuit Board
W001/W002/W003/RT100
TOYOTA Simulation Smart Key
Configuration List/Certificate/Quick Start Guide Fold
Shipping Method and Delivery Time:
US, UK, Czech and Russia Warehouse Shipping:
3-5 working days. Fast Delivery & Tax Free.
US Check:
Ship from US
UK Check:
Ship from UK
EU Check:
Ship from Czech
Russia Check:
Ship from RU
DHL Shipping:
3-5 working days. Usually we declare a lower value on DHL invoice to help with customs clearance. If address belongs to remote area, customer will need to pay remote handling cost or we can change to ship by EMS. Please remember to leave message if you have any special requirement.
Yanwen Express:
7-10 working days. No Tax or remote cost for European Countries.
Standard Post:
7-15 working days. To South America and Africa countries it may take 20-25 working days. Customers can tick Express Shipping Service to ship by DHL.